TAKEAWAY: I am on my way to Vancouver today to speak tomorrow at the annual meeting of the Newspaper Canada group.  This year's conference is titled Ink+Beyond.  I share a panel with The Globe and Mail visual editor Adrian Norris. Will be reporting live from Vancouver tomorrow.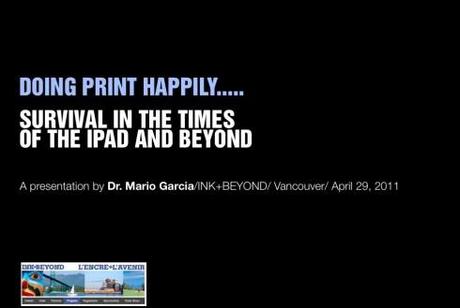 Here is opening screen for my presentation in Vancouver: Doing Pring Happily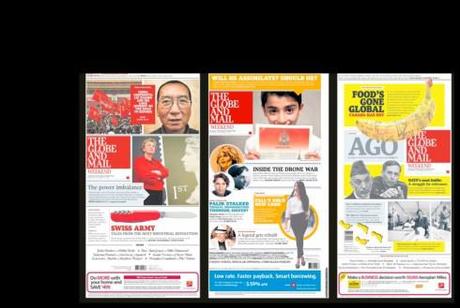 Sample front pages from The Globe and Mail, whose visual editor, Adrian Norris, will share panel duties with me in Vancouver Friday

The Ink+Beyond conference opens with a presentation by Geoff Tan, senior vice-president of Singapore Press Holdings, Southeast Asia's leading media organization, will share his insights on the company's breathtaking business strategies from niche publications to cross-platform initiatives.
My session follows, a plenary with the interesting title Proudly Print, and a program description that reads: Ink on paper is still the core of our business, and design and visual journalism is more important than ever. Renowned American newspaper designer Mario Garcia will present some innovative newspaper visuals from around the world. The Globe and Mail visual editor Adrian Norris will explain the strategic thinking behind the paper's new look.
I look forward to sharing the stage with Adrian, as I admire much of what has taken place at The Globe and Mail after its highly publicized redesign of 2010 (see front pages here).  I will be reporting from Vancouver Friday.
It is interesting that I title my portion of the presentation: Doing Print Happily, a feeling that I try to convey in all my workshops. One cannot produce exciting newspapers and magazines if one is not doing so with a sense of passion, and feeling happy about it.  The products that are done happily reflect that spirit.

Of related interest about The Globe and Mail:
http://www.niemanlab.org/2010/10/doubling-down-on-print-canadas-globe-and-mail-unveils-a-new-print-edition-to-complement-the-web/
For the full conference program:
http://www.newspaperscanada.ca/program
WoodWing Xperience seminar May 24-25 in Amsterdam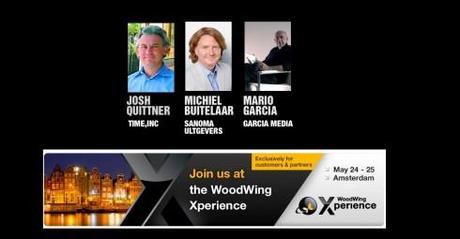 I am honored to be one of three keynote speakers at the upcoming WoodWing Xperience seminar in Amsterdam May 24-25
I did a previous keynote for a WoodWing Tour function in London in 2010.
For those interested in attending, here is more information:

May 24-25, 2011, Amsterdam, Netherlands
http://xperience.woodwing.com
TheMarioBlog post #760