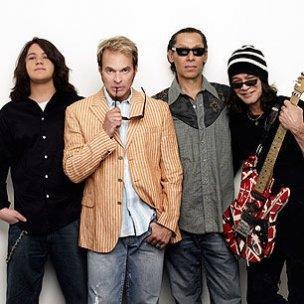 Hello rock lovers, Zachary here with some breaking news! It turns out that Guns N' Roses frontman Axl Rose will not be attending his hall of fame induction April 14th. Axl states in an interview, "I strongly request that I not be inducted in absentia. Please know that no one is authorized nor may anyone be permitted to accept any induction for me or speak on my behalf". Even though Axl doesn't want this to happen…no one really cares and green day will be there to accept it for him. Even though Axl is a no-show, Slash and the remaining members are able to make it. Also, Chris Rock is inducting the Red Hot Chili Peppers. Rod Stewart, oh the great Rod Stewart…yeahhh, he will also be not attending the H.O.F. induction. Cool.
I also bring forth to you a summary on the Van Halen Concert! My good friend, and lead guitarist of my band, Dylan, has given me the greatest summary his worn out mind could give! God bless the guy. (I'm pretty sure he'll beat my ass if he reads this XD) So without further ado, or a don't, I give you the
*queue epic voice* a Van Halen concert summary!
So it starts with some celebration as Kool and the Gang appears for a good time! And after they perform Van Halen starts setting up which took about 20 min according to Dylan and then everything went black. About five minutes later the drums glew red and they kicked it off with thier first song, followed by a new song of theirs, "Tattooed" and halfway through the song David Lee Roth pulled down his pants to show off his sweet gun tattoo on his ass cheek. Dylan described the loosing of his van Halen concert virginity as a great experience. He states they are way better now than they were before according to reports from…my uncle.
"They were on beat with everything and Eddie even improved parts to the almighty 'Eruption', Alex came up with an amazing drum solo and Wolfgang got swole," reports Dylan. They ended the show with a nice classic, "Jump". And that is about all the info I was able to receive from my guitarist, Dylan.
This concludes another article, but you guys should be hearing from me on Monday. until next time, rock on!
-Zachary