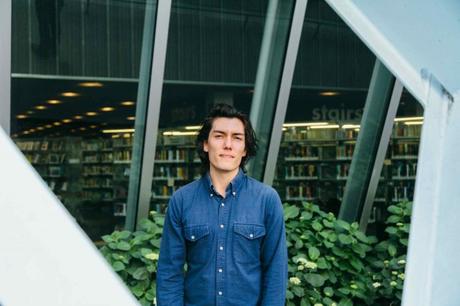 The sweetly melancholic sounds of Seattle's Valley Maker easily get under your skin. Austin Crane's voice is delicate and heartbreaking as ever in the new track "Oh Lightning," adding a perfect listlessness to the plucking guitar and crashing drums. The video for the track combines the song with beautiful and isolating nature photography and shots of people and things completely alone. Of the video, director Joel Kolean says:
"I wanted to create something that reflected the layers of mystery and atmosphere present in the song, as well as a sort of beautiful emptiness and isolation that pervades my understanding of the album. The song, and the entirety of the album, feel like something you'd blast into a desolate wilderness while contemplating your brief existence. The video is my attempt to visually represent those sentiments." 
In addition to premiering a new video, the band also announced a US and UK tour today. Check out the dates below and be sure to see Valley Maker when they come by – we promise it's an incredible show.
Tour
6/16 | Columbia, SC @ New Brookland Tavern
6/17 | Charleston, SC @ The Royal American
6/18 | Greenville, SC @ Dive-N-Boar
6/19 | Birmingham, AL @ The Spring Street Firehouse
6/20 | Chattanooga, TN @ JJ's Bohemia
6/21 | Atlanta, GA @ Smith's Olde Bar
6/22 | Athens, GA @ Two Story
6/23 | Nashville, TN @ The End
6/24 | Asheville, NC @ Tiger Mountain Thirst Parlour
6/25 | Chapel Hill, NC @ The Cave (early show)
7/5 | Brighton, UK @ The Prince Albert*
7/6 | Manchester, UK @ The Castle Hotel*
7/7 | London, UK @ The Waiting Room*
7/8 | Cardiff, UK @ Buffalo Bar*
8/23 | Chicago, IL @ The Hideout
8/25 | Minneapolis, MN @ Icehouse
*Supporting Novo Amor