Valentino's Burned Dandelion's Dress Zoom Shot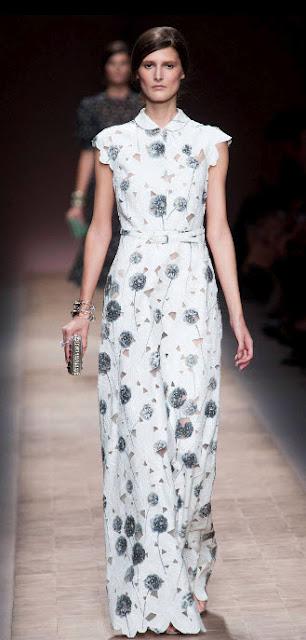 "Valentino's Burned Dandelion Dress Spring 2013 Collection"
Happy Fall Everyone! Hope your enjoying the cool, crispy mornings. I actually love it, makes for the perfect atmosphere for walking. As I'm walking I notice the
dried smoky remains of dandelions left from the summers warmth.
It reminds me of fashion designer, Valentino and Paris Week Spring 2013 Collection. Especially Valentino's one particular gown "The Burned Dandelion Dress".
At your first glance of this gorgeous burned dandelion dress, you can see "burned smokey dandelions" sporadically place throughout the gown with intricately shapes within it's complexity. Add the loveliness of the sculpturing in short sleeves and the hem of the gown. So intriguing.
But now; do a zoom shot on the picture and take notice of the complexities of the white flowers and craftsmanship in the stitching.  Totally fabulous!
Utterly divine work from Valentino's group. This is just not a dress, it's a timeless of design masterpiece.
Leave me a comment and tell me if you can see the white flowers too!
Enjoy your fall everyone, winters just around the corner! Bundle up time!