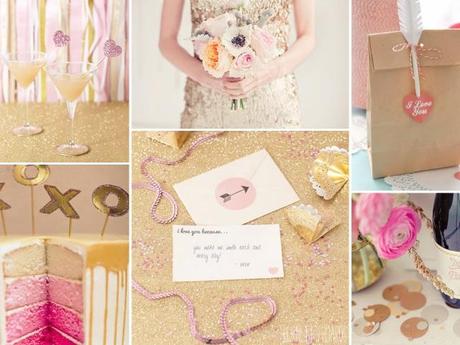 Inspiration Board by Burnett's Boards
In the unlikely case that you're engaged and forgot to buy something for your fiance(e), today is Valentine's Day. Valentine's Day is a popular day on which to get engaged, and a popular day for weddings, even when it isn't on a weekend. But is getting married on Valentine's Day really a good idea?
Getting married on Valentine's Day has some of the pluses and minuses of Christmas and New Year's weddings. On the plus side, it's an easy to remember date, and it's full of natural love and romance. On the negative side, not everyone wants to celebrate romance by celebrating YOUR romance. You will never, ever, be able to have an anniversary date that is private and affordable (although I guess you only have to go out once, not two separate occasions, so that saves money). Also, booking florists, bakers, transportation, and caterers may be surprisingly difficult. Depending on where you live, there's also the issue of weather. It can be very hard for your guests to travel mid-February.
There's also the benefit or problem (depending on your point of view) of Valentine's Day decor. If you love pink, red, and hearts then a Valentine's Day theme may be perfect for you. But, if you (or your fiance(e) aren't crazy about that idea, it can be difficult.
So what do you think, is Valentine's Day the day for your wedding? Would you resent going to someone else's Valentine's Day wedding?
Love the gorgeous inspiration board? It's by Burnett's Boards!