If you're thinking about treating your sweetheart to chocolates or a nice dinner out for Valentine's Day, you're on the right track. But you know what's missing? Beer!
Impress your Valentine by taking him or her to any one of these fantastic breweries' special events!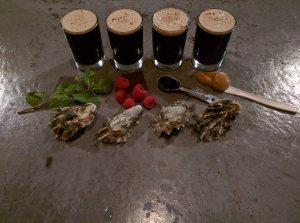 Tue., Feb. 14, 6-10 pm: 2nd Annual Valentine's Oyster and Stout Festival! at Alpine Dog Brewing Company (1505 Ogden St, Denver, Colorado)
Our famed Valentine's Day Oyster and Beer Pairing is returning for its 2nd year! This time around,in honor of Stout Month, a flight of four oysters will be paired with four specialty stouts! Chef Sandoval will be shucking oysters to be paired with the following variations of our Blind Sherpa Stout:
Mint Chocolate Stout
Peanut Butter Stout
Chocolate Raspberry Stout (from the firkin)
Maple Breakfast Stout
No Tickets this time around, just show up! Additional a la carte oysters will be available as well as full pours of our one-off stouts!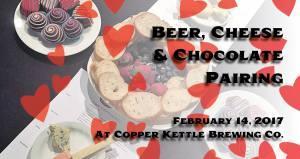 Tue., Feb. 14, 7-8:30 pm: Beer, Cheese, & Chocolate Pairing at Copper Kettle Brewing Company (1338 S Valentia St #100, Denver) ***SOLD OUT!***
Join us for a special Beer, Cheese, & Chocolate event for Valentine's Day, hosted by The Truffle Cheese Shop and Copper Kettle Brewing Co., with delicious desserts made by Pink Zebra Cupcakes. Bring your sweetie for a unique V-Day idea to do together!
This is a four course pairing featuring a craft beer sample, artisan cheese, and fine chocolate dessert for each course. The pairing will be held in our private event center with an intimate feel, personalized with our head brewer or Certified Cicerone and professional cheesemonger from the Truffle Cheese Shop. What a great gift idea for yourself and/or a special friend!
Tickets are $30.00. Tax and tip excluded. We sell out of this event every year, so TICKETS M

UST BE PURCHASED IN ADVANCE!
Price includes:
Four artisan cheeses from all around the world
Four craft beer samples (oftentimes, we release a beer that's not even on the draft line yet!)
Four decadent, locally made desserts
Locally baked bread or crackers
Fresh crisp fruit
We do require at least 24 hours to cancel your tickets.
See you there!!!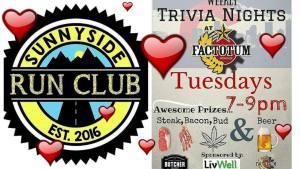 Tue., Feb. 14, 6-9 pm: Valentine's Day – Run Club and Special Trivia at Factotum Brewhouse (3845 Lipan St, Denver)
Every Tuesday we've been working out our legs (and heart!) with Sunnyside Run Club and working out our mind with live trivia at 7 pm. This week, we'll continue the fun with a special Valentine's edition! There will be MORE prizes and MORE giveaways.
Weekly prizes include pizza from Denver Deep Dish LoHi, meat from Western Daughters Butcher Shoppe and gift cards from @LivWell Dispensary. ADDITIONALLY, there will be FREE brewery glassware for all Trivia participants AND a chance to win bottles of Barrel-Aged Beer. And probably more
Join us. It's going to be a lot more fun and laid back than sitting 6 inches away from a fighting couple at an overpriced prix-fixe dinner.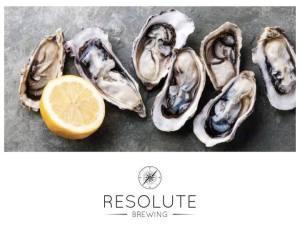 Tue., Feb. 14, 5:30-8 pm: Valentines Day Oyster Tapas & Beer Pairing at Resolute Brewing Company
(7286 S Yosemite St, Ste 110, Centennial)
Resolute's first beer & food pairing is here!
Jordan Wein of Grassroots Grill will be throwing down a Valentine's Day tapas menu (small plates) that will be accompanied by four special Resolute beers. The menu will be mostly mollusks- including grilled oysters, oyster shooters, oyster stew & more!
So go ahead, be shellfish this Valentine's Day and bring your sweetheart to Resolute for this one-of-kind beer and oyster engagement.
Tickets are on sale! There are two seatings, the first seating is at 5:30 pm followed by the second at 7 pm. Space is limited, follow the link on the event and buy your tickets today!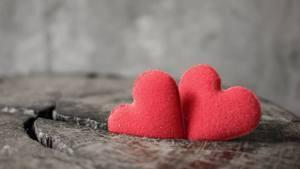 Fri., Feb. 10-Tue., Feb. 14: Valentine's Day Dinner Special at Oskar Blues Grill & Brew (303 Main St, Lyons)
Join us for a Valentine's Day Special Dinner with your loved ones!
4-Course meal for 2= $30 or purchase a menu item a la carte!
First:
Caprese Salad $5
Second:
Goat cheese stuffed date wrapped in bacon $6
Third:
Rigatoni, white wine sauce with shallots, peas and roasted garlic,
choice of chicken or shrimp $13
or
Roasted Pork chop w/ maquechoux $13
Fourth:
Creme Brulee $6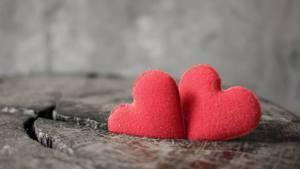 Fri., Feb. 10-Tue., Feb. 14: Valentine's Day Dinner Special at Oskar Blues Homemade Liquids and Solids
(1555 S Hover St, Longmont)
Join us for a Valentine's Day Dinner with your loved ones!
4-Course meal for 2= $60 Or purchase menu items a la carte!
First:
Seared pork belly atop brioche served with charred slivered callions, fresno chilis, and a juniper berry balsamic reduction. $9
Second:
Spinach & red onion tossed with a slightly warm bacon & sherry vinegrette. Garnished with egg wedges and asiago. $12
Third:
Seared sous-vide ribeye with potato croquets and sautéed spinach. $30
or
Black Pepper and fennel crusted salmon grilled and served with saffron risotto, asparagus, and lemon basil butter. $18
Fourth
HotBox roasters infused chocolate mousse. $6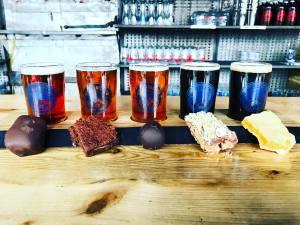 Tue., Feb. 14, 11 am-11 pm: Denver Beer Co's Valentine Beer and Chocolate Pairing! at Denver Beer Co (1695 Platte St, Denver)
Show your Valentine just how much you love them with the two best things on the planet: BEER + CHOCOLATE.
Before dinner, after dinner, instead of dinner, treat your date, your bestie, or yourself to our insanely amazing beer and chocolate pairings.
Denver's very own Chocolate Lab is creating some amazing, artisanal chocolates paired with 5 of our favorite beers.
$30 gets you 5 amazing sweet treats paired with 5 4oz beers.
There are very limited tickets available for this event so grab them now and come by the Platte st taproom anytime between 11am-11pm on Valentines Day to get your taste on!
PS – A Valentine is not provided or required for this event.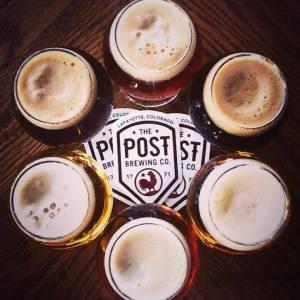 Tue., Feb. 14: Singles Awareness Day Party at The Post Brewing Company (105 W Emma St, Lafayette)
 The Post Brewing Company is throwing a SAD (Singles Awareness Day) Party for all the singles out there this Valentine's Day. Held in the Elkhorn Taproom, this 21+ event will feature $3 house-made Sweet Tea Vodka shots, house barrel aged tequila shots, and the return of The Post's most romantic beer—Lovey Dovey Amber Ale, fermented at exactly 69˚F.
For more information, please contact The POST at (303) 593-2066.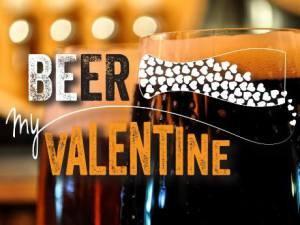 Tue., Feb. 14, 4-9 pm: Valentine's Day with Rock Cut at Rock Cut Brewing Company
(390 W Riverside Dr, Estes Park)
Valentine's Day is two weeks from tomorrow and if you're like us, romantic plans always involve craft beer. Since V-Day is on a Tuesday this year, we'll be hosting a special Valentine's Day themed trivia night, complete with a new beer release, special menu from Two Chicks Wings and Henhouse, and more. Check out the event below and click 'Interested' if you plan to stop by!