Valentine's Day is made extra sweet with this adorable pink cupcakes recipe! Our son loves the Pinkalicious book that features a young girl obsessed with pink cupcakes. She loves them so much and eats to many that her skin turns pink! The rest of the books by the same author highlight the same girl and a different color and theme each time. They are really cute-and I knew that he would love these cupcakes that almost seemed to go with it!
Although we don't have any extra super pink skin yet, we do have a lot of smiles and satisfied grins. These cupcakes are so much fun! Let little ones handle the sprinkles. I purchased cupcake toppers from a local kitchen and gift shop. Please, try to find some from a family-owned business near you (unless you are extra crafty and make your own). Our son also put the toppers into the top of each cake after he carefully put the sprinkles on top. As you can see from the image above, he did a nice job. He was so proud and couldn't wait to hand them out to his class at preschool.
The most important thing to remember about making cupcakes is this: do not over-mix them or they will end up very flat and do not over-bake them or they will end up hard. Not a good thing to have in cupcakes! To get the cheery bright color, I use a gel food coloring. Liquid food coloring will not create the vivid look I was going for. To mimic the same, add your gel coloring in to the batter along with the liquid measurements. It will help keep you from over-mixing them to incorporate the stuff! I found this recipe in the the book (affiliate link) How to Cook Everything: Simple Recipes for Great Food.
Valentine's Day Pink Cupcakes Recipe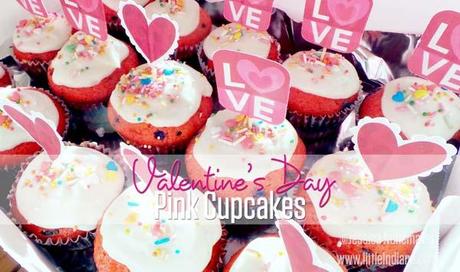 Ingredients
10 Tablespoons Butter, Softened
2 Cups Flour
1 1/4 Cups Sugar
4 Eggs or 8 Yolks
1 teaspoon Vanilla Extract or 1 Tablespoon Orange Zest (Grated, Minced)
Gel Food Coloring in Color of Your Choice (Optional)
1/4 teaspoon Almond Extract
2 1/2 teaspoons Baking Powder
1/4 teaspoon Salt
3/4 Cup Milk
Instructions
350* oven.
Line muffin tin with cupcake wrappers. Set aside.
Cream Butter and Sugar together.
Beat in Eggs/Egg Yolks one at a time.
Add Vanilla Extract or Orange Zest, Gel Food Coloring to tint the base the desired color, and Almond Extract (if using).
Combine Flour, Baking Powder, and Salt.
Add to Creamed Mixture alternating with Milk.
Stir only until smooth. DO NOT over-mix.
Fill wrappers almost to the brim.
Bake 350* for 20-25 minutes or until they are lightly golden brown.
Cool completely and ice as desired.
http://littleindiana.com/2015/02/valentines-day-pink-cupcakes-recipe/
Small Towns: Destinations, not Drive-Thrus! I'm Jessica Nunemaker and THIS is little Indiana!