Valentine's Day is right around the corner, but there's no need to drive yourself nuts figuring out what to get the one you love. Because I did it for you!
We'll start with the tough one… men. They are virtually impossible to shop for. There are only so many cuff links, ties, and fancy golf tees you can get the dude. Mainly because he probably rarely uses those things. I've rounded up a few things that your man will be thrilled to unwrap this Valentine's Day.
Click to view slideshow.
Not all men are into jewelry or cufflinks, but what guy wouldn't be into a cool, rugged belt buckle? This Crossed Buckle by Fosterweld is inspired by classic argyle, allowing him to express both his manly and gentlemanly sides. Each buckle and belt is handcrafted in Boise, Idaho.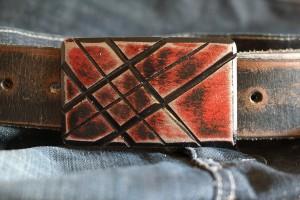 Crossed Buckle Belt from Fosterweld
Guys have a lot to carry – laptops, E-readers, water bottles, and maybe even an emergency sandwich. Help him do it with dignity and style. The Leather Messenger Bag by Rustic Leather Co. is handmade in San Marcos, TX and is a rugged, no-nonsense man-bag that will help him carry his stuff and keep his manhood. Plus, it converts into a backpack, so he can hop on his bike and go. Don't forget to include your own message in this messenger bag – tuck a love note inside to let him know just how much he means to you.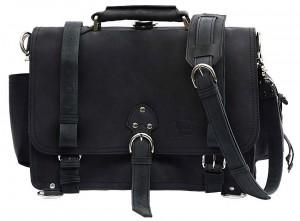 Leather Messenger Bag from Rustic Leather Co.
Get your beau something personal and useful. This Monogrammed iPad Case by Picaso Lab is something he'll take with him wherever he goes. Get his name monogrammed on it – or perhaps a word or phrase referencing an inside joke (you may want to stay away from pet names such as Snookums or Pookie Pie). Each one is made by hand, and you can see how it's done here: http://youtu.be/kF-oT5iZ11k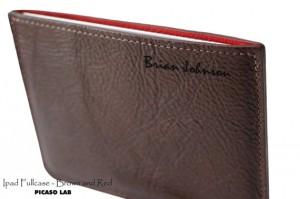 Monogrammed iPad Sleeve from Picaso Lab
Whether your man is a world-traveler, or you hope to become explorers as a pair, this Scratch Map from Uncommon Goods will help him document the countries he's tackled. For each country he visits, he can scratch off the gold coating to reveal pops of color, creating a cool conversation piece for his wall. These artistic maps are created by a small product design company in the UK.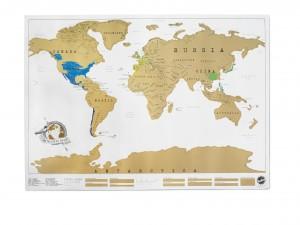 Scratch Map from Uncommon Goods
Guys like to snuggle, too! Get him his very own wool man-blanket that he can use at home cuddled on the couch or out camping when the weather is a bit chilly. Either way, it's a good excuse to curl up together. This Coyuchi Striped Wool Blanket from The Ultimate Green Store  is a dense, cozy blanket made from wool that is sourced and woven in Canada.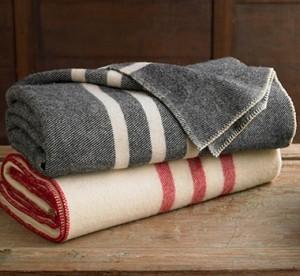 Striped Wool Blanket from The Ultimate Green Store
---
Women are easier to shop for, although, being a woman, I am probably a bit biased. But let's forget about the old standbys. Men, if you want to really make her feel special by surprising her with something unexpected and meaningful, I have you covered. Any one of these choices will do the trick.
Click to view slideshow.
Guys, I know these big-box jewelry stores that come out with "Valentine Jewelry" seem to make it easy for you to get the perfect gift, but, please, please refrain. It's a trick. Get her something less cookie cutter that she'll actually be thrilled to wear. These Conflict-Free Rough Diamond Studs by Lex Luxe are an updated take on an old classic that will have her amazed at how well you know her.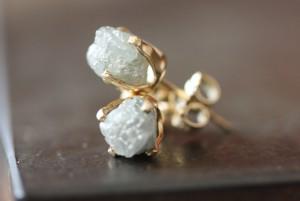 Rough Diamond Stud Earrings from Lex Luxe
Your girl loves chocolate. You know that. Go beyond the expected box of chocolates and WOW her with Love in a Big, Big Box by Zoe's Chocolate. Treat your love to the deliciousness that has been chosen as the official chocolate for events ranging from the Emmy Awards to the G8 Summit, yet is still handmade in the small town of Waynesboro, PA. Since that is a hop, skip, and a jump from me, I can personally attest to the out-of-the-world experience that is Zoe's. She will love you for it.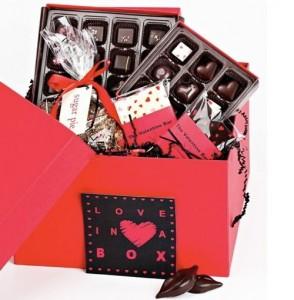 Love in a Big, Big Box from Zoe's Chocolate
Sometimes it's the simple things that have the biggest impact. My Beautiful Life Journal from Modcloth gives your gal the opportunity to draw, write, or even post photos from important events in her life from the past and present. These journals come from Chronical Books, who are committed to  sustainability and making a positive impact on their community. As she fills out the pages, you'll learn even more about her and be reminded of just why you love her so much. And she'll be most enamored with the fact that someone so thoughtful (that's you) is part of her Beautiful Life.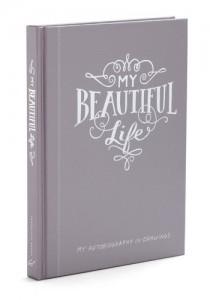 My Beautiful Life Journal from Modcloth
The Gassato Cashmere Longline Cardigan from Pure Collection is  the perfect way for you to keep your honey cozy and warm even when you're not around. Pure Collection works closely with its suppliers, who use 100% sustainable farming practices and provides the finest, premium grade cashmere. It's like a hug from you every time she puts it on.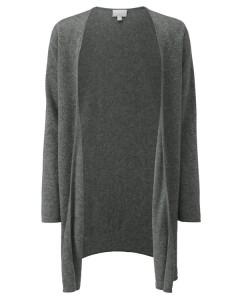 Gassato Cashmere Longline Cardigan from Pure Collection
While it's nice to get nice things, often the best gifts are those involving shared experiences. The Eco Coffee Picnic Backpack from Wayfair is the gift that will make her swoon when she opens it and will also lead to lots of adventures in the future. Created out of environmentally friendly materials, and assembled in the USA, this picnic pack has all you need for early morning coffee on the mountain or watching the sunset with a bottle of wine. Sounds like the perfect set-up for a romantic proposal, don't you think?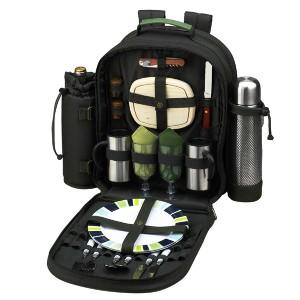 Picnic at Ascot Eco Coffee Picnic Backpack from Wayfair
---
---