My February Beer Events post is up, but here is a special one solely dedicated to beer events on Valentine's Day/weekend. There are several fun things to do with your sweetheart or your friends!

Fri., Feb. 12-Sun., Feb. 14: Valentine's Day at The Post Brewing Co. (105 West Emma St., Lafayette).
In celebration of Valentine's Day, The POST will be serving a special, super romantic menu all weekend long. The three courses will be offered individually or as a set menu and each comes with an optional beer, wine, or cocktail pairing:
First course

: Wood-roasted Oysters Rockefeller – $12, Paired with 9 oz. Lil' Buddy Bitter $3 
Second course

: Rotisserie Pork Loin – creamy toasted barley, greens, & apricot mustard – $19, Paired with 9 oz. Belgian Tripel – $3 
Dessert

: Chocolate Dessert for Two – $8, Paired with 9 oz. Cul-de-Sac Stout $3
**Optional wine pairing – $18 for all 3:**
First course

: Freixenet Blanc de Blanc Sparkling Wine $5
Second course

: Bodegas Zerran Montsant Syrah-Grenache-Carignan $10
Third course

: Bera Brachetto $6
**Optional cocktail pairing – $18 for all 3:**
First course

: 'New England' 75 – vodka, lime, cranberry-douglas fir syrup, sparkling wine $6
Second course

: Post Manhattan – rye Whiskey, Dolin Sweet Vermouth, charred cedar bitters $8.5
Third course

: Chocolate Martini $6.5 – vodka, 1921 crema, chocolate, cream
For more information and to make reservations please contact The POST at (303) 593-2066.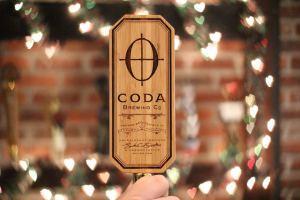 Sat., Feb. 13, 3 p.m.: Beer is My Valentine at Coda Brewing (2101 Ursula Ct, Aurora). 
Two beer releases, elegant music on stringed instruments, chocolate covered strawberries and THOU: a perfect Valentine's Day celebration!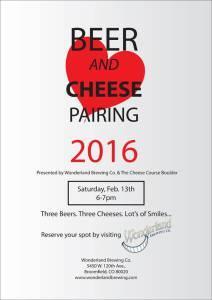 Sat., Feb. 13, 6-7 p.m.: Beer and Cheese Pairing at Wonderland Brewing (5450 W 120th Ave, Broomfield).
That time of year is quickly approaching. Yes, that time to get all ooey-gooey and show someone you care… And we know how you can do just that.
Attend the Second Annual Beer and Cheese Pairing at Wonderland!
Join us and The Cheese Course Boulder for a night out with three lip-smacking craft beers and three ooey-gooey gourmet cheeses paired with diligence. Your heart will be filled with love (and your tummy too…).
Price: $15 per person
How: Reserve your spot(s) by February 12th by visiting the Wonderland tasting room and purchasing your ticket with a beertender. Space is limited. Please arrive 15 min. early as we will begin right at 6pm.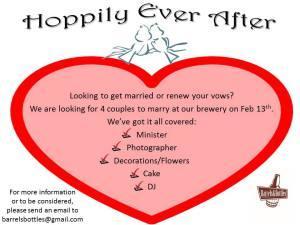 Sat., Feb. 13, 6-10 p.m.: Hoppily Ever After at Barrels and Bottles Brewery (600 12th St., Golden).
Hoppily Ever After
We are re-marring or marrying 4 couples on Feb 13th.
We've got it all covered:
Minister
Photographer
Decorations/Flowers
Cake
DJ
Memories
Fun
What a way to celebrate LOVE!
For more information or to be considered, please send an email to [email protected]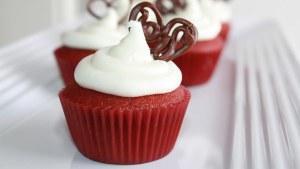 Sweetheart Soiree: A Dessert & Beer Pairing
$25 for one dessert flight + one beer flight
Pick one of the following dessert flights to be paired with an appropriate flight of beer:
Chocolate Delight (5 chocolate themed desserts)
Fruits of Passion (5 fruit themed desserts)
Romantic Assortment (5 assorted desserts)
Dessert Features include: Chocolate Lava Cupcake, Pineapple Upside Down Cake, Coconut Cupcake, + many more)
Tickets bought before Monday, February 8th receive a free pint card with purchase.
$2 of every sale go towards our charity of the month, Aurora Warms the Night.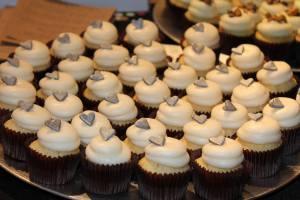 Sun., Feb. 14, 1 p.m.: Beer and Cupcake Pairing at Fiction Beer Co. (7101 E Colfax Ave, Denver).
Fiction Beer Company and Cake Crumbs Bakery present a Beer and Cupcake pairing event!
Choose from eight different beer and cupcake pairings!
Come celebrate Valentine's Day or come celebrate Single's Awareness Day but dont miss the chance to celebrate beer and cupcakes!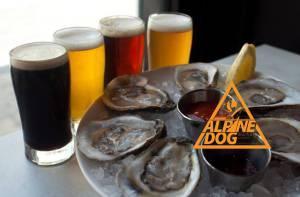 Sun., Feb. 14, 6 p.m.: Valentine's Day Oyster & Beer Pairing at Alpine Dog (1505 Ogden St, Denver).
We are teaming up with our friends from Colorado Raw to Bring you a catered oyster and beer pairing meal at the brewery! 4 oyster varieties with 4 suggested beer pairings then choose your favorite 2 oysters to go with your favorite pint! Seats are $30, then oysters after the pairing go for $3 a piece with $1 off pints! Reserve your spot via Eventbrite!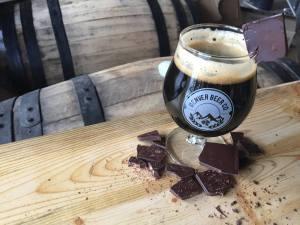 Sun., Feb. 14, 6-9 p.m.: Valentine's Day Beer & Chocolate Pairing at Denver Beer Co. (1695 Platte St., Denver).
Show your Valentine how much you love them with the two best things on the planet: BEER + CHOCOLATE.
Denver's very own Chocolate Lab will create some amazing, artisinal chocolates paired with variations of one of our favorite beers – Graham Cracker Porter!
$25 for 4 GCP Beer Tasters + 4 Chocolates from Chocolate Lab. No tickets needed, just come into the Taproom between 6-9pm to get your pairing.
BEER LIST

– CHOCOLATES COMING SOON!
Graham Cracker Porter
Like a campfire in a glass, this robust beauty has seductive notes of vanilla, smoked cedar, and mulling spices. A dark pour with mild lacing, she is a rollercoaster of lush chocolate diving into a semi-dry finish of roasted malt and biscuit. 5.6% ABV
Coffee Graham Cracker Porter
An 8% ABV version of Graham Cracker Porter aged on Nicaraguan Bella Aurora Coffee from Coda Coffee. Chocolate, Caramel, Graham Crackers, and Coffee. Oh yeah!
Chocolate Coconut Graham Cracker Porter
GCP aged on dark chocolate, flaked coconut, and vanilla beans. 5.6% ABV, Kaapooowwww!!!
Chile Graham Cracker Porter
Our classic Graham Cracker Porter kicked up a notch with the addition of dried chiles. 5.6% ABV
PS – A Valentine is not provided or required for this event.

Sun., Feb. 14, 12-6 p.m.: RiNo Love Triangle, hosted by Rackhouse Pub (2875 Blake St., Denver).
Valentine's Day progressive beer and cider dinner. 3 courses. 3 locations. 3 hour lovefest.
Menu + Pairings:
Course One: Hosted at Epic
Cheese and Beer
Course Two: Hosted at The Rackhouse partnered with C Squared
Pork Ossobuco. Roasted Carrot Puree. Risotto. Shaved Parm. Pickled Beets. Paired with C Squared Ciders: Alma, Ginger and Nona



Course Three: Hosted at Ratio partnered with Crapefull
Dessert and Beer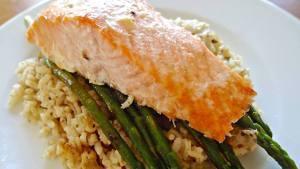 Sun., Feb. 14, 6:30-9:30 p.m.: Valentine's Day Dinner Pairing at Strange Craft Beer Company (1330 Zuni St, Unit M, Denver)
'tis passing strange: our passed sexy hors d'oeurves
Oysters poached in champagne and butter: Hot Latin pork skewers

Crab crepe kisses

10 oz pour ColoREDo
"Enter" course
Cupids Salmon with asparagus risotto and shrimp saffron butter

10 oz pour Breakfast Grapefruit IPA
The Main Affair
Truffle Roasted Marbled Beef Loin with pomegranate scented cracked pepper beef jus,

Silky soft potatoes and red hearts of beets

10 oz pour Little Bit Bad Stout
Finale
French Press Chocolate Soup with raspberries and whipped cream

10 oz pour Chocolate Raspberry Love Stout
$69 per person (excluding gratuity)

Sun., Feb. 14, 11:30 a.m.-3:30 p.m.: Brushes & Brews and Time for Dezzerts at Dry Dock Brewing (South Dock: 15120 E. Hampden Ave, Aurora).
This Valentine's Day, Time For Dezzerts will be slingin' Apricot Blonde cupcakes at South Dock (located at 15120 E Hampden Ave, Aurora, CO 80014) from

11:30am to 3:30 pm

, and Brushes & Brews will take place in the barrel room at

2pm

. Reserve your spot for Brushes & Brews here, and don't miss our Valentine's Day celebration!

Sat., Feb. 13-Sun., Feb. 14: Valentine's Day In Loveland
Stay and Play in Loveland: These Valentines Packages Have Something for Everyone!
Book your FUN Valentine's Package, in and around Loveland, CO.
Pick the tour that suits your style!
Brunch & Brew – February 13th
VIP Brunch & Brew – February 14th
Spirits Tour – February 13th