New to little Indiana? Subscribe for free to my RSS feed. Thanks for stopping by!
I've got an assortment of great recipes for Valentine's Day dessert! When I think "romantic Valentine's Day dinner" I think chocolate!
Okay, okay, the following Valentine's Day recipes may even carry over a red theme in keeping with the holiday.
Either way, whether tinted red or made of chocolate, they are delicious–and as pretty to look at as they are to eat.
Valentine's Day Dessert Recipes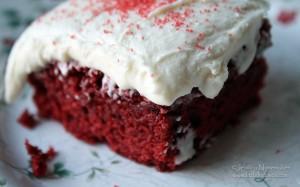 Red Velvet Brownies Recipe with White Chocolate Frosting
Red Velvet Brownies Recipe with White Chocolate Frosting – Red Velvet baked goods are usually hard enough to pave the driveway–but not this one! These brownies are phenomenal!
Best Chocolate Chip Cookie Dough Cheesecake Recipe – Cheesecake is a classic romantic dessert option. Pre-packed cookie dough really speeds up the process.
White Velvet Layer Cake Recipe Makes a Great Homemade Rainbow Cake Recipe with Seven Minute Frosting Recipe – Use red, white, and pink for the layers for a super cute surprise!
Cherry Chocolate Kisses Cookie Recipe – One of my favorite cookie recipes of all time! With it's pretty pink tint and small bits of cherry, they would definitely work for Valentine's Day.
Time-Saving Valentine's Day Dessert Recipes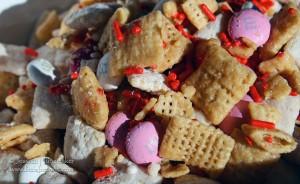 Valentine's Day Chex Mix Recipe
Have time constraints? These slow cooker recipes or easy snack mixes are a lifesaver!
Valentine's Day Chex Mix of Love – Chex mix with a Valentine's Day flair.
Slow Cooker Recipes: Chocolate Molten Lava Cake – This may be a favorite menu item at restaurants, but it's also super easy to make yourself! I highly recommend serving it with a scoop of vanilla ice cream.
Best Dip Recipes: Slow Cooker S'Mores Dip – I love S'mores recipes–and this is one of our favorites! Serve it warm as a dip or room temperature as a spread.
Find pictures in Indiana on my Flickr photostream or on the new little Indiana Tumblr blog.
Just don't forget to tell 'em that  little Indiana sent you!
Don't miss a moment. Subscribe to little Indiana and receive instant updates to stay on top of everything "little."
little Indiana: Where to Stay, Play, and Eat in Small Towns in Indiana. Discovering Indiana's best small towns! Now get little Indiana on your Kindle.
Targeted. Relevant. Affordable! little Indiana advertising.