New to little Indiana? Subscribe for free to my RSS feed. Thanks for stopping by!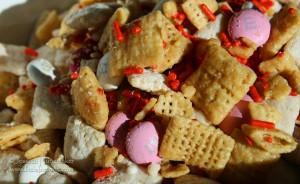 Valentine's Day Chex Mix Recipe
Valentine's Day recipes
From a couples standpoint–I'm not very into Valentine's Day. But from a parenting standpoint–I love sharing in the holiday fun with our kids.
This Betty Crocker recipe is easy enough that it looks like you fussed when it takes mere minutes to throw together this sweet take on Chex Mix. The sprinkles just make it cute!
Valentine's Day Chex Mix Recipe of Love
Print Valentine's Day Chex Mix of Love 1/2 Serving
Yield: 11 Servings
From the Betty Crocker website.
Ingredients
4 1/2 Cups Rice Chex Cereal
1/2 Cup White Vanilla Baking Chips
1/4 Cup Peanut Butter
2 Tablespoons Butter or Margarine
1/3 Cup Powdered Sugar
1/4 Cup Red, White, and Pink M&M's
2 Tablespoons Sprinkles
Instructions
Measure out 4 1/2 Cups of Rice Chex into Large Bowl.
Melt together White Vanilla Baking Chips, Peanut Butter, and Butter. Stir frequently.
Meanwhile, pour Powdered Sugar into plastic bag.
Pour melted chocolate, peanut butter, and butter mixture over the large bowl of Rice Chex cereal.
Stir.
Divide into half. Pour half the coated Rice Chex into plastic powdered sugar bag.
Shake to coat.
Pour onto wax paper to set for 15 minutes.
To remaining Rice Chex cereal without the Powdered Sugar coating, add the M&M's and the Sprinkles.
Pour onto wax paper and let set for 15 minutes.
When set, combine into one bowl.
Easy, peasy--and pretty!
Schema/Recipe SEO Data Markup by ZipList Recipe Plugin2.0http://littleindiana.com/2012/02/valentines-day-chex-mix-of-love/Photos are the Property of little Indiana. Do Not Use Without Permission.
little Indiana: Where to Stay, Play, and Eat in Small Towns in Indiana. Discovering Indiana's best small towns! Now get little Indiana on your Kindle.
Targeted. Relevant. Affordable! little Indiana advertising!