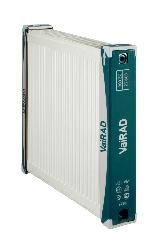 Vairad Panel Radiators
High quality and high thermal efficiency radiators VaiRAD winter coat ayınıza comfort.
Rich length models have the option of 10-year warranty.
- Pitch;
VaiRAD panel convector radiators in lengths of 25 mm pitch with thanks and high, so high convector surface area has a high heat capacity.
- Coating & Paint Technology;
Corrosion-resistant zinc phosphate coating and the production of panel radiators VaiRAD Cataphoresis applied the technique of painting.
- Color;
VaiRAD Panel Radiators, painted with electrostatic powder paint RAL 9010 color code.
- Rich Length Option;
300, 400, 500, 600 and 900 cm with a nominal size of the radiators, with 10 cm to 40 cm and 160 cm, 160 cm to 300 cm lengths, each of which 20 cm are produced increased.
- Packaging;
Second floor flat above a layer of polyethylene plastic is wrapped with nylon balloon. Cardboard and plastic guards around the edges with the corners provide maximum resistance against impact.
- Thermal Power;
2,688 Watts / m
VaiRAD Panel Radiator from 22 to 600 – 100 cm; _t = 60 ° C (90 / 70 ° C), room temperature 20 ° C, thermal power has been based on tests and reported TS4310′a.