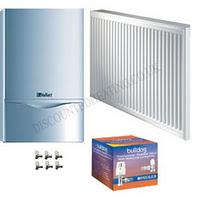 The discount heating website have some fantastic heating packs available at really decent prices, they have a good selection of both gas heating packs and oil heating packs, which come with a boiler, flue kit, a choice of 6 or 7 radiators and valves . I really like the Vaillant Ecotec Plus 831 heating pack, Vaillant are a good, strong manufacturer and their products are made to a very high standard, the boiler has a 2 year guarantee and the Stelrad radiators a 10 year guarantee.
Pack comprises of:
• 1 x Vaillant EcoTec Plus 831 Combi Boiler
• 1 x Standard Flue Kit
• 7 x Stelrad Compact Radiators (up to 35,000 btu's)
• 6 x Bulldog TRV Pack
• 1 x Bulldog Manual Valve Pack
•The Boiler : 2 Year Manufacturers Warranty
•The Radiators :10 Years Manufacturers Warranty
All Compact pack options include Stelrad 450, 600 & 700mm K1, K2 & P+radiators up to 1600, long. With factory fitted side panels and top grills.
We Will Contact You Within 24 Hours To Discuss Your Radiator Choice
Discounted Heating UK
Price Match and Quality Service
Over A Decade in Business