Five hundred twenty-five thousand six hundred miiiiin-utes…
Any Rent fans out there? Sweet Lord of all the musicals, I loved that show. In writing the title of this post I just YouTubed Seasons Of Love and about a million gazillion memories from sixth form and University came flooding back. I don't think there was a single person who came in to contact with me around that point who I didn't inflict the soundtrack upon. I wanted to play Mimi. No I wanted to play Maureen. No, I wanted to play Mimi…
Anyway I digress. Today is all about Utterly Wow's Season of Love. I've been banging on about my fantastically busy first season, so today I thought I'd do a quick romp through the seven weddings I had the pleasure of being a part of this summer, sharing some pictures, telling you my highlights and giving supplier shout-outs to some of the fabulous folk I met and worked with along the way.
So diving right in, my season kicked off in style with the supremely elegant and stylish wedding of Sarah and Nic. The wedding was held at Sarah's b-e-a-utiful family home in the Essex countryside, and Sarah and her extremely welcoming Mum had put so much thought and preparation in to the day, I was quite blown away.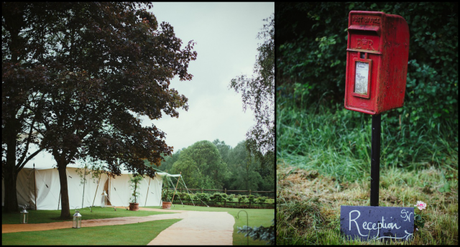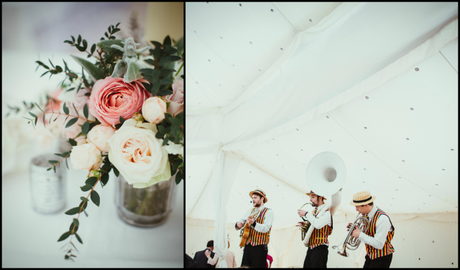 My role was to coordinate the day  itself, as being a marquee wedding at home there was obviously no venue manager or anyone to take charge.  The marquee looked incredible- Sarah had really thought about every detail, from the ghost chairs and mercury glass vignettes, to the gorgeously branded stationery and over-flowing cheese table. Outside there were lawn games, a baby creche set up in the summerhouse and a fire pit for later in the evening. The weather was pretty wet so sadly the outside accoutrements didn't get utilised quite as much as they should have been, but it was such a sumptuously inviting setting inside the marquee that I don't think anyone minded.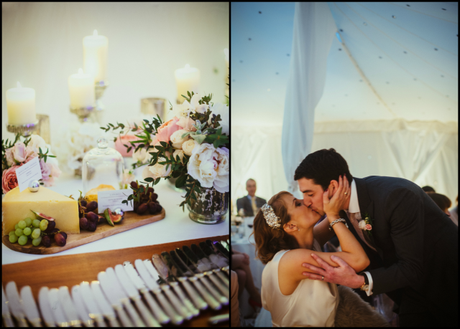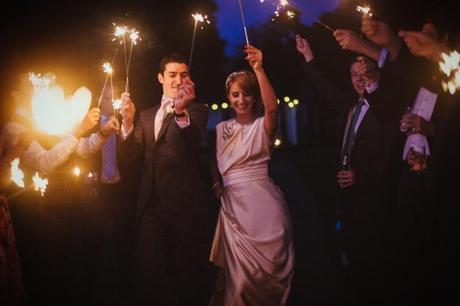 Images by Claudia Rose Carter
The day ran without a hitch, the one memorable blip for me being a very excited lost Boxer dog that found it's way on to site just before Sarah and her family left for church and had us all (the staff) running circles after it. We were literally in the middle of nowhere, and with no-one appearing to claim him, we tied him up by the catering vans and looked after him all day. (I think one of the catering lads ended up taking him home, for which myself and Lenny the cat will be eternally grateful.)
Supplier shout-outs go to Claudia Rose Carter who was back shooting her first wedding since maternity leave and took such gorgeous, evocative photos, Talbooth Catering who were so slick, professional and a sheer delight to work with (and majorly came to the rescue with dog gate), and The Top Bananas, three musical entertainers on stilts who were fun and cheeky and simply brilliant.
~  ~  ~
Of course, Sarah and Nic were the start of what I'd dubbed May Madness; three On-The Day Coordinations back to back that had me head down and nose to the grind for a solid month. Next up were Joe and Louise, who's wedding I've blogged in full already but still remains as one of my favourites from the season.
Festoon lights, food trucks, mis-matched chairs and so many personal touches getting setting up was to the wire, but the venue (Huntsmill Farm in Buckinghamshire) was so beautiful and guests loved every minute. I won't talk too much about this day as you can read all about it right here, but Joe and Louise were such a generous, cool, sweet couple to work with, it truly was a delightfully creative wedding to coordinate.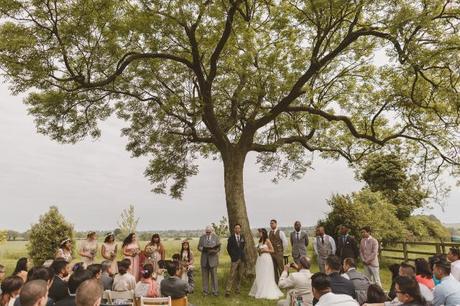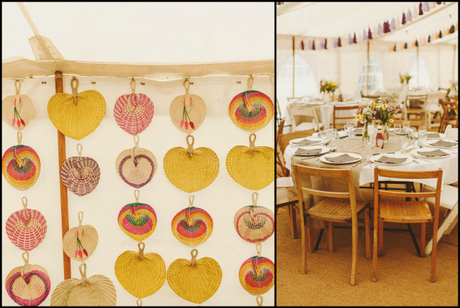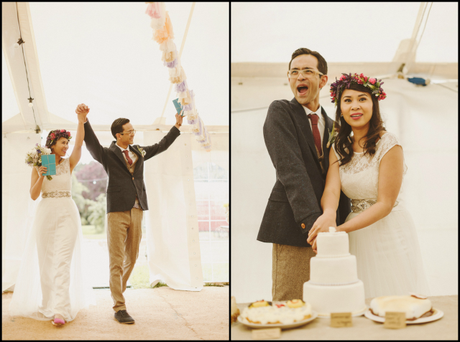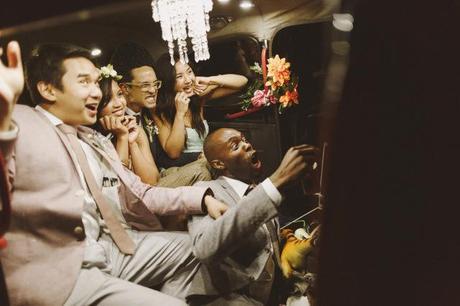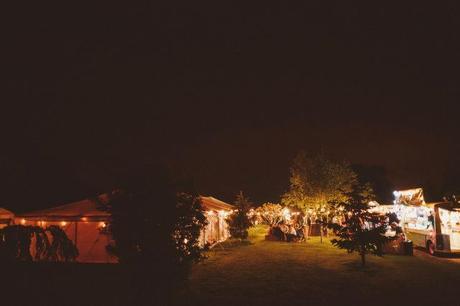 Images by Ed Peers
There were A LOT of suppliers involved in the day but my favourites were, of course, Ed Peers (photographic superstar and totally awesome human being), Alfie the Black Cab Photo Booth, (a photo booth… in a black cab- total novelty and had guests queuing all night), and the venue itself, Huntsmill Farm (gorgeous location, welcoming owners and lots of options and flexibility for a DIY day).
~  ~  ~
Before I had time to put my feet up it was on to Wedding #3, and from Buckinghamshire to Surrey I went, to coordinate the nuptials of Suzannah, a food writer for Good Housekeeping, and James, a television producer. (They met whilst both working on The X Factor! Love that story.) These two were SO. MUCH. FUN. and their wedding really reflected that. I had been booked to help set up the day before as well as coordinate the wedding day itself, and spent about four hours on the Friday up a scaffolding tower stringing streamers and pom poms across the ceiling of the pool house where the reception was taking place. Fortunately I had Suzannah and her bridesmaids on hand to help as well, and whilst we were all in pain by the end of the day (you try crouching on your knees/toes at the top of a scaffolding tower for FOUR HOURS), I think you'll agree the pool house looked AH-MAY-ZING when it was all finished.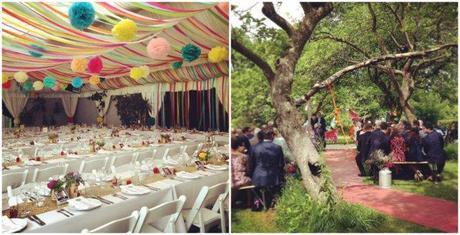 This wedding just oozed fun and personality from start to finish. From the oversized paper flower backdrop Suzannah had made for the ceremony, to the doppelgänger place names, Bugsy Malone sing-a-long during the speeches and confetti canons for the first dance, I could tell that everyone was just having the best time. From a personal point of view, I was super impressed with the venue, Ridge Farm. Of course it helped that the weather was perfect, but it really is a fantastic place to hire for the weekend and throw a wedding/party and the team that worked there were friendly, helpful and flexible.
I'm DESPERATE to share their professional photos with you (shot by the brilliant Craig + Kate Photography), but as Rock My Wedding will be featuring this wedding in full very soon, I'm afraid you just have to make do with a couple of Instagram snaps for now. Sorry :(
~  ~  ~
So in June I mainly slept. Well, that's not technically true. I worked my day job, did house stuff and made 30th birthday plans whilst, of course, continuing to prep for the rest of my weddings. July saw me hot-footing it up to the Peak District where I was oversee-ing the nuptials of Tess and Phil. Now Tess and I were actually at university together (she was in the year above), and when she got engaged back in 2012 she originally booked me to coordinate her 2013 wedding before an unexpected surprise came along in the form of a baby boy called Hudson. The wedding got put back a year, and my role grew as Tess juggled planning a wedding with becoming a new mom.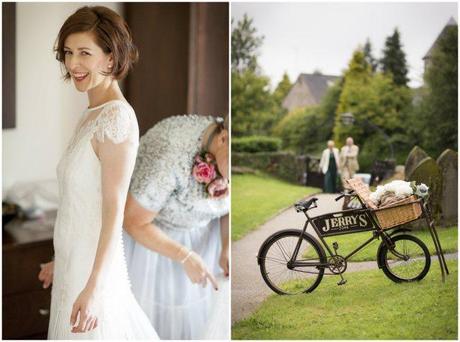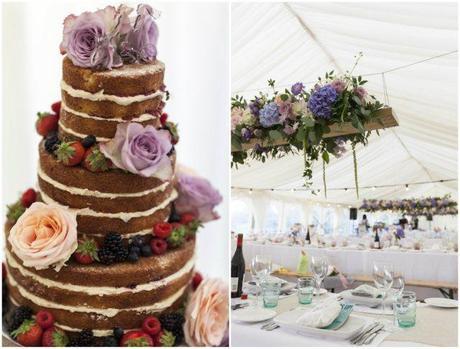 Whilst I had little to do with the design of this g-o-r-g-e-o-u-s day, I'd been involved logistically for well over a year, so it was a joy to see this epic wedding weekend unfold. There was style aplomb thanks to a whole host of talented friends; Kate Halfpenny of Halfpenny London was a bridesmaid and made Tess' beautiful bespoke dress as well as the bridesmaids' skirts, whilst Tess' sister-in law is one half of Florrie & Eve who made the floral necklaces. In the marquee, flowers were suspended from the ceiling, place settings were modern, quirky and perfectly branded, and there was delicious food in abundance.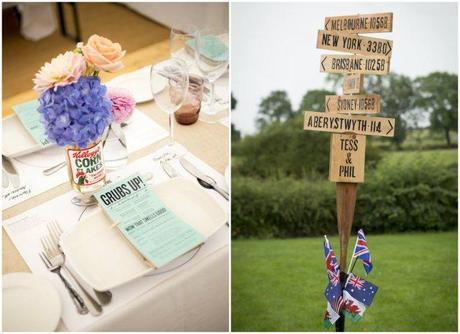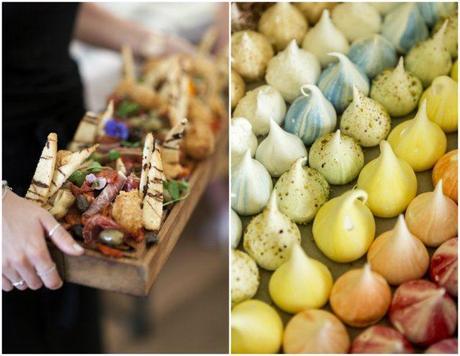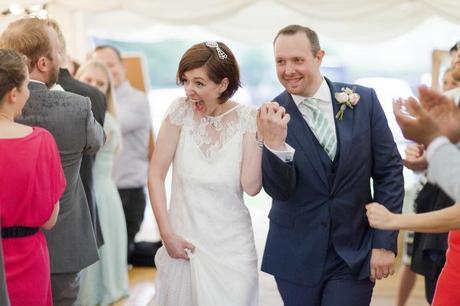 Images by Tom Oldham 
This wedding was packed full of talent, but special kudos has to go to Tom Oldham who heroically stepped in last minute to shoot the wedding when the original photographer had to pull out just days before, The Hog & Apple, another catering company who were über professional and generally awesome to work with, and Mowgli the band who were SO FRICKIN' BRILLIANT I stayed up way past my bedtime to watch, enjoy and even have a little boogie. (A 90's club classics/old school garage half hour? Yes please!)
~  ~  ~
Wedding #5 was that of Katie and Luke, a pair of childhood sweethearts who were getting married close to their home in West Sussex. They'd found a beautiful setting to host their marquee reception; a clearing in the woods of a private estate that overlooked a lake. It really was picture perfect.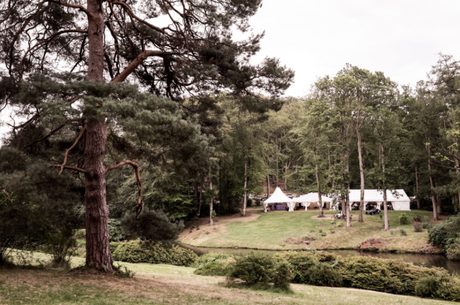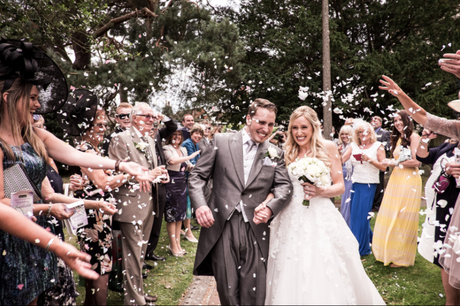 Katie and her Mum had planned the wedding to a tee. So much so, I was handed a folder at our first meeting three weeks before the wedding that practically did my whole job for me! On the day itself I was on weather watch, putting together the finishing touches inside and outside the marquee, greeting suppliers as they arrived, lighting candles and making sure their well-laid plans fell perfectly in to place.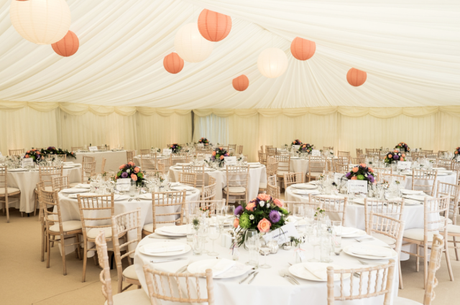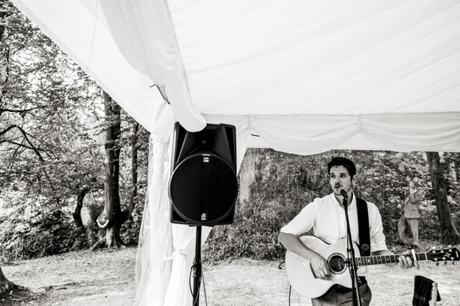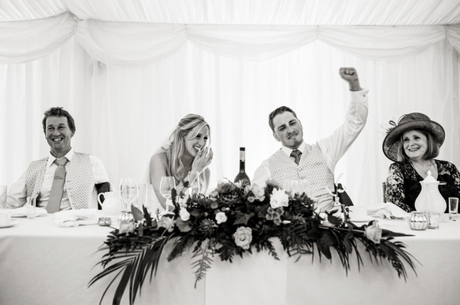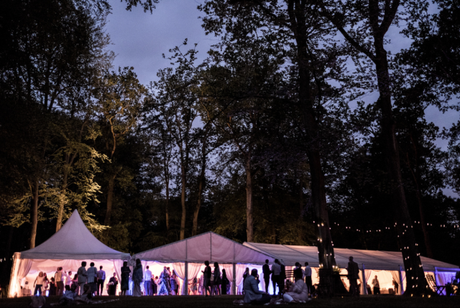 Images by Allister Freeman Photography
This was a classic, sweet, personal wedding hosted by a gorgeous family. Supplier shout-outs go to the lovely Allister Freeman who photographed the day, and Jay Marsh, a super talented musician who entertained guests upon arrival (and helped me retrieve numerous picnic blankets during a downpour!).
~  ~  ~
July went and August came, and my season was to culminate with the two weddings I'd been the most involved with. Lisa and Jon were up first. They were getting married at the Wise Wedding Venue in Kent- a fantastic space in the woods that boasts neon lights, swinging sofas, a treehouse and an enormous marquee ready to host the evening celebrations. It's a large, blank canvas space, and Lisa and Jon hired me to design and style the day, as well as managing the wedding weekend itself. I'd seen this venue featured on a number of blogs in the past and was understandably way over-excited to get my creative mitts on it.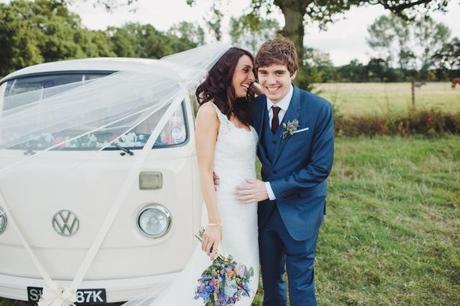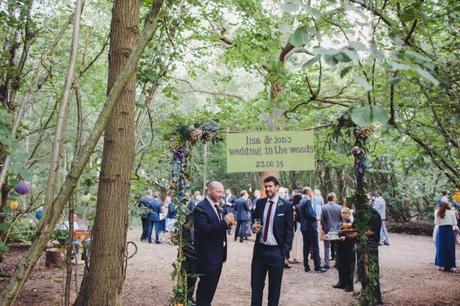 Jon wanted paper lanterns and lots of colour, whilst Lisa wanted twinkly lights and rustic romance, so I set out to create a colourful, fun, whimsical day that took a bit of bohemian inspiration from the gorgeous surroundings. There were hand-made wooden signs, a floral archway, streamers hanging from the trees, festoon lights, mis-matched napkins, rustic centrepieces and a hanging installation above the top table…to name but a few.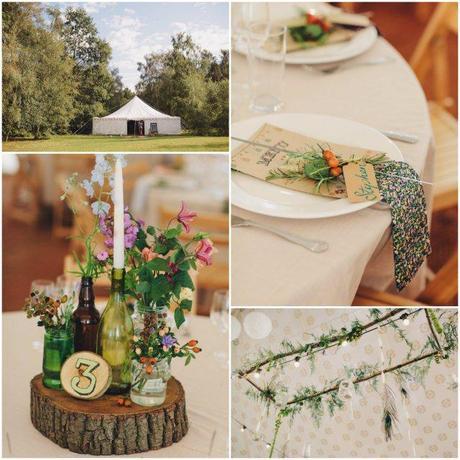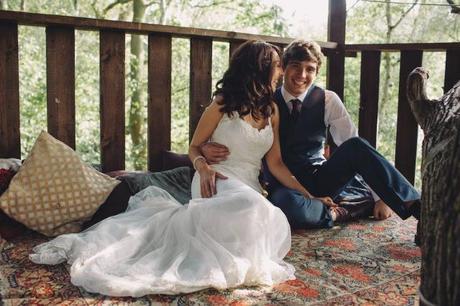 Images by Laura McCluskey
Lisa and Jon were dream clients and I loved every second of working on this beautiful woodland wedding. And despite August forgetting it was supposed to be a summer month, the sun shone brightly all afternoon much to everyone's delight! Lisa and Jon's family and friends were oh-so welcoming and the day was made even more awesome by the super-skills of Laura McCluskey, the photographer who I'd so been looking forward to working with, and Cappy from White & Winsome who took the brief and delivered the most perfect flowers.
~  ~  ~
And last but soooooooo by no means least, were the simply glorious Tiffany and Bright, who booked me a year ahead of their wedding to provide design and styling assistance as well as coordination. Originally wanting a barn wedding, they'd decided to make the most of their budget by hosting the reception in a large, modern village hall set in the very pretty Essex village of Wickham Bishops… and this space needed filling!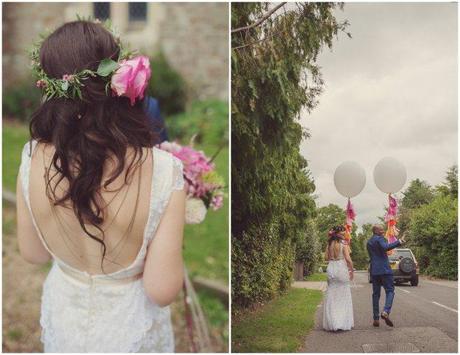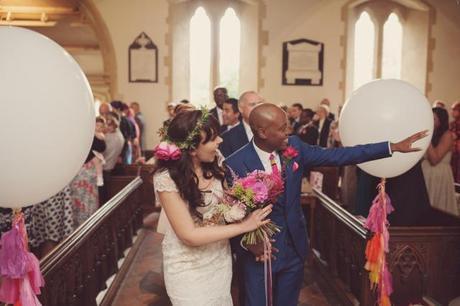 The brief was colourful and fun; they wanted to incorporate a few rustic touches with a nod to Bright's Ghanian heritage. So we lowered the vast ceiling of the village hall by filling it with paper lanterns and festoons. We used traditional Ghanian kente cloth as table runners and lined the walls with foliage-adorned wooden pallets. And the Bake-Off table was like nothing I'd ever seen before- we had to bring in an emergency trestle table there was so much cake.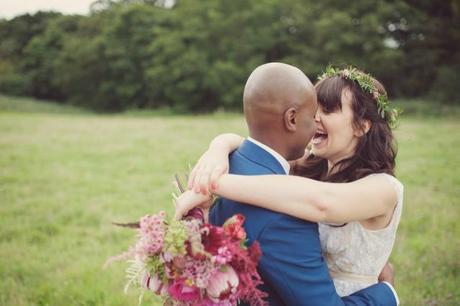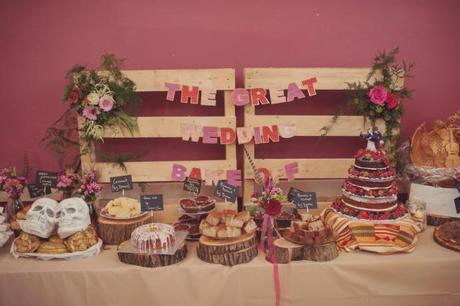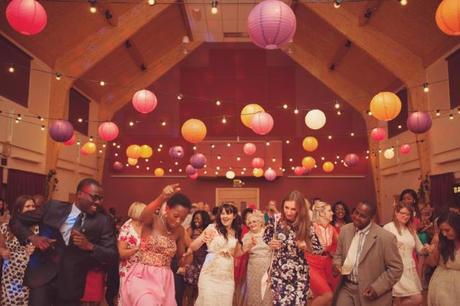 Images by Rebecca Douglas Photography
Tiffany and Bright literally laughed all day, and their family and friends danced their socks off all night. I was gutted to miss the magical, gospel music-filled ceremony as set-up was to the wire, but fortunately they'd hired the brilliant and truly lovely Rebecca Douglas to capture every second. Cappy from White and Winsome was with me again to create floral magic (including Tiffany's lovely headpiece), and I also have to mention Tiffany's dress- originally her Mum's wedding dress and re-worked in to something entirely beautiful and bespoke by Charlotte at Wilden Bride London. You can see this wedding in full on Rock n' Roll Bride very soon.
What a day, what a season… what a post! You can see more images, more supplier credits and even a client testimonial or two from these awesome weddings over on my website right now.
Bookings are coming in thick and fast for next year, so if you're a bride or groom-to-be and think you might like some Utterly Wow assistance, be it creative, design, logistical or coordination- then get in touch!
A mega post calls for a ma-hoosive cup of tea, methinks…
Sama xxx