I cannot believe that it has been three months since I last blogged, the time seems to have flown by!
The past three months have been packed full of busy, exciting things. One of the biggest things is that we sent our invites out and have now received our RSVPs back (with some gentle reminders to those guests who didn't clock the "Kindly respond by 3rd May" part of the invite). I was completely over the moon with the finished result. In the end I found a warm teal green and textured ribbon which I glue gunned into a makeshift belly band and tied twine around with a little tag to hold the various cards together. My favorite part has to be the RSVP card, which is double sided and designed from scratch by me, Joe and Helen (the graphic designer). I loved having a song choice and wine choice – because how many times have you been at a wedding and seen the unwanted bottle of red lingering on the tables until you're drunk enough to give it a go?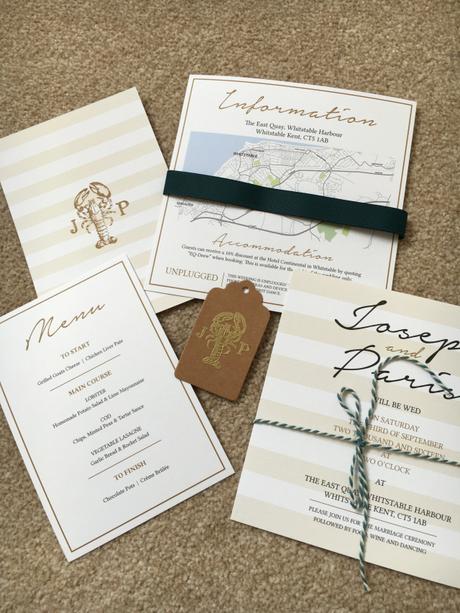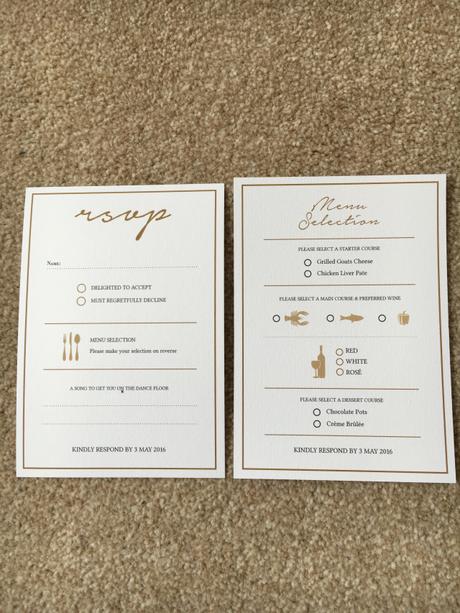 Invites!
We have 92 guests coming plus ourselves and 4 suppliers which brings us neatly under the 100 we were hoping to cater for. Thankfully the entire world didn't opt for lobster as a main course, the worry of which had caused many a sleepless night, so I am pleased to say that we haven't had to remortgage just to feed our families and friends on the big day. Phew.
The second biggest thing is that I have had my hen do! And it was just spectacular. Nine of my pals from school and I jetted off to Iceland for two nights of pure shenanigans. With an average 3 hours sleep per night we spent most of the weekend in delirious, sleep-deprived laughter. It never got fully dark while we were there so leaving a bar at 4am and putting on your sunglasses was pretty bizarre! The Blue Lagoon was a welcome break from sitting at a desk and the constant flow of cocktails, prosecco, double macchiatos and fab food helped to ease all of the stress from the last 18 months. It's amazing what a weekend laughing with your friends can do for your stress levels!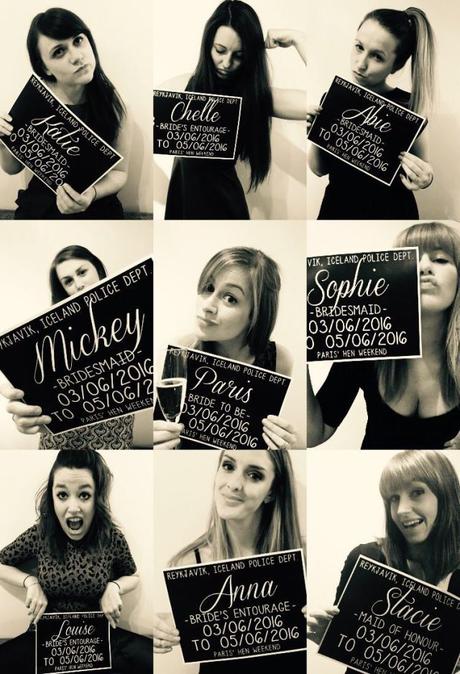 My girls.
Having booked all the big essential wedding things very early on (venue, photographer etc), I think I had become a bit complacent about all the other bits and bobs. It always felt too early to start crafting or I thought I would have too much time to change my mind if I started to buy decorations. So when we hit the 4 month mark it was inevitable really that there would be a panic.
I have mentioned before that a couple of my friends are engaged at the moment and planning their own weddings. I was visiting one of them at the time and she is getting married in mid-November. She started showing me her veil, bridesmaid head pieces, dresses, flower girl dress, center pieces… the list goes on. And every item I thought, "oh yeah, I need to do that soon", until a knot of dread started to form in my stomach. As big and full as my Pinterest wedding boards are (yes, boards plural), I hadn't purchased a single decorative thing. Or bridesmaid thing. Or groom thing.
It's not that I hadn't looked. Many an evening has been spent researching, showing Joe things on the internet and essentially agreeing on all the things we would like. But it is always followed by, "Oh, but we don't need to buy those now". Well actually, we do!
So now I am going to bore you with pictures of some of the bits and pieces that I panic bought at 6:30am one Saturday morning while Joe scuttled off to gym, sensing that this was not something he wanted to witness…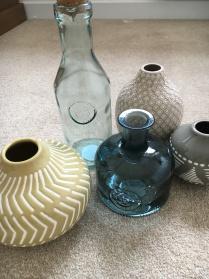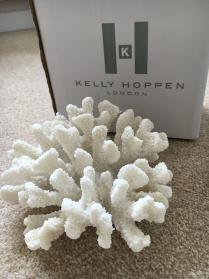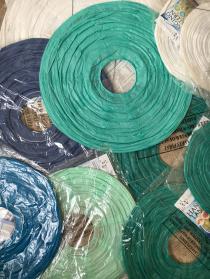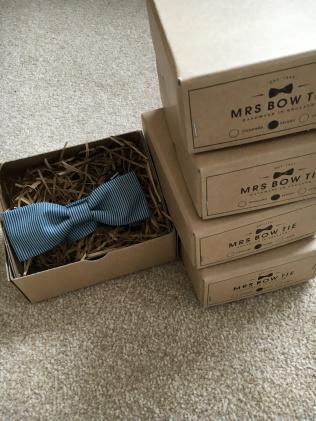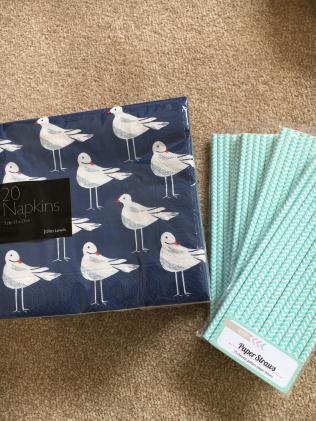 There was no rhyme or reason to the purchases as it was all very impulsive but once they started to arrive in the post I felt back on top of the wedmin and all was right again. I am particularly fond of the mint green chevron straws and they are the first thing I show people when they visit – nobody seems quite as enthused about them as I am.
The best thing though is the faux-coral cake topper. I love it more than anything and cannot wait to have it in our bathroom after the wedding as a lovely reminder of our cake! While on the subject of cake, the cake is being made by Joe's cousins (one of which is his best man) and the inspiration is below, provided by Pinterest of course. They are going to jazz it up with some meringue kisses and he sent me a picture of the practice run for these recently which is beyond exciting. Joe is most opinionated on the cake and declared that we will have a passionfruit and mango layer, white chocolate and raspberry layer and a coconut and lime layer. I don't mind as long as I get to be chief cake tester.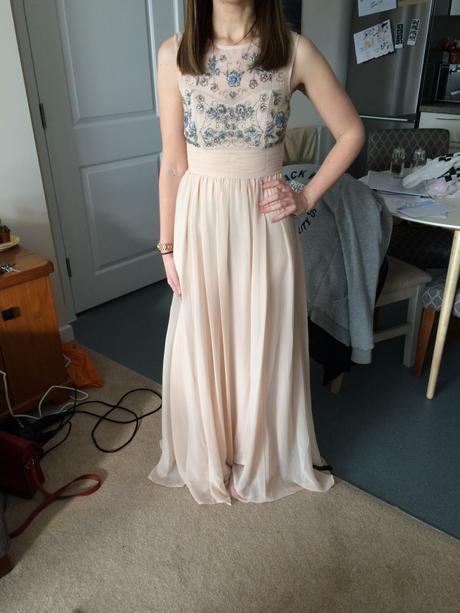 Bridesmaid dresses from No 1 Jenny Packham at Debenhams- unfortunately no longer available!
I have also bought bridesmaid dresses. By which I mean, my mom found them, ordered them and begged me to get my bridesmaids' opinions before I made her take them back. The bridesmaids loved them and now they are staying. I had originally bought pleated cream skirts and was looking for a structured, embellished cream top to go with them to which my mom told me I might as well give them frilly socks and have a Grease themed wedding… Cheers mum! All in all, I weighed up the free dresses, which my bridesmaids and my mom love, against saying no out of principle and decided it just wasn't worth the hassle. And annoyingly, I have since grown to love them.
So that is my 3 month round up! Have or did any of you leave it late to sort out the finer details? Surely I can't be the only one…!
Paris x