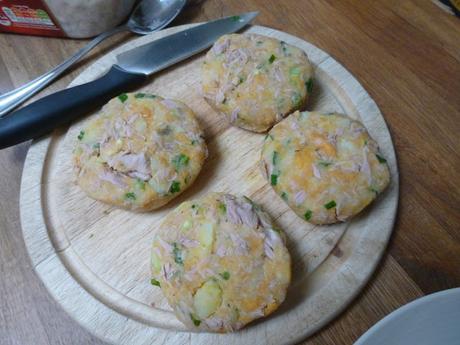 This mornings glance into the fridge revealed lots of dishes containing leftovers. 
 I usually make a big pot of soup to use up the end of the week vegetables, but this week we seemed to have dishes of things on the shelves and in the drawers all the veggies were in perfectly good shape to last us all through next week.
So I switched tack and pulled out the bowl with the tuna, the bowl with the sweet potato and the one with the ordinary potatoes that were over from my tea the other night.  Of course on the work top there were eggs, there are nearly always eggs ... thanks girls ..... and realising we needed something with flavor I went over to the polytunnel and pulled up the fattest of the Spring Onions, they weren't really that fat , but their flavor is brilliant so they would be enough.
All these things (except the egg) were chopped up a bit more and mixed together with a sprinkle of dried herbs to add even more flavor., and then with wet hands shaped into four fish cakes.  I didn't need anything wet to add to the mixture as it held together perfectly, but if I had I would have added a little bit of egg.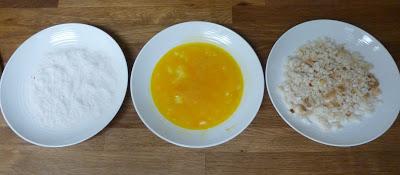 Then I set up the production line, it takes just minutes to turn naked fish cakes into breadcrumb covered delights.  First a roll in the flour, then a quick dunk all over in the beaten egg and then finally a plonk, roll and turn in the breadcrumbs ....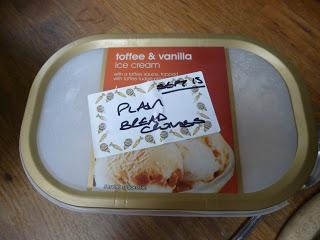 ... which were themselves leftovers back in September.  
I'm not sure if the date on the tub says Sept 13 or Sept 15, either way the breadcrumbs have been frozen since the day they were blitzed and they were absolutely fine.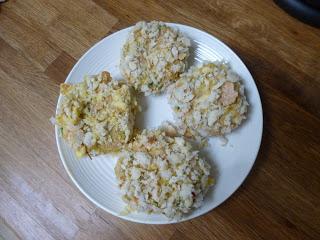 I like the chunkiness of these breadcrumbs they will turn lovely and crispy when the fishcakes finally make it into the oven later on today, I must remember to blitz them only to this level next time I'm processing stale bread.  I always leave fish cakes or homemade burgers to rest in the fridge before cooking them, and anyway having them ready to use later means that the whole meal will seem more like an instant supper than having to spend too long in the kitchen to produce it when I might be tired or hungry.
What will be having with them, well on my search of the fridge shelves I spied a tub with about a cupful of Faux Ratatouille (no Aubergine), so I will cook a handful of  penne pasta and mix the two together and it will make a lovely side to go with the fish cakes.
All in all a good homemade 'fridge clutter busting' meal :-)
What's on your menu tonight ?
Sue xx