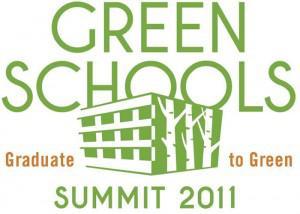 Although I did not "live blog" the US Green Building Council Colorado Chapter's recent Green School Summit, here are my notes from the event:
There are numerous free resources for energy efficiency available in Colorado. Two key ones are the Governor's Energy Office and the Community Office of Resource Efficiency.
Sangre de Christo School District LEED Platinum School:
Creating the right team is essential (for putting together a green school, although this could be true of any project, sustainable or otherwise).
Keeping it simple: in the case of a recent LEED Platinum school (written up in both the New York Times and Denver Post), the team went with a one-story building due to the lack of elevator maintenance options nearby.
The aforementioned project's next step is for "LEED certified teachers" and "LEED certified students" in order to ensure it performs as designed.
Large buildings behave differently than homes. Lots of homes in the area are straw-bale construction and residents wanted a similar building, so people were already thinking about green building.
There were no specifically "innovative" strategies used to achieve LEED Platinum, just combining several existing technologies.
A change in Colorado legislation (regarding geothermal loop system) caused the team to rethink a geothermal system, despite the fact that the school sits on a geothermal hotspot. Despite feeling confident that they would not disturb the water table, the design team decided against potential long-term adverse effects.
Students want to be there; the school serves as a community center, bringing together two towns that had separate facilities (replacing a "potato shed" and a 1904 building that was not conducive to learning).
The school building cost $14.8 million ($185/sq. foot); $3.5 million for site improvements on 40 acre property; $1 million for off site projects.
Prior to project, 100% of heat was propane.
Other observations:
The quickest return on investment for projects are: energy recovery systems, daylighting, geo-exchange systems.
Dan Smith, Director of Energy Services for Black Hills Energy" "lowest cost energy is energy not used"
Smith in response to why a utility would save energy: "It is much less costly to save energy and reduce demand than to build new generation" capacity
Lee Smit from Douglas County Schools: student driven programs reduced energy consumption by 24% over four years, saving $11 million
Check back tomorrow for my write up of the facilities tour at the end of the day.
[Image source]