The other day, one of my friends asked me if there was an easy way to thank people for promoting her content on Twitter. She wanted to be able to show her gratitude without sending 10 or 15 Tweets in a row — and running the risk of being unfollowed for spam.
I suggested that she adds supporters to a thank you list.
Since I have seen this question a lot lately, I have decided to create a quick tutorial to help you build your own Twitter list. I hope you will find it useful!
1) Log in to your Twitter account. Click the "Me" icon in your top menu.
2) Under "Lists" in the left sidebar, click "Create list"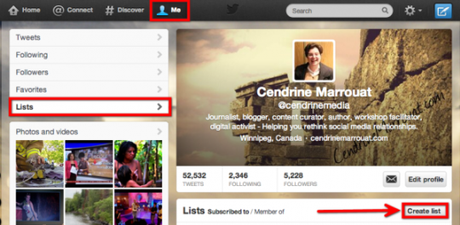 3) In the pop-up window, name your list and fill in the description area. Make sure that your list is public.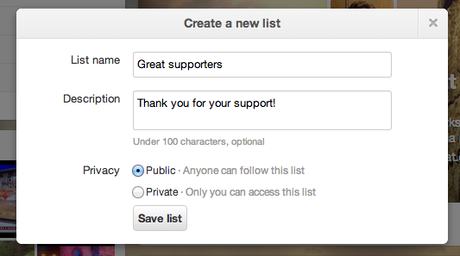 4) Click "Save list".
5) On the next page, enter the name of the people you want to add in the search box.
6) You can also add them directly from their profile. Just click the icon next to the "Follow" button. In the drop-down menu, select "Add or remove from lists…"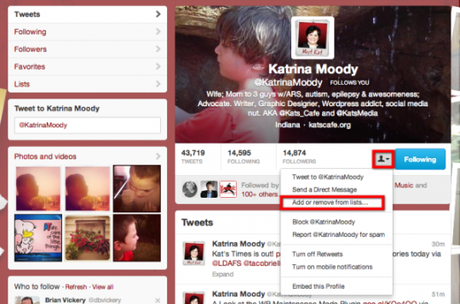 7) Check the thank you list. Et voilà!
Note: You can add Tweeps directly from your stream. Just click on their name and redo steps 6 and 7.
Here is an example in action: my own thank you list. Click on it to see it live.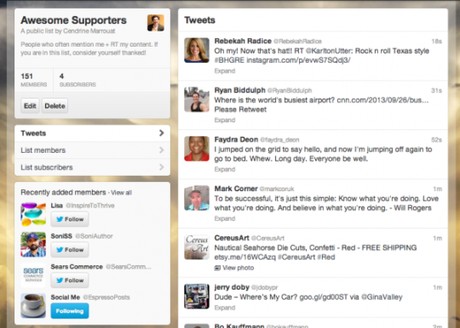 Some weeks, I am so busy that I do not have time to individually thank the hundreds of people who share my content. So, I send a Tweet that includes the link to the list.
It was a very busy week, so I can't thank everyone individually as I always do. But know that I see you! http://t.co/AbUAeCyz2O #gratitude

— Cendrine Marrouat (@cendrinemedia) September 27, 2013
Of course, a thank you list should never be used as a substitute for real interactions. Make sure you keep an eye on mentions of your name. Your audience may have questions and comments that you need to address.
Do you use Twitter Lists? If so, how? Share your creative ideas with us in the comment section.