Watch this video first:It gives you the glimpse of all the Scams happened in India between 1947-2010

After watching this video i really want to say thank you to Anna Hazare and Team. Hat's Off to them.
We really need someone who can Stand-Up and say "Enough is Enough".
If you are not aware of what i am talking about, continue reading!
Currently Anna Hazare, a Social Activist is fighting against the Government of India.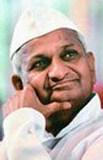 He is on fast since 9 days.
(Anna Hazare was on hunger strike earlier also for four days, until the government invited him and his team to join a committee set up to draft an anti-corruption law – the Lokpal Bill)
Purpose of On-going Fast:
Government has introduced their own version of the Lokpal bill by which Anna Hazare and team are not satisfied.
So, they made their own bill
JanLokbal Bill
.But govt. refused to accept the bill and passed it in the parliament.
Due to this, Anna Hazare announced that he would again go on Till Death Fast until the Govt. approves the JanLokpal Bill and passed it in parliament.
What Important Changes Anna Hazare wants in Lokpal Bill?
1)To include Prime Minister under the Lokpal
-Prime minster to be investigated in case of any corruption charges against him.
2)Lower bureaucracy to be investigated by Lokpal(Committee)
-Govt. has allowed to investigate the cases against Class-1 Government Officers (i.e. Senior Officers). Lokpal(committee) says we should also have the right to investigate against any lower or Junior officers.
3)To include the Judiciary
This will give them the right to keep any eye on the Judges of various courts.
4)Check the Corrupt behavior of MP's in parliament
Currently MP's are exempted for any corrupt behavior in parliament.
The above mentioned laws easily targets Politicians and could held them for in proper behavior.
And i think the same reason is preventing Government to accept the bill.
After 8 days of fast from Anna Hazare, news are flowing that Government is ready to accept some changes and will put the bill against standing committee.
In mid of this doctors have said that the health of Anna Hazare is deteriorating day by day and needs to be hospitalized as soon as possible.