We are very well aware of features of the blogging software WordPress, similar to the video platform YouTube. Have you ever come across any platform that combines the elements of both? Well, I found one recently; it's Uscreen.
WordPress is powerful and allows you to upload videos. But, WordPress experts recommend you not to upload. This is because when you upload videos directly to WordPress, it affects your page loading time.
WordPress is not a video platform, and it is typically designed to display text and images and work with JavaScript. You are also restricted by website hosting, where you are limited by your storage size.
On the other hand, if you plan to create a paid video course, YouTube is not a perfect platform. Because content promotion features are limited.
Uscreen is an excellent platform to display both text and video, solving the above problems. In this Uscreen review, we will get to know more about Uscreen.
So, What Is Uscreen?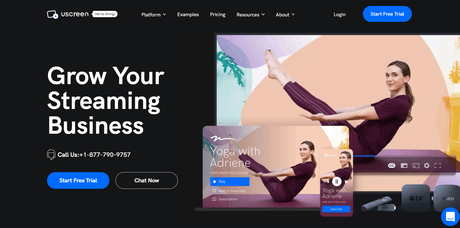 Uscreen is an all-in-one platform that helps in video distribution and monetization. Uscreen allows you to upload videos, documents, PDFs, text, images, presentations, webinars, live streaming, and much more.
The objective of Uscreen is to help video creators grow their channels and brands, meanwhile giving them the ability to monetize their content based on what the content viewers pay to see. It also tries not to create algorithm changes that may influence the content producers' viewers.
With the growing popularity of OTT platforms, creating video content and monetizing is one of the best ways to make money from home.
Uscreen supports clients in various niches. These include:
Health & Fitness
Educational
Yoga & Lifestyle
Arts & Crafts
Entertainment
Youtubers
Enterprise businesses
Etc.
Why You Need Uscreen Instead of YouTube?
YouTube helps content creators to earn money by the Ad-Based Video on Demand (AVOD) model. The publisher gets revenue from the advertisements delivered before their videos on YouTube.
However, content creators are not satisfied with the revenue generated over this model. Monetization is allowed only for publishers with 1000 subscribers and 4000 watch hours in the last 1 year with the YouTube restrictions.
After being accepted to the YouTube monetization program, the revenue depends upon the CPM, views, etc. Publishers are upset with the income as they are forced to get more video views for higher revenue. The number of views solely depends upon the content, niche, and trend.
Hence the YouTube ad monetization model is not suitable for all Content Creators, and they are looking for alternatives like Subscription-based Video on Demand (SVOD), Pay Per View (PPV), and Over Top (OTT) platforms.
Uscreen is OTT based video monetization platform, and it is a better alternative to YouTube if your niche and video content does not generate sufficient revenue at YouTube.
Requirements for Ad-Free Video Monetization Model
To have a successful Ad-Free video monetization model, the following components are essential:
Website
Server Capable of Hosting and Streaming Video
Bandwith and Video Encoding
OTT Apps
Website
A website helps you to share your video content with your audience. Users will land up on your website, purchase your online course, and start watching your content.
An ideal website for playing video content will require:
Buying a Domain Name, Web Hosting, and Setting Up the Website
Creating a Storefront and Payment Options
SSL to Ensure Data Transmission Is Secure
If you are looking into it, we have a step by step guide on creating a WordPress blog.
Powerful Server for Video Content
Unlike Servers handling only Text and HTML based content, servers for streaming video needs to be robust. An Ideal Server would,
Be Capable of Pulling Up and Serving Content 24×7 Without Any Downtime.
Capable of Handling Multiple Viewers Streaming at a Time
Should Serve Content Without any Lag or Buffer
Bandwidth and Video Encoding
The cost of streaming video is a primary concern for content creators. Bandwidth increases quickly when more users start to stream your content.
And there are numerous technical issues associated with video encoding, which requests a professional technician.
OTT Apps
OTT Stands for Over The Top. OTT simply refers to a video stream service that allows you to stream videos across the internet and not through Cable or Satellite.
An OTT app is a downloadable application that allows the audience to watch the content over their device (be it a smartphone, smart TV, or tablet). Some examples include Netflix, Hulu.
Uscreen Review and Features
Let's go through the features of Uscreen.
Video Player and Content Management System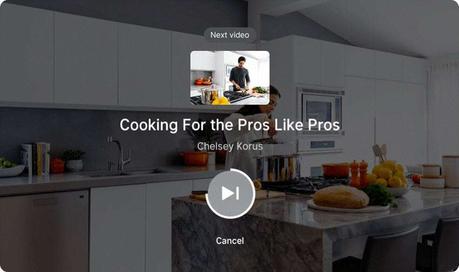 Uscreen provides you an HTML5 online video player that provides a smooth, secure, crisp, and full HD view on any device. It features Blazing fast "vanilla" ES6 JavaScript player. It is powered by a leading CDN called Akamai to prevent lagging and feature the video worldwide.
The CMS of Uscreen makes it very easy to upload and organize the videos. Uscreen allows scheduling the footage or adding an expiration date beyond which the video gets removed from the catalog.
With Uscreen, you can quickly implement a live streaming player and later sell this video as Video on Demand (VOD).
Premium Themes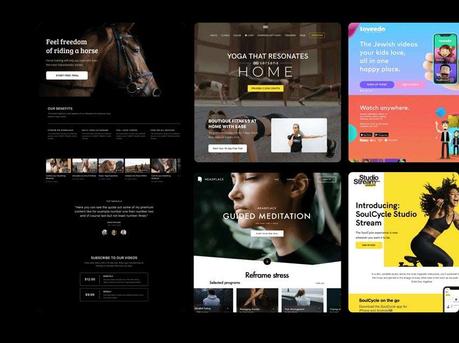 Uscreen has some of the best-engineered themes and templates that attract the audience with its user-friendliness. The polished look of the websites makes them appear very professional. They can be easily customized as per the need of the creator.
This hassle-free method allows the insertion of logos, change the colors, and bring a unique touch to the website. The websites are SSL secure and have inbuilt checkout pages. The language can also be set to any as per the audience. Above all, Uscreen also handles the hosting.
The user doesn't need to have any coding skills to create this attractive and professional website.
Video Monetization

Uscreen tries to revolutionize the video streaming industry by bringing in features like subscriptions, pay per view, rentals, selling bundles, or buying lifetime access.
This platform has also integrated with other popular paying services like PayPal, Stripe, and Authorize.net. The payment is accepted in 130+ currencies.
It also has its own Uscreen gateway credit card processing to make it simpler for the customers to proceed with payment. Along with providing a beautiful video streaming website, it also got the option to launch mobile and smart TV apps.
These apps also have an inbuilt feature to accept payment directly from the user, which in most events has brought an increment in the revenue for the creator.
Learning Tools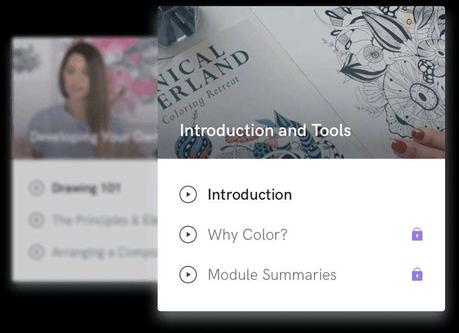 As I already mentioned, Uscreen allows you to create a course. So, when you want to create a course, the videos must be in order. Only then it's worth it. Uscreen displays the content chapter wise, thus making sense.
Also, you can have quizzes and questions in between these chapters. Hence, by using Uscreen, a well-structured course track can be created.
Sales, Marketing, and Analytics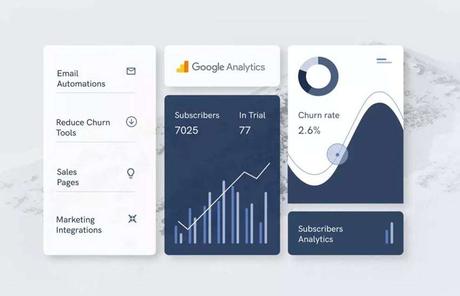 Uscreen provides sound marketing tools and has much third-party integrated software to track marketing efforts. The platform allows the free trial options to increase the user base and, hence, revenue.
The robust mechanism of the marketing tools allows tracking the source and gathering information about social media campaigns and advertisements. One can also know about the audience's devices in percentage and track their view time.
Uscreen does have features like one-time sales, rental offers, upsell products, marketing integrations, sales funnel creation, social media integrations, coupons and promotion, a built-in affiliate system, etc.
Live Streaming and Custom OTT Apps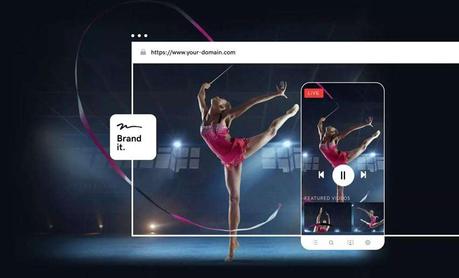 Uscreen allows full HD live streaming to engage with the live chat on any of the devices. You can do it using mobile, tablet, or PC. One can generate revenue through their live streams by adding it to the subscription package or pay-per-view option.
The creator can also push notifications to their user by email. There is also a pre-registration page that allows the customer to register for the pay-per-view option. Uscreen also features a countdown feature to build anticipation in the customers' minds.
Over-The-Top Applications (OTT apps) are such applications that deliver the video content without the hassle of cable or satellite-tv by merely employing the internet. This feature allows the user to run the video contents on their mobile phones or TVs. They work equally precise with android and iOS.
The OTT apps increase revenue by increasing the engagement rate up to 50% and sales rate up to 30%, as published on Uscreen's official website. Uscreen's OTT solution makes it very easy to distribute the video contents to other OTT platforms as their software does the major work of publishing and updates.
Security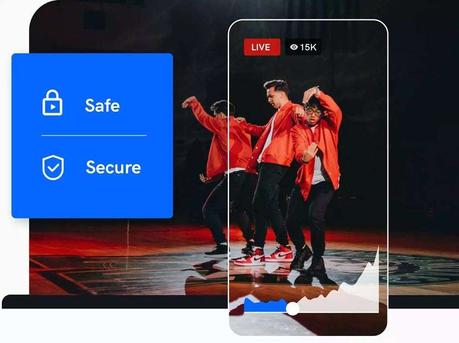 Uscreen believes in the policy of no compromise with the videos and user data, making it very popular among the creators. Uscreen provides a safe and secure environment for streaming and on-demand live video content.
It also gives full data ownership to the creator, including billing information and platform preferences.
To make the payment gateway safe, they also provide PA-DSS PCI compliant payment processing to keep the client's data secure. According to them, the servers are also monitored 24/7 to prevent cyber attacks and data stealing.
Uscreen Customer Testimonials
When you plan to purchase something premium online, you will probably check for customer feedback or reviews. Well, let's see what others are saying about Uscreen and the platform.
---
The Best Service You Can Use For Creating an Online Video Site!
Straight forward, easy to use platform that allows you to build a website, streaming platform, learning platform, marketing, and CRM platform with full mobile and TV apps all with one account – Sonya K.
---
A Stable Platform With Great Customer Support!
Uscreen helped me with massive migration from Vimeo/VHX (almost 1000) videos and was extremely accommodating. Migrations are always painful, but I felt the Uscreen team was there for my team and me as we navigated the process together.
Now that we've been fully onboarded for 6 months, we're delighted we made the switch. Very stable platform, excellent customer service, fantastic value. Thank you, Uscreen! – Brett
---
Absolutely Loving Uscreen!
We are absolutely loving Uscreen!!! COVID-19 absolutely decimated our physical yoga studios (Humming Puppy), and we were forced to develop an online offering in a very, very short amount of time, and with Uscreen, we were up and running within a few days – Chris
---
According to the customer reviews, Uscreen is doing great!
Uscreen Pricing
You can check their pricing here. As of today, Uscreen has two kinds of billing models.
Monthly billing
Annual billing
If you prefer monthly billing for your subscription, the plans will be like: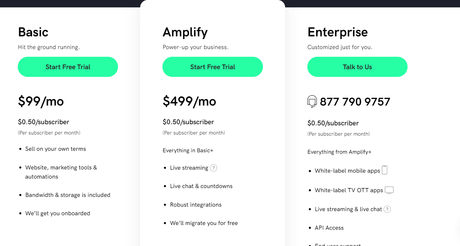 Basic – $99/ month
Amplify – $499/ month
When you choose the annual billing option, the pricing will be like this: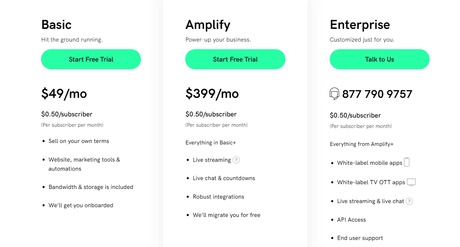 Basic – $49/ month
Amplify – $399/ month
If you need more features and API access, you might want to consider purchasing their Enterprise plan. All you need to do is, contact them via phone, and they will come up with a custom plan for you.
Uscreen Pros and Cons
Still, thinking about purchasing it or looking for another alternative? Let's have a quick look at the main advantages and disadvantages of Uscreen.
Pros
The main advantages of Uscreen are:
Easy To Use and Manage
No Buffering
Complete Control
Advanced Features
OTT Apps
Unlimited Bandwidth
No Coding Required
Custom Designs
Cons
The main disadvantage of Uscreen is:
Uscreen Review – Video Version
If you prefer a video over reading content, we have got you covered. Below, you will see the YouTube video covering everything you need to know about the Uscreen platform.

Uscreen Overall Review
Uscreen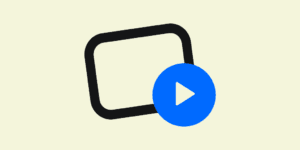 Uscreen is a video monetization and distribution platform. Compared to other video streaming platforms like YouTube/ Vimeo, Uscreen comes with many premium and unique features. And you can always make extra money through various monetization opportunities.
Product SKU: null
Product Brand: Uscreen
Product Currency: USD
Product Price: 49
Product In-Stock: InStock
Editor's Rating:
5
Conclusion
To be accurate, Uscreen is a business platform with Video hosting, and it is for those who are not comfortable with coding. Uscreen is a powerful on-demand platform that aims to help video creators, businesses, and other small startups monetize their video content and earn their efforts.
It is a comparatively new platform but has been gaining popularity and momentum lately. Uscreen charges monthly and, in return, provide services like website and app deployment, marketing tools, live streaming, security, and high-quality video players.
The videos can be streamed anywhere globally with the robust and powerful Uscreen's CDN. The payment method is also integrated, and the OTT apps make life easier. The servers are monitored all the time, protecting the users' and clients' data.
Thus, Uscreen is a promising platform for all the severe video creators who want to get the most rewards for their hard work.
You can get started with the Uscreen platform from below.
Get Started With Uscreen
$This is an affiliate link
---
Frequently Asked Questions
Do We Need To Know Coding For Creating Videos?
No. You can do it without knowing any coding.
Why Uploading Videos Directly To WordPress Is Not A Good Idea?
Some WordPress hosting companies will limit the disk space usage, bandwidth usage for each customer according to their active plan. Uploading videos to your server will increase the storage space and bandwidth and your site will show internal server issues.
Can We Create Custom Designs?
Yes. Uscreen comes with a lot of pre-made templates. You can pick any template you want.
Can You Make Real Money Through Uscreen Platform?
Uscreen comes with features like subscriptions, pay per view, rentals, selling bundles, or buying lifetime access. Users will be able to withdraw money through PayPal, Stripe, and Authorize.net.
How About Analytics And Tracking?
It got all tracking features and analytics features. You will be able to track your videos' performances from the account dashboard.
Is It Secured?
Absolutely. Uscreen comes with the best security practices. Making it secured. Everyone can use their credit or any other payment data without being compromised.
---
Related Articles You Might Like:
Shopify vs. WooCommerce: The Ultimate Comparison (2021)
Visme Review: Free Infographic Creator and Presentation Maker (2021)
LogoAi Review: The New AI-Powered Logo Maker to try out
How To Turn Your Blog Posts Into Videos Using Vidnami
TikTok Feed Review: Here's How You Can Show TikTok Videos Inside WordPress
We hope you have found this Uscreen review helpful and enjoyed the read. Please consider sharing this post with your friends and fellow bloggers on social media if you did. If you need more marketing methods, you might want to check our marketing archives section.