posted by author Charles McCain   www.charlesmccain.com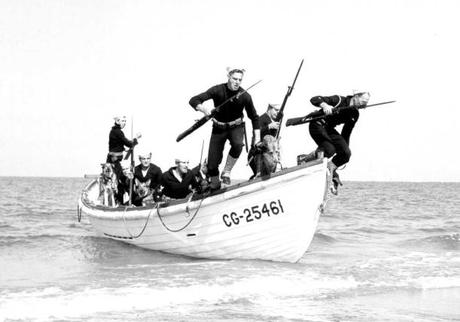 US Coast Guard had among its duties in World War Two patrolling all beaches in the US. Dogs and their beach patrol handlers leap into action from a surfboat during a landing exercise along the coast of South Carolina, circa 1943.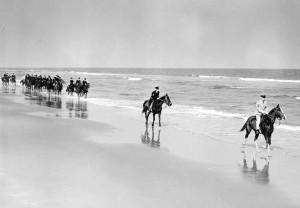 "In September 1942, horses were authorized for use by the beach patrol. The mounted portion soon became the largest segment of the patrol. For example, one year after orders were given to use horses, there were 3,222 of the animals assigned to the Coast Guard. All came from the Army. The Army Remount Service provided all the riding gear required, while the Coast Guard provided the uniforms for the riders. A call went out for personnel and a mixed bag of people responded. Polo players, cowboys, former sheriffs, horse trainers, Army Reserve cavalrymen, jockeys, farm boys, rodeo riders and stunt men applied. Much of the mounted training took place at Elkins Park Training Station and Hilton Head, the sites of the dog training schools."
Photos and captions from USCG.