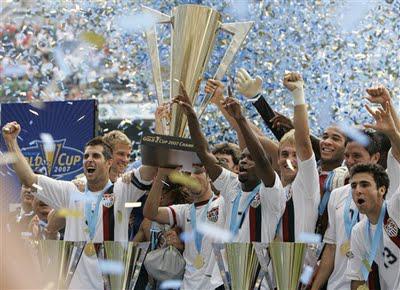 Bob Bradley has announced his 23 man roster that will play in a June 4th tune up match against Spain as well as the 2011 CONCACAF Gold Cup.Unlike the '09 Gold Cup, the USA will focus all of its attention to winning this tournament in order to gain entrance into the 2013 Confederations Cup.As I have the chronicled before, the Confederations Cup is an important stepping stone into the World Cup for the US.Here is the 23 man roster in its entirety.
Goalkeepers: Tim Howard (Everton, England), Marcus Hahnemann (Wolverhampton, England), Nick Rimando (Salt Lake)
Defenders: Carlos Bocanegra (Saint-Etienne, France), Jonathan Bornstein (Tigres, Mexico), Steve Cherundolo (Hannover, Germany), Clarence Goodson (Brondby, Denmark), Eric Lichaj (Leeds, England), Oguchi Onyewu (Twente, Netherlands), Tim Ream (New York), Jonathan Spector (West Ham United, England)
Midfielders: Freddy Adu (Rizespor, Turkey), Michael Bradley (Aston Villa, England), Clint Dempsey (Fulham, England), Landon Donovan (Los Angeles), Maurice Edu (Rangers, Scotland), Benny Feilhaber (New England), Jermaine Jones (Blackburn, England), Sacha Kljestan (Anderlecht, Belgium), Robbie Rogers (Columbus)
Forwards: Juan Agudelo (New York), Jozy Altidore (Bursaspor, Turkey), Chris Wondolowski (San Jose)
I hate to say it but I am definitely second guessing a few names on this roster.The first thing I asked myself when I looked at the defenders was where Timmy Chandler was.Chandler impressed me during the last international break and looked to be someone who could supply crosses from the back and really give us some width which we really have never had.Now, I have come to find out that Chandler is still weighing his options and is still considering playing for Germany.Since he played in a couple of friendlies in a US shirt, he is still eligible to play for the Germans.Obviously, I hope that this does not happen and I am saddened that I won't get to see him play at the Gold Cup.While, I do think that he has the talent to play for Germany some day, I honestly don't think he can play for them consistently any time soon.Hopefully he comes to his senses and realizes that he will be starting for the US at the next World Cup.We really need to add some pieces at the full back positions.We are terribly weak there and Bornstein and even Spector should not even be on the squad.I do like Eric Lichaj and he did a good job in his few appearances with Aston Villa this season.
Bradley added a few surprises in the midfield as well.He called up Freddy Adu for the first time in 2 years and also added Robbie Rogers.The Adu move is definitely a risk but if he comes into camp and has his head screwed on straight, he could really make an impact on this squad.Adu is a playmaker and is willing to take on defenders and create chances for the forwards.If he can live up to his potential this could become a great move by Bradley.Now, the Robbie Rogers call up is baffling.He is not playing that great for Columbus Crew and I have never seen any real potential from him.Bradley definitely should have called up Alejandro Bedoya instead of Rogers.Bedoya is having a great year with his club in Sweden and is a player that I really would have liked to see getting extended minutes in that role.Bedoya is younger and has more upside going forward.
It is now painfully obvious that the forward position is a weakness for us.I honestly have not heard of Chris Wondolowski until today.Apparently he was the Golden Boot winner from last year in the MLS.We obviously need goals from our strikers but I am not sure if this is the guy to do it.Plus, Edson Buddle would have easily won the MLS Golden Boot last year if he wasn't playing in the World Cup.We are only bringing 3 strikers; you would think Bradley would bring more than 1 striker that has any sort of International experience.Unfortunately, Charlie Davies has a hamstring problem as he would have been a very nice addition to this squad.I would have rather seen Bradley bring 4 strikers and then add Gomez or Buddle or whoever he wants.We just need another player with experience.