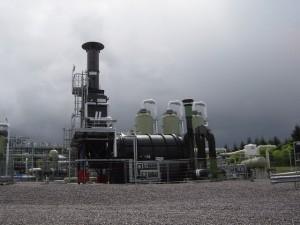 The topic of climate change was all but absent during the presidential race, but a report by the International Energy Agency (IEA) suggests it could soon become a central policy issue. The new IEA report projects that the U.S. will become the world's top oil producer by 2020, and a net oil exporter by the end of the following decade. Despite the increase in oil production, IEA also forecasts that natural gas will replace oil as the nation's largest single fuel source by 2030. While President Obama's "all-of-the-above" energy strategy has appeased environmentalists somewhat thus far, the report's findings hint that shale-oil and natural gas—not renewable energy—will be the nation's flagship fuel sources going forward.
Innovations in hydraulic fracturing and horizontal drilling are credited for the anticipated booms in shale-oil and natural gas. According to a Wall Street Journal article, oil production could increase from a peak of 8.1 million barrels per day (bpd) last year, to over 11 million bpd by 2020. IEA estimates that by the end of the decade, U.S. oil imports could be cut in half (to 10 percent of total energy needs) due to higher domestic oil production and higher Corporate Average Fuel Economy (CAFE) standards. With regard to natural gas, production has grown at a fairly steady rate since 2008, but leveled off since the beginning of the year due to a bottoming-out of natural gas prices. In the first eight months of the year, natural gas comprised 31 percent of total U.S. energy needs, up 7 percent compared to the previous year.
This news is both comforting and disconcerting. On one hand, it's reassuring to know that the U.S. could actually become energy independent. On the other hand, large stores of accessible oil and natural gas imply that investments in clean, renewable energy will probably be delayed until the next big energy crisis. Check out Nick's analysis of the news in his next piece on Saturday.