Sam LaGrone reports for USNI (U.S. Naval Institute) News, July 28, 2016:
The Navy is set to name a ship after the [late] gay rights icon and San Francisco politician Harvey Milk, according to a Congressional notification obtained by USNI News.

The July 14, 2016 notification, signed by Secretary of the Navy Ray Mabus, indicated he intended to name a planned Military Sealift Command fleet oiler USNS Harvey Milk (T-AO-206). The ship would be the second of the John Lewis-class oilers being built by General Dynamics NASSCO in San Diego, Calif.

The Secretary of the Navy's office is deferring releasing additional information until the naming announcement, a Navy official told USNI News on Thursday.

Mabus has said the John Lewis-class – named after civil rights activist and congressman Rep. John Lewis (D-Ga.) – would be named after civil rights leaders.

Other names in the class include former Supreme Court Chief Justice Earl Warren whose court ruled to desegregate U.S. schools, former Attorney General Robert F. Kennedy, women's right activist Lucy Stone and abolitionist and women's rights activist Sojourner Truth.

Mabus has also named ships in the past for other civil rights icons, including the Lewis and Clark-class dry cargo ships USNS Medgar Evers (T-AKE-13) and USNS Cesar Chavez (T-AKE-14).

Milk came from a Navy family and commissioned in the service in 1951. He served as a diving officer in San Diego during the Korean War on the submarine rescue ship Kittiwake until 1955. Milk was honorably discharged from the service as a lieutenant junior grade.

Following his service, Milk was elected to the San Francisco board of supervisors and was the first openly gay California politician to be elected to office. He was killed in office in 1978. When Milk was shot he was wearing his U.S. Navy diver's belt buckle.

Over the last several years, there have been pushes from California politicians to have a ship named for Milk since the 2011 repeal of the Department of Defense's "Don't Ask, Don't Tell." policy.

Naming a ship after Milk, "will further send a green light to all the brave men and women who serve our nation that honesty, acceptance and authenticity are held up among the highest ideals of our military," said Milk's nephew Stuart Milk in a statement to San Diego LGBT Weekly in 2012.
What neither Stuart Milk nor the U.S. Naval Institute News would tell you is that Harvey Milk was a pederast — defined by the Cambridge Dictionary as an adult "man who has illegal sex with a young boy".
From Wikipedia:
[Harvey Bernard] Milk was born [on May 22, 1930] in Woodmere, New York, to William Milk and Minerva Karns. He was the younger son of Lithuanian Jewish parents and the grandson of Morris Milk, a department store owner[4][5] who helped to organize the first synagogue in the area….

[In 1964, when Milk was 34 years old,] He started a romantic relationship with Jack Galen McKinley, and recruited him to work on conservative RepublicanBarry Goldwater's 1964 presidential campaign.[13] Their relationship was troubled. When McKinley first began his relationship with Milk in late 1964, he [McKinley] was 16 years old.[14]
A 16-year-old boy is a minor, which means Secretary of Navy Ray Mabus and the U.S. Navy under Barack Obama deem it appropriate to name a ship after a homosexual predator of children.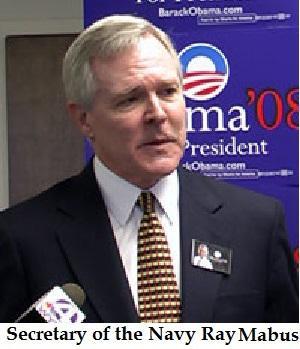 In 2009, Obama named former Governor of Mississippi Ray Mabus to be Secretary of the Navy. Mabus had endorsed Obama for president as early as May 2007. (Source)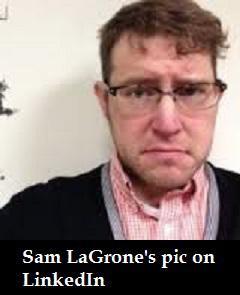 The author of the USNI News report above is its editor, Sam LaGrone. The report was published on July 28, 2016. That day, 9 readers' comments were published, and at least 5 comments were deleted by LaGrone, the moderator. Later that day — the same day when his article had just been published — LaGrone closed his post to all comments. Coward.
H/t WND
See also:
Senior NCOs are leaving the U.S. military

Christians are leaving the U.S. military

U.S. military goes transgender

Obama names open homosexual to be Secretary of Army

Survey finds U.S. military plagued with low morale

Here's The Real Reason For US Military's Declining Morale

Military analyst: What two-front war? U.S. can't fight even one war
~Eowyn