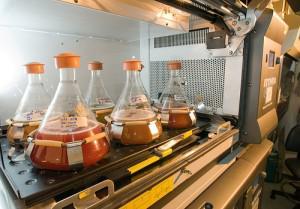 According to a press release from the Department of Defense, the United States Navy recently agreed to purchase 450,000 gallons of domestically produced biofuel. Solazyme (written up here recently) and Dynamic Fuels LLC were jointly awarded the $12 million contract. One of the unique aspects of the blend is that Solazyme's biofuel is algae-based, while Dynamic Fuels makes theirs from used cooking oil and animal fat.
From the press release, "The U.S. Navy will employ a biofuel blend to power aircraft and most vessels participating in a maritime exercise that's slated to be conducted near Hawaii next summer." Biofuels will be mixed with petroleum to create a 50-50 blend for the exercise. Mixing fuels can occur because the biofuels are "drop-in fuels", which can be added directly to existing stores and run through engines without any modifications. This characteristic, along with coming from non-food sources and not increasing the Navy's carbon footprint, represented the criteria for the biofuel. As a curious note, the carrier that will be employed in the exercise is nuclear powered.
Navy Secretary Ray Mabus was quoted as saying, "We think that this represents a major step in energy independence for the United States in making the United States Navy a better war-fighting operation . . . and in reducing our dependence on unstable sources of foreign energy, as well as reducing the budget shocks that come with buying fuel from either potentially or actually unstable place on earth." He goes on to call fossil fuels a "very real threat to our national security."
While the 450,000 gallons represents the government's largest purchase to date of biofuels, it represents less than 1% of the Navy's annual fuel consumption (1.26 billion gallons). Mabus stated that "supporting the nation's fledgling biofuel industry will ultimately make the Navy 'better war fighters.'" Earlier this year, Mabus set a goal of "getting 50 percent of the Navy's fuel for aircraft and surface ships from renewable sources by 2020." In addition, Mabus pointed out the Navy's lead position in the past with regard to new fuel developments. In fact, the Navy has come full circle. The first fuel source was also a renewable one, wind.
Secretary of Agriculture Tom Vilsack was also part of the announcement. Vilsack "noted that Agricultural Research Service and National Forest Service scientists have been working with industry to identify and develop additional nonfood, 'feed stocks' for biofuels, and the Forest Service announced $118 million in grants for feedstock development."
The Department of Defense (DOD) has made a number of strides toward energy independence. The Air Force Academy has plans to be energy independent by the middle of the decade. In Afghanistan, solar energy has helped reduced fuel use. The fuel supply line represents one of the most dangerous components of the military endeavor. For more stories on the DOD's measures, click here.
[Image source]