Lets users buy cosmetics from Yves Rocher US while saving shipping costs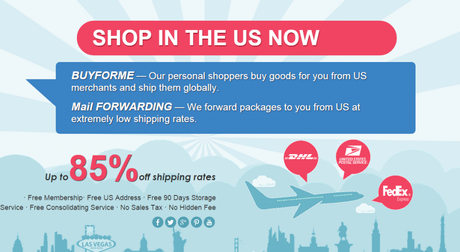 US Go buy, which is a well known International package forwarding and shipping service, has given a shot in the arm to users who can now buy top quality cosmetics from Yves Rocher USA without worrying about shipping address or exorbitant costs. You may check it, http://order.usgobuy.com/en/addforwardingpackages
Yves Rocher USA is known for the beauty and skincare products it stocks for its customers. These natural products have found takers amongst people all over the world. However the fact remains that not all of them can buy their chosen products from the store online. That's because the store requires a US shipping address to deliver the products that one might be interested in. So does that mean International buyers have to lose out on these products completely?
Not at all says US_Gobuy with its exciting service that is catered exactly to this purpose. Quite simply, on the back of this service users from all over the world can shop from the reputed online store in the US. Whether they want to buy a particular cream, body lotion or any other beauty products for that matter; they can do that easily and without any hassle. That's because the company gives them US postal address that's linked to their accounts.
Yes, that's right; USGoBuy offers users a US postal address, which means their purchases can be delivered to the warehouse of the company. Once the package is delivered from the store users are intimated about it through their account. Thus they know that their purchases are another step closer to them. Since the store doesn't charge for shipping within the country, users don't have to pay anything for this part of the service. You may also check the cost, http://www.usgobuy.com/en/shipping-cost-calculator.html
US_Go_Buy then delivers the package to the International addresses of the users through reputed postal and courier services. As a result users can be rest assured that their chosen cosmetics will reach them safely and what's more, they will be making big savings on the shipping costs too. Importantly, storage, repacking and consolidation services from the company are completely free.