CREO, a Bangalore based consumer technology company, recently launched its flagship smartphone Mark 1, running on the proprietary Android based OS – FUEL OS. Leading from the warm response it has been getting from the users and influencers, the company today revealed the pricing for the genuine spare parts for user's benefit. The prices do not include tax, and the total repair cost will be different because of different tax rate in each state.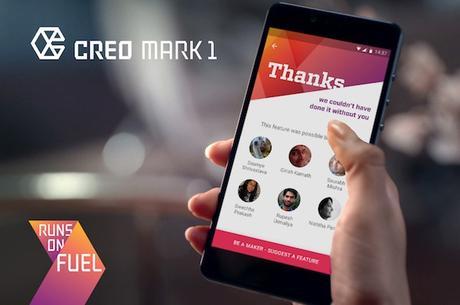 Along with the efforts towards maintaining transparency, the company also announced two attractive complimentary covers for every new user buying the phone on the official website. The flagship phone has been on sale on its own website and Flipkart since 19th April. After buying the phone, users would be able to leverage customer support through the company's 106 registered service centers slated to increase to 300 in the near future. The users can find a list of all the authorized CREO Mark 1 on the official website: https://creosense.com/support. The list of service centers can also be accessed through the 'Sense' feature in the phone.
If any service center quotes a different price from what is mentioned below, consumers can reach out to CREO Mark 1 at 18002082736 or share their feedback at [email protected].
The detailed price list of the spare parts is as below:
S.no.
Item
MRP (Excl. Tax)
1.
Motherboard
INR 14,300
2.
Light and Distance Sensor (Small Plates)
INR 300
3.
Display Panel (LCD and Sensors)
INR 6,000
4.
Front Camera
INR 7,00
5.
Back Camera
INR 2,500
6.
Ear Piece
INR 200
7.
Speaker Box (Includes GSM Antenna)
INR 525
8.
Vibration Monitor
INR 200
9.
Battery
INR 800
10.
Back Glass Panel
INR 650
11.
Back Panel Internal Parts
INR 650
12.
Charger
INR 650
13.
Cable
INR 225
14.
Side Button Assembly (Power and Volume Buttons)
INR 370
15.
Sim Tray (1 Pc.)
INR 180
The labor cost for repair will be INR 300 along with the per item cost.
Speaking on this, Sai Srinivas, CEO and Co-Founder, CREO, said, "It is imperative for us to provide a seamless after sales services to CREO Mark 1 users. Extending the core value of transparency, we have revealed the price list for the Mark 1 spare parts. Going further, we also plan to extend the service-center coverage to 300 centers across India."