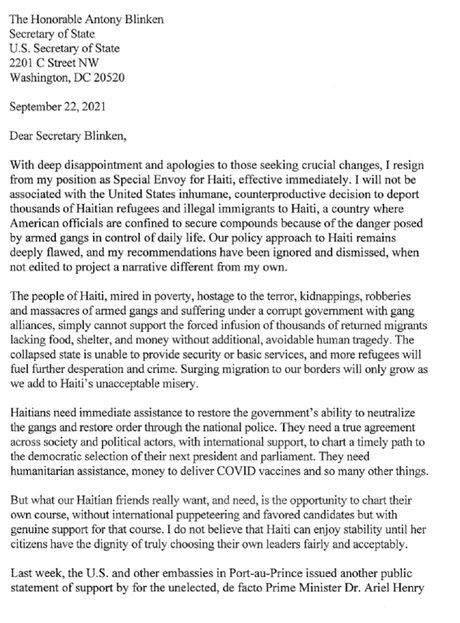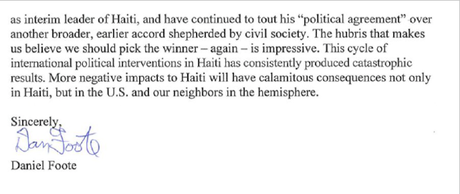 The U.S. Special Envoy to Haiti has resigned. The letter above is the resignation letter he sent to Secretary of State Blinken. Special Envoy Daniel Foote was just appointed to his position in July by President Biden.
He is right! The current administration policy of deporting people back to Haiti is cruel and inhumane. We are sending these desperate people back to a country in turmoil -- a country that is mired in poverty and lawless disorder. Sending them back puts them in danger.
It would make more sense to give these people permission to stay in our country. They are truly refugees, and deserve the chance to make a life for themselves and their families. The truth is that we need more immigrants to keep our economy healthy (since our own population is not growing enough to do so). And these people, willing to brave numerous hardships to get to the U.S., are the kind of hard-working people we need here.
I have no problem with weeding out the dangerous criminals and sending them back, but the rest should be allowed to stay in the United States. They will help our economy by taking the low-wage and dangerous jobs that U.S. citizens don't want.
We are a nation made up almost completely of immigrants and their descendants. It makes no sense to dent entrance to this new group -- especially when sending them back may well cause their death, either through violence or neglect.
I support President Biden, but the U.S. needs a more humane policy toward the Haitian refugees.