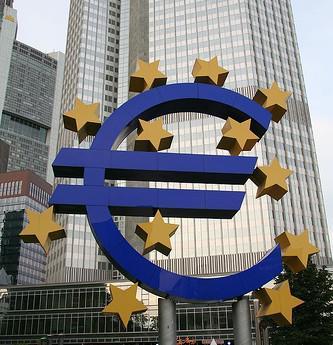 European Central Bank. Photo credit: Irene
The global economy has been quaking since credit rating Standard and Poor's revealed its bombshell decision to lower its top-notch rating of the US economy. Fears that the US could slip back into recession continue to freak the markets from Tokyo to London.
Previously, ECB bond-buying had been limited to bonds from Greece, Portugal and Ireland, the three euro-zone countries that have already received international bailouts.
Check how the European markets responded on Monday to the ECB action here.
Big reputational risk. BBC Business Editor Robert Peston insisted that the ECB "is taking a substantial reputational and financial risk in buying the debt of these nations: many will see the ECB as taking a serious credit risk in bailing out two financially over-stretched governments and as behaving contrary to the rules of prudent central banking." Peston considered the ECB's action to be consistent with previous attempts to create short-term leg-room for European politicians to plot economic recovery. He argued that "all this debt buying by central banks would be seen by investors and lenders not as a fundamental solution to the economic fragility of the US and the eurozone, but as simply creating the time and space for governments to address the fundamental problem of a record debt burden."
Saving the eurozone. David Jolly of The New York Times saw the move by the ECB as "a concession that Europe's previous efforts to stanch its debt crisis have fallen short." He wrote that the action, "underscored the importance of propping up Italy and Spain," the third and fourth largest economies in the 17-nation euro zone, as "their collapse would threaten the euro currency and intensify the turbulence in world markets."
Relief likely to be short-lived. Michele Maatook and Ishaq Siddiqi At The Wall Street Journal noted that European market "relief was short-lived and volatility was high." The paper said that German Chancellor Angela Merkel's insistence that the European Financial Stability Facility won't be increased "have added to investors' woes " and speculated that the US credit downgrade might have a big impact in Europe as credit raters now take a closer look at individual sovereigns' ratings.
Matt Quigly of The Mail & Guardian forecast that this week is likely to be even more "chaotic" than last week for the troubled world economy. He provided a preview of the economic events due to rock the markets this week. Read it here.