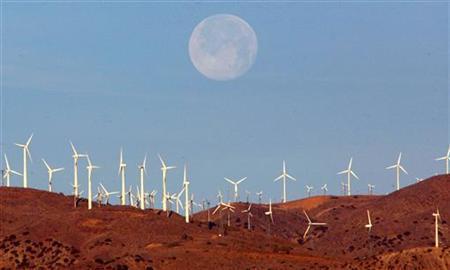 Released for the second time ever, the U.S. Clean Energy Leadership Index by Clean Edge has ranked how all 50 states compare across the clean energy spectrum. Using 70 different indicators in technology, policy, and capital, the index names the following as the top 10 states:
California, Oregon, Massachusetts, New York, Colorado, Washington, New Mexico, Minnesota, Connecticut, and Vermont.
On the other end of the list, flushing out places 41 through 50 are Oklahoma, Wyoming (note from Eric regarding Wyoming; "[it's] sad, because I think this along with North Dakota and possibly Nebraska could be a huge boon for wind energy and the economy. I realize transmission is still a huge issue, but they could 'export' coal and keep the wind energy for themselves.", Alaska, North Dakota, Louisiana, Nebraska, Arkansas, Alabama, Mississippi, and West Virginia. A few highlights from the report can be found below.
Highlights from this year's research include:
Iowa leads the nation with 15.4 percent of its electricity now generated from wind power, followed by North Dakota (11.99 percent from wind) and California (10.06 percent from wind, solar, and geothermal).

Top-ranked California's longtime commitment to clean energy has put the state far ahead of the pack in terms of technology deployment and capital creation. The state's burgeoning clean-energy industry brings in more venture capital than all other states combined.

Idaho leads the U.S. in clean electricity as a percentage of its total generation – at an astounding 84 percent – when you include hydro and biomass. Other states that get more than 60 percent of their electricity from renewable sources including hydro and biomass are Washington (71.59 percent), South Dakota (65 percent), and Oregon (63.84 percent).

Oklahoma had more new EVs registered last year than any other states, but the number is somewhat misleading. Two of the nation's largest rental car agencies register their vehicles in Oklahoma, accounting for the state's high ranking for EV registrations in 2010. Without that statistical anomaly, California is the nation's EV leader.

Michigan held the top spot in clean-energy patents for 2010 with 192 patents. Leading the charge is General Motors, which is reinventing itself as a sustainable transportation leader. GM received more clean-energy patents last year than any other company in the U.S., with 135 patents registered in 2010.

Mississippi, which ranks in the bottom 10 of the overall Leadership Index, is aggressively pursuing clean-tech manufacturing as it aims to garner its share of the clean-tech market. In the past year, the state has attracted a host of clean-tech companies to build manufacturing facilities and plants there, including California-based solar company Stion Solar Panels and Texas-based biofuel company KiOR.
[Image]