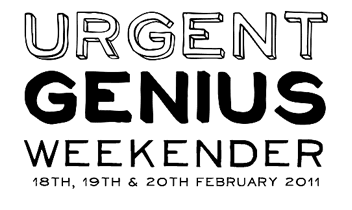 Here's an interesting upcoming contest that gives you a chance to test your ability to "go viral" and compete against some of the best agencies in the world.
From the website Urgent Genius:
According to Eric Schmidt, Former CEO of Google, we now generate as much information every two days as was generated from the beginning of time to 2003.
With this information overload, how will your content stand out? By being topical and shareable. How will your brand find its voice in the hot-topic conversations?
The Urgent Genius Weekender (18-20 Feb) is a competition designed to explore these questions. Teams from all around the world will have 48 hours to make content related to a trending topic that's popular in their country or around the globe. Agencies involved so far: Droga 5, M&C; Saatchi, Goodby Silverstein & Partners, R/GA, BBDO, DDB, BBC Comedy, etc. At the end of the 48 hours, you'll have 7 days to share your infographic, film, website, YouTube mashup, game or photo-blog with the world. The team with the most likes/retweets/views wins. What's in it for you? Global recognition. Plus, the best stuff will be featured in a talk given by iris Worldwide's Grant Hunter and Jon Burkhart at South By Southwest Interactive in March. The most shared work will also be included in a book to be published in Autumn 2011. Other prizes we're working on include commissions from top production companies in your home country.
Read more in this Contagious article.