Today I have featured Mojohost Review 2019, read the full review to know more about its features, pros, Pricing policy, and offers, so let's get started
Mojohost Review is one hosting service that has been providing high quality, reliable and trustworthy hosting services for over 15 years with a proven record of performance.
They are a self-funded company that's been profitable for such a long time by always making sure that their clients and their digital assets have a safe and cozy digital home, all thanks to their leading-edge infrastructure to fully attentive support staff, and rock-solid security.
MojoHost takes the utmost pride in providing its clients with 99.999% uptime. More than a decade of hard work, dedication and commitment have enabled them to dig to the depth of experience and resources to support you through thick and thin.
MojoHost is always set and ready around the clock to sell you a new server that has features that perfectly suit your needs. Moreover, they will also work with you when you need to reduce your budget.
Here Are The List Of Main Services
Going by their name "MojoHost", if you are judging that the company only offers quality hosting services, then update your facts. MojoHost has also been a reputed and dependable name amongst clients when it comes to Domains, VPS, and Dedicated servers as well.
1. Dedicated Servers
All servers are highly customizable and designed using company-grade components to your specifications. These include your option of RAM, hard drives, solid-state drives, network adapter, operating system, control panel, help, and more.
Dedicated servers of MojoHost Provide free remote restore access, free console access, and free reinstallation of the future operating systems. Seamless provisioning of WAN and LAN with significant scope for upgrades.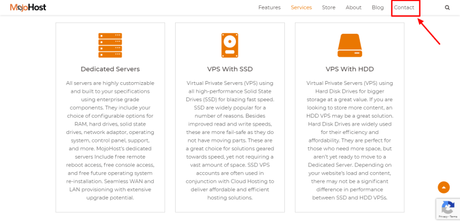 2. VPS With SSD
Virtual Private Servers (VPS) that use all high-performance Solid State Drives (SSD) for fast speed blazing. For a number of reasons, SSD is widely popular.
In addition to improved read and write speeds, these are safer because they have no moving parts. These are a great choice for speed-oriented solutions, but they do not require a great deal of space.
In conjunction with cloud hosting, SSD VPS accounts are often used to deliver affordable and efficient hosting solutions.
3. VPS With HDD
Virtual Private Servers (VPS) for greater storage at a great value use hard disk drives. An HDD VPS may be a great solution if you're looking to store more data.
For their efficiency and affordability, hard disk drives are widely used. They are perfect for those needing more space, but they are not yet ready to move to a dedicated server.
There may not be a significant difference in performance between SSD and HDD VPSs depending on the load and content of your website.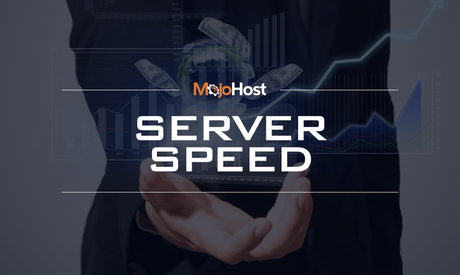 With our international CDN network, MojoCDN, deliver your media easily from presence points around the world.
4. Content Delivery Network
We are working with some of the most prestigious providers to provide you with high-quality service at great prices.
All plans include full integration and continuous support to facilitate easy deployment and maintenance.
For those seeking to test the waters and evaluate the value of CDN for their business, special offers are available. Please ask about proposals for high volume and special pricing criteria.
Co-location with MojoHost is a great option if you prefer to own your servers. At either of our data centers, we can tailor a space and power offer:
Equinix's Miami NAP of the Americas in the US, one of the best places to deliver to both North and South America, and Evoswitch in the Netherlands, built in Europe's largest networking hub.
Both data centers maintain the highest security standards as well as resource redundancy and have extensive peering exchanges.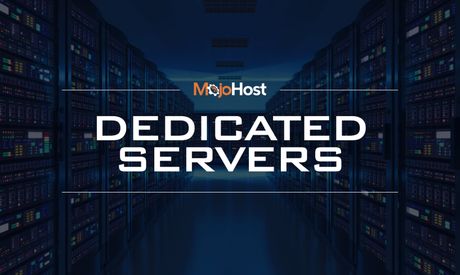 Find or change your new domain name and enjoy great savings. Register your domain with MojoHost and you will never have to worry or be locked in for transfers about its price increase over the years.
We think it should be easy and transparent to own a domain, so you won't find any fine print or hidden fees. The pricing MojoHost offer is highly competitive and there is no extra cost for each domain with WHOIS confidentiality.
6. Domains
As diverse the services provided by the company seem those services are completely loaded with powerful and performance-oriented features that have been designed to help you take your server performance to the next level.
The Autonomous System Number (ASN) for MojoHost is 27589 and the company is ever ready to help you look up what their network looks like!
1. Performance Networking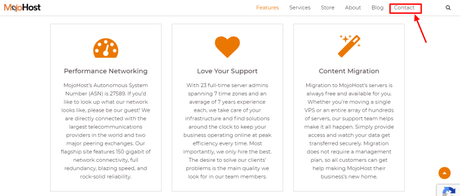 Mojo is directly linked to the world's largest providers of telecommunications and two major peering exchanges. Furthermore, their flagship site has network connectivity of 150 gigabits, full redundancy, blazing speed, and rock-solid reliability.
With 23 full-time server administrators spanning 7 time zones and an average of 7 years each, MojoHost takes care of your infrastructure and find solutions around the clock to keep your business operating at peak efficiency online at all times.
Most importantly, they are just hiring the best. The main quality they are looking for in their team members is the ability to solve the problems of their customers.
2. Love Your Support
Migration to the servers of MojoHost is always free and at your disposal. Whether you're moving a single VPS or a whole hundred servers array, our support team is helping to make it happen. Simply provide access and track the safe transmission of your information.
The migration does not require a management plan, so all customers can be helped to make MojoHost the new home for their business.
3. Content Migration
MojoHost does not host spammers, phishers or other operations that are illegal. The company is curating the customer base to ensure that this neighborhood's residents mean serious business.
You won't have to worry about working with those who are undermining the network. Their customers are rock-solid and they would love to have you onboard if you fit the description.
4. Good Company
MojoHost never believes in cutting corners. Rather they believe reliability is critical and the most reliable, high-end hardware is always chosen.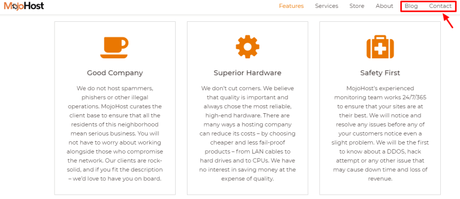 5. Superior Hardware
There are many ways in which a hosting company can reduce its costs from LAN cables to hard drives and to CPUs by selecting cheaper and less fail-proof goods. At the expense of quality, MojoHost has no interest in saving money.
The experienced monitoring team of MojoHost works 24/7/365 to ensure the best of your sites. Before any of your customers experience even a slight problem, they will find and resolve any issues.
Team Mojo will be the first to hear about a DDOS, intrusion attempt, or any other problem that could cause downtime and revenue loss.
MojoHost has developed several plans for customers to choose from. Ranging from $29 to $199, these plans have been designed to work the best for you and cater to the needs of any kind of website and of all sizes. Your choice ranges from Basic Support to Fully Managed Servers.
6. Safety First
There are 3 plans of MojoHost that have seen the most sales till now. The reason is that these plans are modular and can always be customized to fit the specific needs of your company. Needless to say, that the prices will suit your budget as well!
If you wish to use a VPS to host many websites and email accounts, but do not expect a need for daily assistance, then the Bronze plan fits best for your needs. It may also suit if your in-house server admin requires additional support from more experienced database administrators. All support plans include 24/7/365 monitoring. This plan includes:
7. Popular Hosting Plans
The Silver Support Plan is recommended for clients with fairly static businesses who regularly require configuration assistance. If you plan to host a dozen websites and reach out to support them once or twice a week, this will cover your needs. This plan includes:
Price: $29.00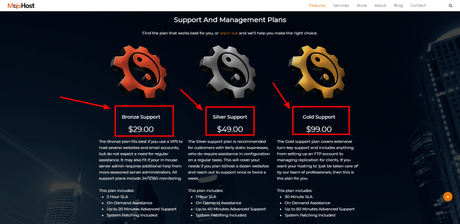 Silver Support
Price: $49.00
The Gold Support plan includes comprehensive turn-key support and anything from setting up an FTP account to handling customer replication. If you want our team of professionals to ' just take care of ' your hosting, then this is your plan. This plan includes:
Apart from the plans mentioned above, there are two more premium packages that ideal for large scale websites and blogs.
Gold Support
Price: $99.00
The Platinum program is a full management plan, ensuring you will never have to think about the number of requests you put in or have to put in very many as we will take care of any problems proactively before they occur. While similar to the "Diamond" package, the price is lower because it is designed for people who want to handle themselves and perform their own tasks. This plan is often used with GUI panels and is well suited for those who want to control their infrastructure and server management security. This plan includes:
More Plans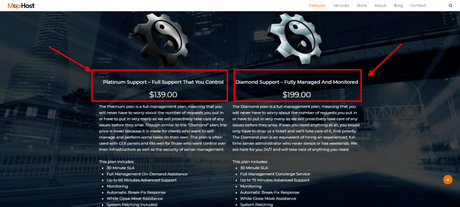 Platinum Support - Full Support That You Control
Price: $139.00
The Diamond plan is a full management plan, meaning you're never going to have to worry about how many requests you put in or have to put in as we're going to proactively take care of any issues before they come up. If you ever need anything at all, just drop us a ticket and we're going to take care of it, first priority. The Diamond plan is an equivalent of hiring an experienced, full-time administrator of servers who never sleeps or has weekends. We're here 24/7 to take care of everything you need. This plan includes:
Upgradable Features Mojohost
The servers of MojoHost do not only come in fixed configurations. With upgradable drives, RAM, uplinks, bandwidth, the number of IPs and more, dedicated servers can be tailored to suit your needs! VPS accounts also provide some flexibility, and when the need arises, they are easily upgradable.
Team Mojo makes sure you have a wide range of options and settings to pick and choose from, and if you're not clear about what you need, get in touch with them and they will customize a setup that's right for you!
Diamond Support - Fully Managed And Monitored
Their team has been working hard to make your life easier. That's why we have wholesale agreements with many of the most common server plug-ins and add-ons that save you time and effort to install them.
Price: $199.00
Just check a box to add Wowza Media Server, SendFaster, ProxyPass by Proxygence, Softaculous, Fantastico and more, and the software will be installed on your brilliant new machine automatically.
If you're wondering what enables them to be so well-organized, it's because they have agreements with many of these companies. Now the benefit you as a customer will have here is that this will save you up to 50% of the cost on some of the add-ons!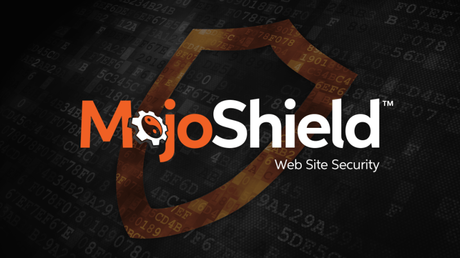 All of these plans are upgradable and customizable with add-ons. If you wish to optimize your plan, you can simply contact their support team to discuss the many ways they can tweak, improve and further develop your hosting infrastructure.
1. Add-Ons
Visit the MojoHost official website for further information about these plans and the terms & conditions involved.
If you have read this far and are now confused because of the overwhelming power and performance abilities of MojoHost, then here are 4 hand-picked reasons why you should try MojoHost over other hosting providers in the market.
Hardware for the product network, top-tier bandwidth, and routers for the next generation are building blocks of reliable service. Trained data center technicians operate on-site at each location while management and system management teams reside for smooth global activity in their Michigan Operations Center (MOC). All the time, anywhere, providing data for your website online.
The real desire to help our customers solve problems is the primary quality that we seek in every new member of the team. Administrators of MojoHost servers have an average of 7 years of field experience. When choosing a fully managed MojoHost hosting plan, you hire 3 full-time server administrators shifts to take care of your infrastructure and protect your websites around the clock.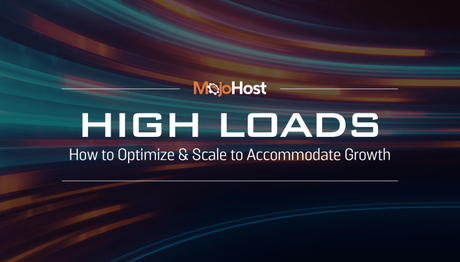 The ASN for MojoHost is 27589. If you want to see what our network looks like, please be our guest. We are directly connected to the world's four largest providers of fiber, as well as a major peering exchange. That means that at least 4 ways to reach your users are always accessible to your results. The peace of mind that can only result from properly networked redundancy and reliability of data throughput. Award-winning individuals and state-of-the-art hardware.
You can learn useful data on Dedicated and Virtual Private Servers, DNS, Cloud Hosting, Content Delivery Networks, Infrastructure Optimization in their dedicated native News Blog on the MojoHost website and keep up-to-date with everything that happens in the hosting environment. See what MojoHost is working on, where and when to meet their talented team at upcoming worldwide conferences or trade shows.
Quick Links
Conclusion: Mojohost Review 2019
Apart from just the hosting and VPS services they provide, MojoHost has also made a name for themselves as a dependable brand as they commit their utmost attention and effort to help clients deal with intricate problems or even simple issues like adding an email account.
Team Mojo is readily available anytime, anywhere on a regular basis. Their client's grievances are always amongst their topmost priority.
Apart from just acquiring new accounts, MojoHost invest heavily in new infrastructure and services with their existing customers, offering them a 100% Satisfaction Guarantee.
Their history shows that they keep customers for their business life and they always put their money where their mouth is!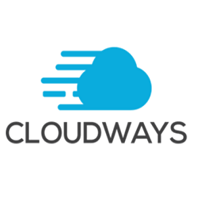 At MojoHost, the team strongly believes that they can succeed only when their customers succeed!