Apple is releasing the latest version of iOS today. As called by Apple, iOS 8 is the biggest release since the launch of the App Store. If you weren't following the iOS 8 news you might not be very excited about this new upgrade but let me assure you this update is as exciting as the visually pleasing iOS 7 was. iOS 8 brings a lot of little visual chances but most of the major advancements & updates are under the hood. If you are a Mac OS X user you  will be able to take full benefit of the new features next month along with the Yosemite release.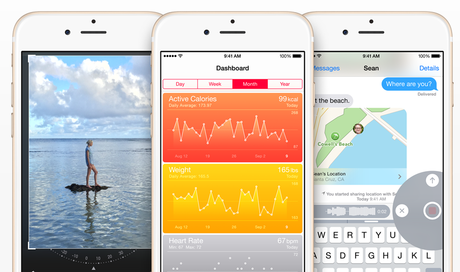 iOS 8 brings a lot of little but very useful changes to Photos App, Messages App, Keyboard, iCloud, and the very new Health app which will take a lot of data from the motion co-processor and the health accessories like FitBit and the upcoming Apple Watch. Not only there are changes in the App visuals but there are also new features which ties the Apple ecosystem together, the most talked about feature of the new OS (iOS and Yosemite ) is the Continuity feature. With iOS 8 and OS X Yosemite, you devices and laptops can talk to each other to make your work easy. You could start composing an email and finish it in your device without having to do any syncing manually, you could start working on a presentation in Keynote and unlock your iPad to finish the last slide. Not only that if you are working on  you Mac you will get your iPhone's incoming call notification on Mac which you can answer on Mac itself. This, plus a lot of new features are added to iOS. If I've tempted you enough to get your device upgraded, get ready to get started.
Before you hastily started looking for how to upgrade first you should get your device ready.
Step 1 : Is your Device compatible for iOS 8?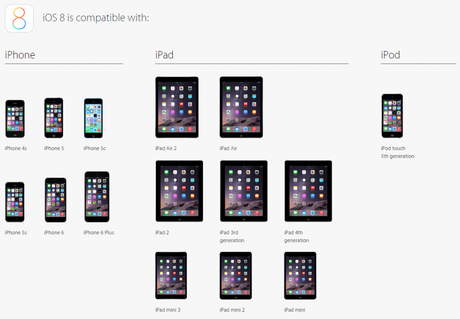 Apple is known for supporting all the devices for a really long time. So most probably you will be eligible for an upgrade. Still check this chart below to see if you are eligible for an upgrade or not.
iPhone : 4s, 5, 5c, 5S
iPad : 2, 3rd gen, 4th gen, Air, mini, Mini with Retina
iPod Touch : 5th generation
P.S. : The new iPhones ( 6 and 6 plus ) come pre-installed with the latest iOS version.
Who Shouldn't Update?
If you have iPhone 4S, iPad Mini or iPad 2nd generation it might be wise to not update to iOS 8 right away. Not that it would be a problem but last year iPhone 4 users reported bad device performance after upgrading to iOS 7. Apple did release an update to fix all the performance issues. This might not be the case this time around but if you are not in a hurry to update to iOS 8, it is advisable to wait a few days.
Step 2 : Prep your Device.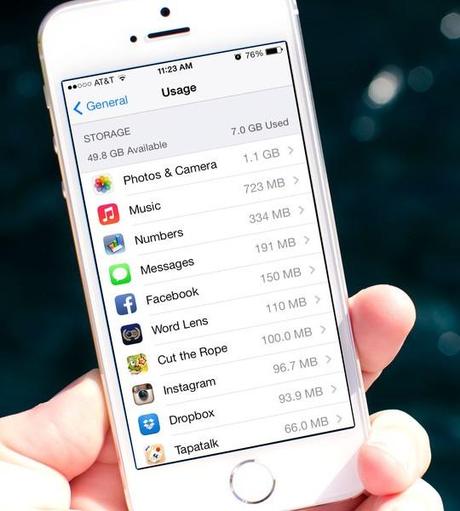 What the device needs to get upgraded to the latest & the greatest iOS update is, Space. This could be a lot tricky if you have the device with limited amount of space. 8GB or 16GB devices will have to work hard to prepare their device for the new iOS 8 upgrade.
You would need atleast 7GB of free space for the latest version of iOS to get downloaded and installed on your device.  To check how much space you have on your device go to the Settings App > General > Storage.
Now it will tell you the device Storage, available and used. Right now we are concerned about the available storage. If you have more than 7GB of free space you are good to go, otherwise you need to start making space.
Creating space is very subjective and would need deleting a few things. Firstly transfer all your Photos to either iCloud or connect your laptop and transfer them to your laptop. Once transferred you can delete all or some of them as you wish to make up that required space. All the other media which includes Videos, Music can be similarly backed up and transferred to your laptop. This way you will have everything on your laptop to be transferred to your device after the update. Delete / Remove apps which you don't use.
There are a lot of apps which you have installed when they were free, but its time you give up on them if you aren't using them. Deleting them won't make them paid or unavailable for you. Those apps are yours, so you can re-download and re-install them for free on your device when you want from the App Store.
Make sure your device is connected to Wi-Fi and has more than 50% of battery life left. This will make sure that your device will have enough juice to download and update to iOS 8.
Step 3 : Backup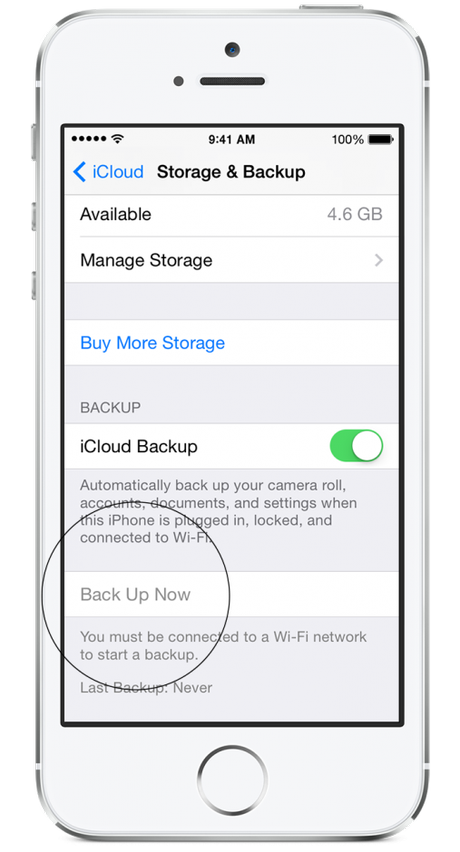 If you have freed up some space as mentioned in Step 2, you have your media already backed up. But what about other settings ? The easiest way to backup your device is backup every settings on iCloud, so once your device is upgraded iCloud could simply restore from backup. To begin that go to Settings > iCloud > Storage & Backup and tap of Back Up Now, it will backup all the settings which are turned ON above and store it in iCloud. This s fairly easy. The other way to backup all your data and settings is to connect your device to your Laptop or desktop, turn on iTunes go to your device and click on Back Up. This will backup everything on your device on your laptop.
Step 4 : Upgrade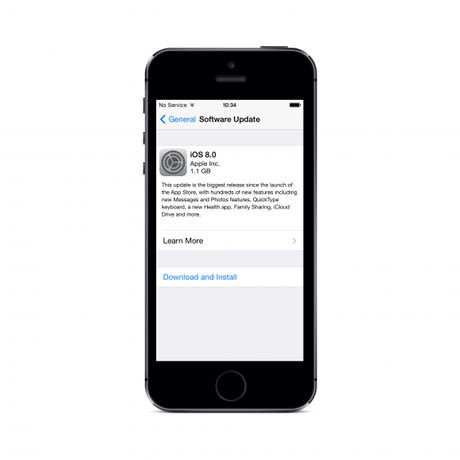 Your device is ready and good to go. If you haven't connected to Wi-Fi yet, connect your device to Wi-Fi, plug in your device to charge and go to Settings > General > Software Update > Download and Install. If you have a passcode you would need to enter your passcode. And let it do its thing.
That's it! After the download is finished, you device would start installing the new iOS version, your device might restart a few times but don't worry everything is fine.
Now that you are done updating your iOS device to iOS 8, there will be a frenzy of App updates ( depending upon the number of installed apps in your device ). Every app developer will be upgrading their App to the new iOS 8, and a lot of Apps will take the advantage of all the new iOS 8 features to integrate their app with the new provided tweaks by Apple. This means you will constantly need to update your Apps for the next coming weeks.
Good luck with exploring all the new iOS 8 features and make sure you take advantage of all the new iOS 8 features, they are very helpful and these improvements will make your device a lot more simple to use. There is a likely chance that you might be able to update your device at the first try, but tap again on Software Update to get it going. Apple servers get bombarded with Software update requests from users when they release it. So don't give up at the first try, it might take a few minutes to get the download going but make sure you do it. This update has a lot of improvements and enhances you will be love to use.