Mozilla's new Firefox Quantum is not just an incremental version update but provides a significant overhaul to the 15 years old browser which lost its lead to Google Chrome 7 years ago. Firefox 57, 'Firefox Quantum' claims to be 30 percent more RAM-efficient than Chrome and 2x faster.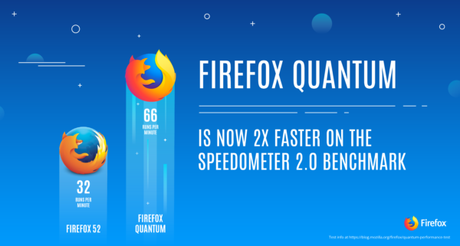 How did they do it?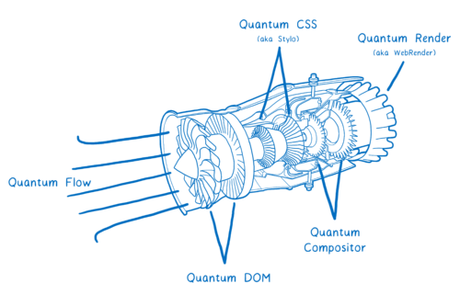 Firefox Quantum is the result of Project Quantum which resulted in creating a new browse engine ' Servo', a new CSS engine ' Quantum CSS' written in Mozilla's Rust programming language, efficient use of multi core processors, and the Photon Project which handles graphics for excellent image reproduction for every display resolution.
Firefox has always been running on just one CPU core, Google saw this and created Chrome which efficiently utilized all the available CPU cores thus distributing the load and making tasks faster. Firefox Quantum does this more efficiently and with their new engine it will consume 30% less RAM than Chrome . Not only they worked on making the browser fast but also fixed whooping 450+ bugs some of which caused huge bottlenecks to the overall performance of the browser.
The Quantum team were dedicated to bring take one everyday browser task and make it as fast as possible, work from this project was slowly being added to the browser over the last year and these improvements collectively helped not only making a fast browser but a faster user experience to the sites they visit more frequently.
What's New in Firefox 57?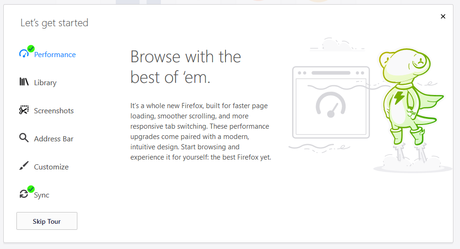 Most changes are skin deep but if you've been using Chrome for the longest time you will be surprised by the not just the change in UI , intuitive design choices but by speed of this browser. For the longest time Chrome has been considered the fastest browser but Quantum surely has leapfrogged that title in his update.
If you are a Firefox user the first thing you will notice is the change in the UI, it has a beautiful, intelligent UI with basic features like offline reader integration( Pocket) and a screenshot tool built right into the address bar for easy access.
Firefox being created by Mozilla, a non-profit organization has no alternative motive behind creating the browser so chooses user privacy over everything. Since last year, Firefox Private Browsing Mode ( It is similar to Chrome's Incognito Mode) came with tracking protection which blocked ads and tracks by default. By blocking ads and tracking domains the tracking protection gives performance benefits of up to 44% and 39% reduction in data usage by not rendering unnecessary content. But this was limited to private browsing mode, with Firefox Quantum Tracking Protection can now be enabled by default.
To do this simply go to Preferences > Privacy & Security > Tracking Protection, click Always.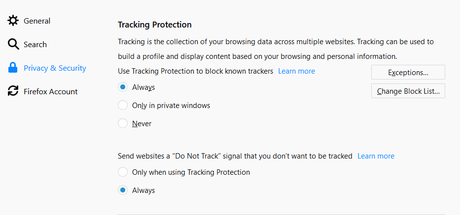 For Firefox 56 users, it would be our advice to go to your Add-ons page right now and check which add-ons show the ' Legacy ' label to it. These add-ons will not work with Firefox 57, most developers have upgraded their add-ons with the new API required for Firefox Quantum but some might not have upgraded their add-ons to the be compatible with the new WebExtensions framework. The switch from XUL to WebExtensions for addons was a necessary evil for Firefox to use the new browser engine to enable multi-process functionality.
Need help finding replacements? Check this guide to find replacements for Firefox legacy add-ons
For users who already updated and aren't seeing their add-ons in the new Firefox 57, simply go to the add-ons page and check the Legacy extensions tab and check out the alternates to the Legacy addons suggested by Firefox. The ones which aren't being updated probably have a new add-on which will work almost identical to the old one.
Download Firefox 57
Now that you know whats new and why you should give Firefox a try, give the latest release a spin.
Firefox Quantum (Firefox 57) will be released on 14th November 2017
But if you really want to try right away and can't wait for the official release, the latest build is available to download from Mozilla's FTP servers.
For Firefox 56 users, your browser will be slowly updated. This is a slow roll out but if you are impatient and cannot wait for the update you can download and install the update right away. This will upgrade your browser from Firefox 56 to 57 without disturbing your existing user profile.
Even though today's release represents a major release for Firefox, the Quantum team isn't done yet. Chrome and Edge still has a upper hand when it comes the use of sandboxing, which is a security technique that that creates a virtual environment isolated from the system. This is a great security feature to have to minimize the amount of damage a security threat could do.
Source :Mozilla Hacks | Entering Quantum Era - How Firefox got fast again and where it's going to get faster