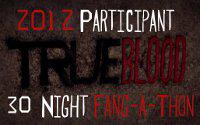 For today's (Day 20) fangalicious Fang-A-Thon 2012 post, I figured I'd focus on the books once more, because Charlaine Harris updated her status on Facebook (with a special message for you), and we have an update on where "Deadlocked" is sitting on the New York Times Bestseller List!
First, we'll share with you Charlaine's Facebook status:
Thanks to all of you for letting me know you enjoyed the book. I'm hard at work on the last one. I put up a new Book & Blog on my website (www.charlaineharris.com). Got the advanced readering copies for "An Apple for the Creature," the next anthology I co-edited with Toni L.P. Kelner.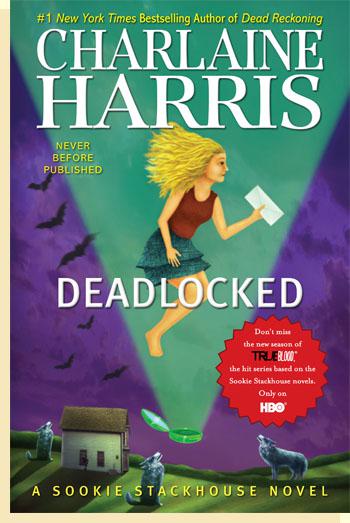 Now let's see where "Deadlocked" stacks up on the New York Times Bestseller List! A version of this list appears in the June 3, 2012 issue of The New York Times Book Review. Rankings reflect sales for the week ending May 19, 2012.
Below, are the Top 5 Books under Hardcover Fiction, which represents new or just released books and doesn't take into account ebooks, etc.
This Week Last Week Hardcover Fiction Weeks
on List

1 STOLEN PREY, by John Sandford. (Putnam, $27.95.) When a Minnesota family is murdered, the Minneapolis investigator Lucas Davenport believes a Mexican drug gang is involved. 1

2 1 11TH HOUR, by James Patterson and Maxine Paetro. (Little, Brown, $27.99.) Detective Lindsay Boxer and the Women's Murder Club investigate a possible serial killer. 2

3 2 DEADLOCKED, by Charlaine Harris. (Ace, $27.95.) The telepathic waitress Sookie Stackhouse investigates a murder that has more to do with her than she imagines. 3

4 THE COLUMBUS AFFAIR, by Steve Berry. (Ballantine, $27.) The daughter of a disgraced journalist is held by a man who wants to force her father to help him discover a secret left by Columbus. 1

5 7 CALICO JOE, by John Grisham. (Doubleday, $24.95.) A pitcher beans a promising rookie, ending both their careers; years later, the pitcher's son brings them together.

If you're worried and/or are disappointed that "Deadlocked" is slipping in the rankings…don't be. It's perfectly understandable. I'm sure many of us have read it by now or have at least purchased it, even if you haven't read it yet.  It's okay, #3 isn't bad either, especially because the book has only been on the shelves for 3 weeks.

If you read Charlaine's Book & Blog, you might find what she says about some of the books she's reading interesting and she also talks about Memorial Day and what it means for her. You should definitely check it out!

Thoughts? Please share 'em below!




Back to Featured Articles on

These articles might interest you :

About the author

Eric And Sookie Lovers 51284 shares View profile
View Blog