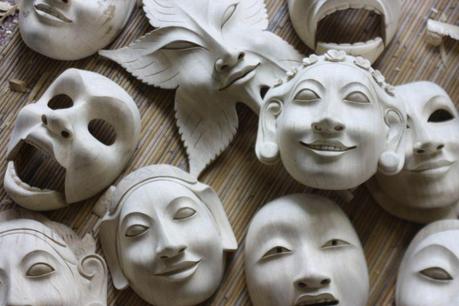 So, coming down with typhoid really hasn't been all that terrible.
After two days of antibiotics I was feeling much, much better, and one week after waking up a fevery mess in an air conditioning-less hotel room in Balian am now pretty close to 100%. We've been so fortunate to be able to stay with some family friends from England the past several days, and thus have been down on the coast in Seminyak relaxing outside and being beautifully taken care of. 
Compared to the quiet oasis of Ubud, Bali's southern coast is much warmer, and much much busier. Every road is flush with trendy shops, expensive restaurants and swanky hotels, and it's been somewhat more challenging to stick to our trip budget when surrounded by so much temptation...! Motorbike journeys are also slightly more perilous. The house we're staying at is really lovely - it's an English-style villa and right off the road, yet it feels completly isolated the second you step through the gates. Jesse has been able to take off surfing every day, while I'm spending my time reading, relaxing in the gardens, and playing with a cotirie of adorable small English children. 
Sunday morning we head back to Ubud to pack up our house and get ready to move on. And Tuesday we leave for Padangbai on the east coast where we'll be spending about ten days. It's going to be a busy job getting organized to go after six weeks and we're definitely a little bit sad to be saying goodbye to Ubud and our wonderful life there. It's hard to think of a better place to begin our time in Asia and we know we are going to miss it as the traveling becomes more challenging... Jesse's got some last minute work to do on his second wooden bowl, and I'm busily trying to finish up a web site I've been putting together for his wood carving teacher. Will post a link when it's looking a bit more presentable!
Thank you to everyone for the well wishes and happy to say that the typhoid seems to be on the way out.