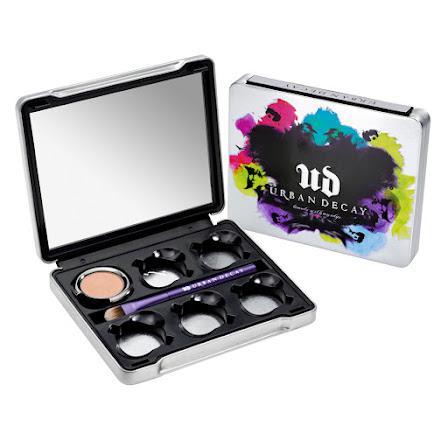 On the 1st May 2012 a new generation of palette is revealed, simply named Urban Decay 'build your own palette'! Not only does this new palette have all the same, maybe even better qualities than both the Naked Palette and Naked Palette 2 combined but the 'build your own palette' is doing something unheard off, it is allowing you to release your creative flair and make your very own palette filled with the colours that you want and need in your life.
With the purchase of this gorgeous palette you will receive an eyeshadow brush, the palette which is fitted with a full sized mirror within the lid and one eyeshadow 'Walk of Shame', all for a bargain £14!
Now this is the clever bit, to build your own palette you simply choose your additional favourite 1-5 eyeshadow colours and await their arrival – you have the choice of 68 colours so there will definitely be a colour out there for you.
These new eye shadows represent the creation of the new Urban Decay eye shadow, replacing the new eye shadows with a new and improved formula that allows a longer wear time and a more even coverage. The range covers five different finishes which ranges from satin, shimmer, sparkle, duochrome and finally matte.
When you receive your eye shadows now it's time to build. Slowly press the whole eyeshadow including the case into one of the spaces in your palette and you're done..! Do the same with the next 4 colours and you have your very own unique palette. When you use all of these colours or simply fancy a change pop the colours out of the palette and replace with your new favourite – it's that simple.