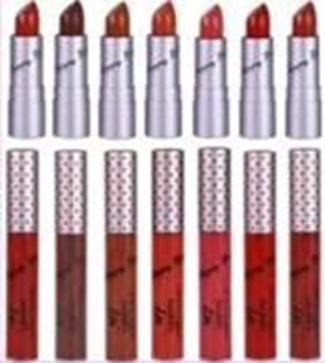 Boots, the UK's leading beauty brand, has partnered with red-hot lipstick mogul and entrepreneur Poppy King to produce "The Magic of Lipstick," a charmed collection of seven smooth and creamy limited-edition lipsticks with complementary lip-glosses under the brand's best-selling No7 range.  The enchanting collection was developed to empower women to easily embrace the luxurious look of lip color within their everyday beauty routine--the result is truly wearable glamour. 
A seasoned professional with a passion for old-Hollywood glamour and style, Poppy King has spent over 20 years infusing her unique, nostalgic perspective within the beauty industry.  At the age of 18, Poppy launched her first cosmetics company in her native Melbourne, Australia, quickly becoming a well-known name for her highly-pigmented lipsticks.  It wasn't until Poppy brought her passion for lipstick stateside that she was officially dubbed the "Lipstick Queen."
Growing up with No7 cosmetics, Poppy is honoured to share her love affair with lipstick in this partnership with Boots.  "The power of dressing up the lips became an obsession of mine as soon as I could play with my mother's makeup.  Amazingly, it has become my career," says Poppy.  "I am honoured to be working with Boots No7 and reimagining how to make fashion and glamour a part of real women's lives, something that is deeply embedded in the brand's incredible history."
The full-size lipsticks are intended to offer buildable coverage:  with one swipe, a sheer wash of colour, or smooth on in layers for a more intense look.  The lip-glosses are perfect for women who are interested in making a foray into bolder lip colour, and can be worn on their own for less intense color or in combination with the lipstick to add a touch of shine.
Designed by Poppy, the product's colourful polka-dot packaging is a nod to the magic and sex appeal exuded by the old-Hollywood bombshells that influence both King's personal style and design aesthetic. "The dots, for me, represent Marilyn Monroe's iconic beauty mark. So, it's truly about the importance of celebrating our own special imperfections – and that's the very essence of beauty, in my opinion," explains Poppy.
Named for the different emotions, personalities and auras Poppy feels lip color has the power to evoke, Boots No7 lipsticks and lip-glosses are formulated to be long-wearing with creamy, high impact color.  The rainbow of shades, from pink and nude to rose and dark berry, complement every skin tone. 
Here, Poppy describes each of the seven shades:
· History (Number One): Women's fascination with red lipstick has evolved throughout the decades; this deep red shade captures the perfect "here and now" red hue.
· Power (Number Two): This rose color is designed to be as powerfully stylish as it is pretty. The lipstick is sheer, but is easily buildable to create a bolder lip.
· Glamour (Number Three): This flirty pink shade is all about fun.  It's also a perfect option for the woman who finds herself wanting something different from her go-to nude or red lipstick.
· Seduction (Number Four): This rich blackberry shade has enough depth to look glamorous at night, but is also appropriate for daytime wear, with a seductive mystique that is as intriguing as it is mysterious.
· Intrigue (Number Five): This subtle pinkish nude is incredibly flattering without being fussy, like the color of natural lips, but bolder and brighter. 
· Confidence (Number Six): Who doesn't love a classic nude shade? This hue is an iconic fit for today's natural beauty.
· Allure (Number Seven): This soft peachy shade is similar to one's natural lip color and suitable for women of all ages.
Largely influenced by history, and meeting the changing needs of consumers over time, Poppy King and Boots share a common thread on the philosophy behind the collection. As a company with over 70 years in the cosmetics business, Boots was founded on the principle that women should have the ability to look good every day, and began the brand with seven products for that very purpose – one for every day of the week.  Similarly, Poppy King has always been fascinated by how history has influenced beauty, and has strived to bring women lip products that allow them to create their own glamorous look that is wearable every day.
Boots No7 Poppy King lipsticks and lip-glosses are priced at $9.99 per piece and will be available at select Target stores and online at ShopBootsUSA.com beginning in November 2011 for a limited time.