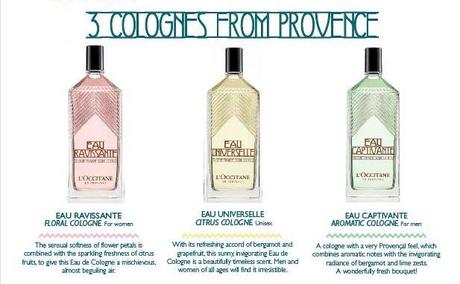 Across the land of Provence, people will tell you that l'Aigo es d'Or*. Inspired
by the freshness of the fountains of Provence, L'OCCITANE has created its very
first collection of Eaux de Cologne.
Three rippling fragrances bring a splash of timeless
freshness to those warm, sunny days.
First, there's EAU UNIVERSELLE,
a zesty scent that owes its name to its unisex nature.
Next, EAU RAVISSANTE, with its floral,
feminine, sparkling notes.
And finally, EAU CAPTIVANTE,
destined for men, with its aromatic and stimulating
tones.
These three olfactory worlds together form Eaux
de Provence, a new tradition from L'OCCITANE.
A GENEROUS BOTTLE
When it comes to cologne, the pleasure is in the
abundance... With this in mind, L'OCCITANE designed a
bottle that is unashamedly large-sized. The herringbone
motif that adorns the front and back of the bottle is based
on the stonework columns of Provençal fountains. The
names of the fragrances, written in Avignon lettering,
recall the letters of cast-iron signs that would guide
visitors through the villages of Provence