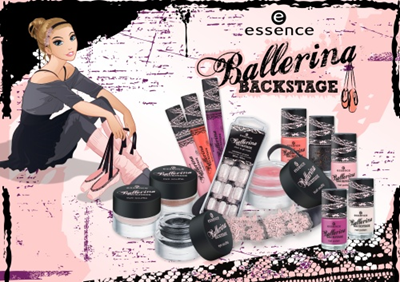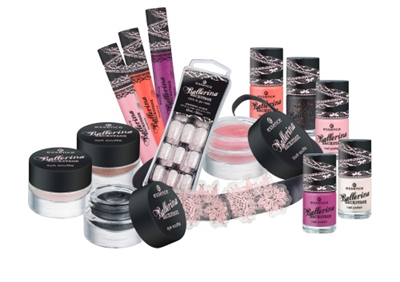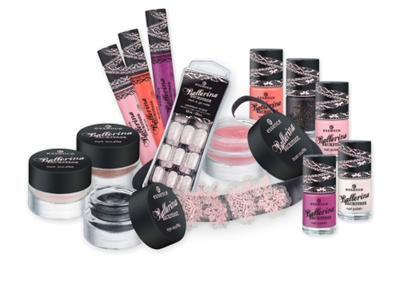 Who hasn't dreamed of floating across the stage as a prima ballerina while the crowd erupts into tremendous applause? Luckily, lots of little girls' dreams are about to come true in July 2011 with the new trend edition "ballerina backstage"!
The innovative beauty products for your eyes, lips, face and nails pick up on this summer's popular ballerina fashion trend and let you take a glimpse behind the curtains: powdery pastel shades and nude tones combined with strong colours such as bright fuchsia, shining apricot and elegant black give the romantic ballerina look that certain something. The stage awaits so raise the curtains for the first act of the essence ballerina backstage show!
essence ballerina backstage eye soufflé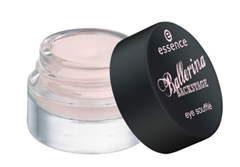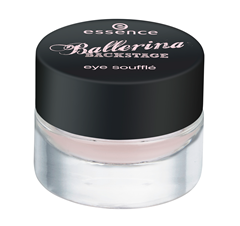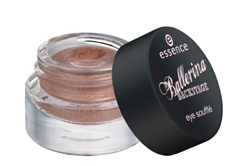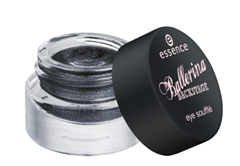 essence ballerina backstage lip-gloss




The handsome pas-de-deux-partner won't be able to keep his eyes off his pretty ballerina's lips: the soft and creamy lip-glosses in warm berry shades perfectly complete every stage outfit and give your lips a seductive shine. The premium bristle applicator enables an especially smooth application. Available in 01 wear your little tutu, 02 on your gracile tiptoe and 03 do a floating pirouette. Around 1.79 €*

For an even more intense expression in the spotlight: the new creamy eye soufflés in three highly pigmented colours will make your eyes shine like the stars and guarantee an unforgettable impression. The particularly soft texture makes sure that your eye make-up will still look perfect in the final act!
Available in
01 dance the swan lake, 02 pas de copper and 03 grand-plié in black.
2.29 €*
essence ballerina backstage blush soufflé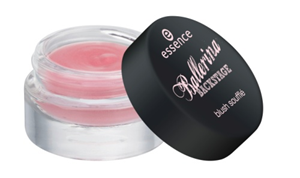 Ready for the grand solo appearance: the rosé rouge with its innovative soufflé texture feels wonderfully soft on your cheeks and conjures-up a rosy finish. Standing ovations are guaranteed!
Available in 01 prima ballerina.
2.79 €*.
essence ballerina backstage nail polish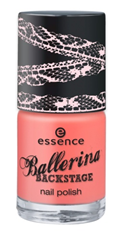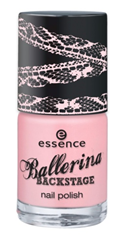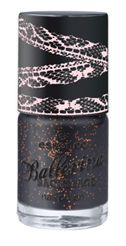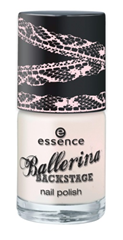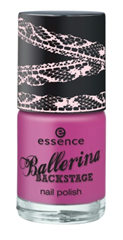 No matter whether you are dancing the swan lake, nutcracker or Carmen – with these long-lasting nail polishes, each and every arabesque is sure to be the crowning glory of every show. From delicate to bright, there's a colour to suit all acts.
Available in 01 dance the swan lake, 02 wear your little tutu, 03 on your gracile tiptoe, 04 do a floating pirouette and 05 grand-plié in black.
1.79 €*.
essence ballerina backstage click & go nails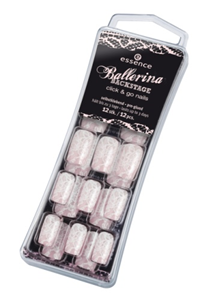 Dancing on points – but with your fingers instead of your toes! The adhesive click & go nails with an elegant lace design are the ultimate eye-catchers and totally easy to use. Simply select the nails in the desired size, place on top of your natural nail, press down and you're done! Available in 01 it feels like dancing.  2.99 €*
essence ballerina backstage hair tie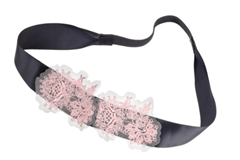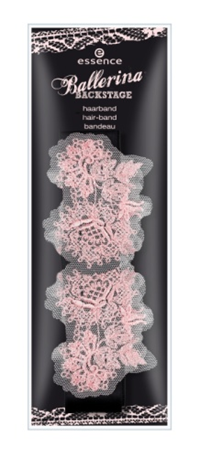 Whether you are doing the pirouette, grand-Plié or sauté – the black satin hairband decorated with rosé lace is sure to keep your hair in place and romantically underline your ballerina look. A must-have for all dancing queens. 1.49 €*