At Bond No. 9, we're bold and daring perfumers—but never more so than at holiday time. That's when—we admit it!—we throw any hint of caution to the wind and present a limited-edition collection of gifts that are at least as sumptuous as the celebrations themselves—in fact, probably a lot more so. But this year, we've gone for a level of sheer, unadulterated radiance that frankly amazes even us. Here is a stunning array of treasures whose lustrousness, whose incandescence will boggle the mind and mesmerize the eye, just as much as our scents excite the senses. And for our keynote eau de parfum this season, the one that most warrants being surrounded by splendor, we've chosen the best-selling Scent of Peace—a male/female mélange of black current, lavender, and lily of the valley, which we've made available in several sizes and shapes. Of course we've included other Bond No. 9 scent favorites, as well. And as always at holiday-time, we offer a generously wide price range. So, the artisanal scents … the optics … the keepsake boxes … the luxury quotient: Bond No. 9 has got it all.

Fantasy-Stone Fountain of Peace
This year's official, unabashed extravaganza gift is our now-perennial 42-ounce spigoted amphora vitrine, filled with the Scent of Peace, its gracefully curvaceous exterior glistening everywhere with a new Swarovski crystal design: a profusion of stones in varying sizes and shapes, carefully pieced together onto a surface as intricate and tactile as an incandescent moon-glow tapestry. True, perfume containers have always had an element of fantasy. But this one is ultimo in every way.
Incadescent Shooting Super Star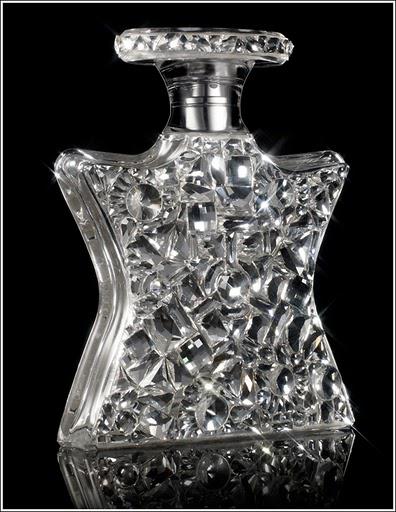 The Scent of Peace is likewise the eau de parfum chosen for the classic Bond No. 9 superstar bottle that's been decked out all over with those Swarovski fanci-crystals—the moonlit exterior emphasizing the preciousness of the contents. Even the oval cap and the keepsake silver-toned presentation box are studded with stones.
Swarovski All-Stars Quartet to Go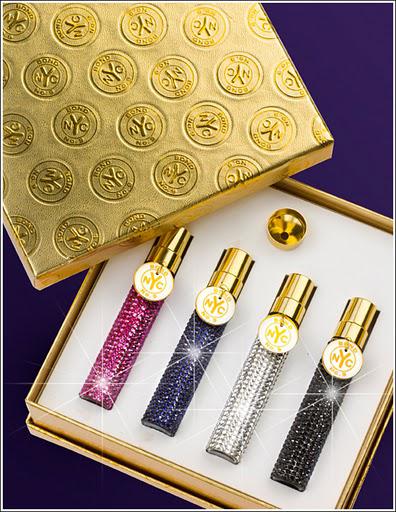 What woman wouldn't adore having her daily choice of four Swarovski pavé-studded pocket sprays—one in glistening fuchsia (Chinatown), one in cobalt blue (Nuits de Noho), one in silver-crystal (the Scent of Peace), and one in black (Bond No. 9 Perfume). Standing tall in their own neat golden coffret equipped with a handy gold-tone mini-funnel (yes, these pocket sprays are refillable), they add up to the perfect gift presentation for those who long to casually whip out an impossibly stunning perfume flacon from their handbag, wow everyone around with its jewel-like sheen—and then do it all over again the next day in a different color.
Coffret Trio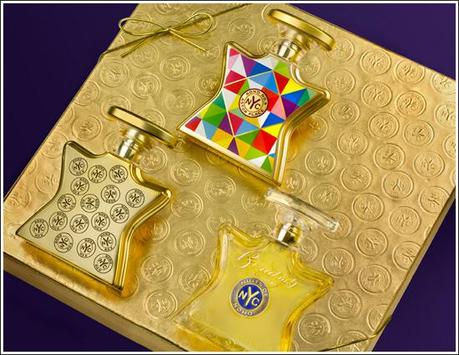 Fitted into a square gold-foil box, the Bond No. 9 signature coffret contains three of our most beloved top-sellers—the aforementioned Bond No. 9 Perfume, as well as Astor Place and Nuits de Noho. Their appeal is unabashedly to women who are romantically or seductively inclined—or both at once.
Peace Offering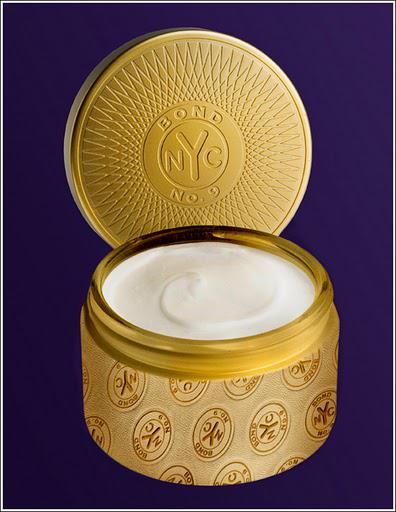 The Scent of Peace once again, this time in a signature gift collection featuring a 100 ml. eau de parfum, body cream, and candle. Lovers of peace will find sublime contentment here.
Perfumista's Perfect Ten
Imagine the Bond No. 9 superstar flacon precisely scaled down to 5 ml. How beguiling! Then imagine a wardrobe of ten such flacons—each containing a different best-selling eau de parfum–standing at attention in a beautifully embossed coffret. What an exquisite dream-gift that will turn any fashionista into a devout perfumista—and vice versa. The scents: Andy Warhol Union Square, Bleecker Street, Bond No. 9 Signature , Chelsea Flowers, Chinatown, Eau de New York , Hamptons, Nuits de Noho, The Scent of Peace and Wall Street.
Amethyst Serenity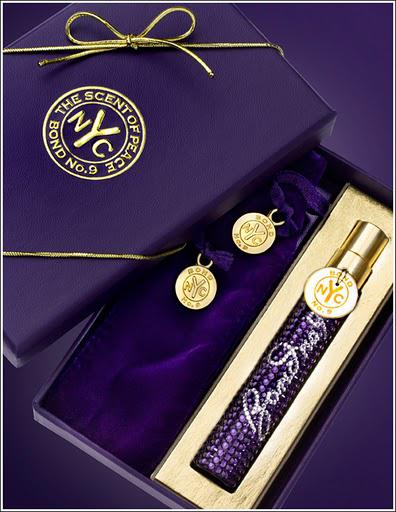 The Scent of Peace again, this time in a Swarovski amethyst pavé-covered superstar bottle; 50 ml, $500; and in a 7 ml pocket spray, $225. Both are refillable. Available separately: amethyst velvet pouches, sized to fit.
Oudissimo/Oud on the Skin
So in-demand is Bond No. 9 Perfume, our provocative East-West signature blend of oriental oud and beautifully balanced rose, along with edible almond and caramel that our customers absolutely insisted we create an accompanying body cream and candle. Here they are, enveloped in blazing gold, just in time for the holidays.