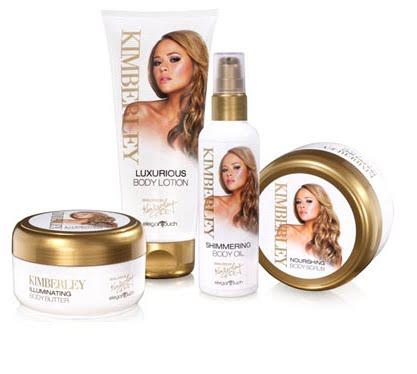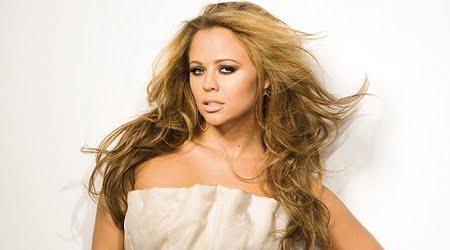 For healthy looking skin that smells as good as it looks, try the gorgeously glamorous new body care range from Kimberley Walsh.
Using her trademark beautiful body and natural, fresh looking appearance as inspiration, the Kimberley Walsh Body Care Range in collaboration with Elegant Touch has been designed to prep, moisturise and nourish, whilst giving your skin a subtle, sexy shimmer or naturally healthy glow.
"I am absolutely delighted to launch my own body care range. I have always believed that the secret to looking and feeling good is to look after your body and give your skin the attention it deserves. All the products in my range will help you achieve this whilst leaving you smelling and feeling fabulous too. I am so excited about the collection and hope you love it as much as I do!" Kimberley Walsh
Kimberley has worked with Elegant Touch to develop four different products, each one being simple to use, luxurious looking yet affordable too. Created with an evocative coconut fragrance, the line-up is perfect for anyone looking for a moisturising skin care treat, a shimmering body oil or nourishing body scrub. They're also great for girlie gift ideas.
Luxurious Body Lotion, £8.95
Try this deliciously moisturising lotion, that's easily absorbed whilst also leaving a peachy sheen. As well as giving you an intense moisture blast, its light coconut fragrance will leave you smelling great.
"I use this Hand & Body Lotion throughout the day as it's so moisturising and the subtle peachy tint leaves my skin looking glowing and radiant"
Illuminating Body Butter, £7.95
This thick, rich cream has a lovely, luxurious feel and an illuminating gold shimmer to give you a sun kissed, healthy looking glow. Great for moisturising with a little extra glamour"
"I love this Illuminating Body Butter as it not only leaves me super soft all over, it also gives my skin that lit-from-within glow"
Nourishing Body Scrub, £7.95
When you need to exfoliate, this creamy body scrub will tick all your buffing boxes. It's textured with coconut shell powder to give a really effective exfoliating action, and infused with pure coconut oil to leave the skin moisturised.
"I'm a firm believer in buffing my skin to keep it glowing.  I use this Nourishing Body Scrub whilst showering and it's especially good for knees and elbows"
Fragranced Shimmering Body Oil, £9.95
This shimmering body oil contains Vitamin E and a little gold sparkle to give your skin a subtle shine. The light coconut fragrance will also leave you smelling great.
"I smooth this Body Oil onto my legs and arms before going out and the subtle sparkle really catches the light and makes me look and feel my best"
"The Kimberley Walsh Body Care Range In collaboration with Elegant Touch will be available exclusively in Superdrug stores nationwide from February 2012, rolling out to additional stockists from May 2012"