The Rijksmuseum, along with the canal ring and the Red Light District, is one of Amsterdam's biggest tourist attractions, all the more so since it reopened in April after ten years of renovations. This ten year face-lift that not only modernized by also stylized the Rijksmuseum was powered by the Spanish architectural firm Cruz y Ortiz, and did not leave the gardens immediately surrounding the museum out of its revitalization processes. The remodelling of the 14,500 square meter gardens was carried out by local Dutch landscape architecture firm Copijn Tuin- en Landschapsarchitecten and is somewhat of a throwback to the original plans for the gardens made by the man behind the museum's initial design, the renowned 19th century architect Peter Cuypers. Copijn has stated that in redesigning and updating the gardens they worked on a contemporary take on Cuypers' old Dutch gardens style by incorporating traditional aspects such as ponds, lawns, fragments of ancient structures and classical sculptures together with seasonal modern aspects.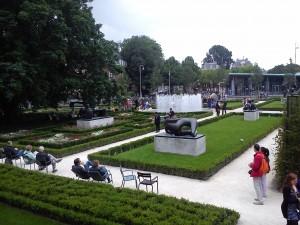 In fact, the architects' only update was the outer rim of the gardens, thus staying true to most of Cuypers' original design. Straying from the original designs, Copijn decided to plant a protective border of trees around the gardens, giving it an intimate and cozy atmosphere. Perhaps unforeseeable in Cuypers' time, Museumplein, the area where the Rijksmuseum stands today, is a bustling city oasis, and the green border provides garden-goers with some much needed seclusion from the hustle and bustle of the city center.
The landscape and museum architects have also made space for a picturesque 19th century greenhouse where heirloom vegetables will be grown throughout the year. In contrast with the serenity of the greenhouse, the architects also found room for a water maze created by Danish artist Jeppe Hein and a post-war era playground by architect Aldo van Eyck.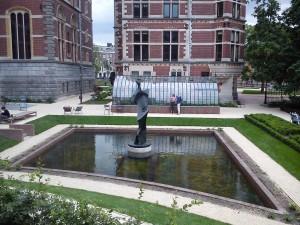 Currently, the Rijksmuseum garden is home to a temporary exhibition of sculpture by Henry Moore which will be around until the end of September, including twelve sculptures most of which have never before been seen in the Netherlands. Henry Moore (1898-1986) won international acclaim in the second half of the 20th century for his semi-abstract sculptures. Appropriately for their current locale, the sculptures were largely inspired by natural and organic forms. Those exhibited in the gardens are made out of bronze and fiberglass.  Highlights include the Reclining Woman: Elbow (1981), Large Two Forms (1966), Large Reclining Figure (1984), and Locking Piece (1963-64).
The Moore Exhibition is the first of several such exhibitions to be house within the Rijksmuseum over the next five years, made possible by combined funding from an anonymous donor and the BankGiro Lottery. It is free of charge, and refreshments can be found near the main entrance to both the museum and the gardens. For a virtual link of the gardens, check out the video below!
© 2013, Amsterdam City Tours Blog. All rights reserved. On republishing any part of this post, you must provide a link back to this original post