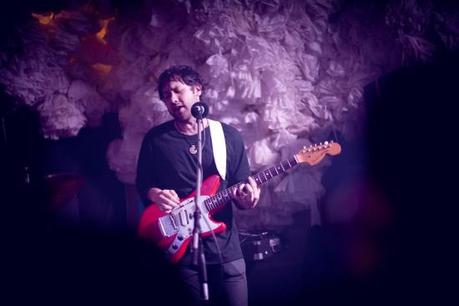 Photo Credit: Alex Munro
After packing Mercury Lounge only a night earlier, Unknown Mortal Orchestra (@umo) crossed the East River and sold out Williamsburg music venue Glasslands. Brooklyn's own Field Mouse (@fieldmousemusic) kicked off the night with their dreamy indie pop melodies and catchy lyrics. Without so much as an EP under their belt, the band played plenty of unreleased tracks that were punctuated with playful banter from lead singer, Rachel Browne. Field Mouse was followed by experimental electro-pop three piece, Doldrums (@doldrum5), who warmed up the then nearly full Glasslands with an energetic set.
When Unknown Mortal Orchestra finally took the stage, the room was packed to capacity. Opening with "Little Blu House", they had the crowd immediately swaying to their unique psychedelic pop blend. They worked through the entirety of their self-titled debut album, which the Brooklyn crowd, mouthing the words to nearly all the songs, was very familiar with. It's safe to say the home studio project of Ruban Nielson, now touring as a three piece band, has plenty of legs as a live act. Check out my photos from the night below.