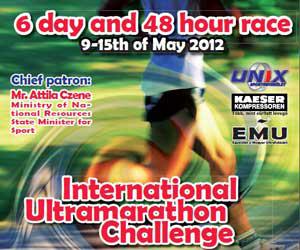 The Unixsport 48 Hour/6 Day International Ultramarathon Challenge in Balatonfüred, Hungary has entered its second day.
Wolfgang Schwerk leads with well over 200 km for the first day and currently on 245 km at 1:03:30:00. The early stages are likely to see changes in position as people establish break and sleep patterns. Nevertheless there were a considerable number of runners who completed 100 miles plus within the first 24 hour period.
For the women – Nagyné Bakucz Krisztina leads though its very close.
1 Wolfgang Schwerk GER 242.1
2 Martin Fryer AUS 205.2
3 Andrea Accorsi ITA 200.7
1 Nagyné Bakucz Krisztina HUN 164.7
2 Monica Barchetti ITA 159.3
3 Cornelia Bullig GER 158.4
Website: UNIX 6 Day/48 Hour Race
Live webcam on the site plus a live updated scoreboard