Higher Education is so edifying!
Are you the parents of a student at the University of Toronto (UT) in Ontario, Canada?
If so, you should know your child is getting way more than English Lit from her university "experience."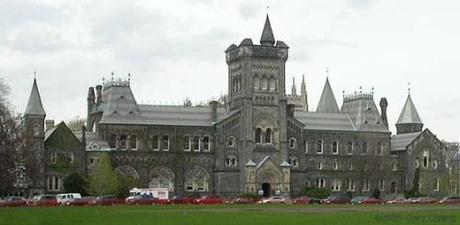 University of Toronto, Ontario, Canada
Patrick B. Craine reports for LifeSiteNews, Jan. 15, 2013, that a student group affiliated with the University of Toronto Student Union is planning a sex orgy next week, which the organizers euphemistically call an "epic student sex club adventure." According to their strange reasoning, it's not an orgy because it's strictly consensual.
The sex orgy's ad on Reddit says the event is meant to introduce students to the "sex club scene." Clothes become "optional" at 6 p.m. so "you can get naked with all your new friends."

The Toronto Sexual Education Centre, which is funded by a 25 cent levy from UT students, has rented out for the day the Oasis Aqua Lounge, which calls itself "an upscale sex club" — "a water themed adult's playground in downtown Toronto where you can escape day to day life" and where, according to the Toronto Star, "sex is allowed everywhere but the hot tub."
Dylan Tower, one of the UT orgy organizers, insists the group is "not funding an orgy" because no one will be coerced to have sex — which is certainly a unique definition for "sex orgy" found in no dictionary. Tower told the Star: "People are allowed to have sex on premise. There is not any type of 'You should be having sex when you're here.' It's very much, come and enjoy the space, there's no prodding or pushing in that direction."
Despite organizers' promises to provide "safer sex" supplies like condoms, critics said the event is clearly not safe. Shantel Josee, a masters student and spokesperson for Campaign Life Coalition, said, "University is a time when young adults are most vulnerable to sexual exploitation. [An event like this] only reveals the tragic outcomes of a misled sex-craved society, which will go to any lengths to fulfill physical needs. Fruitful education on sexuality is not 'hands-on' as SEC wishes to endorse. It is not the act of sex that needs to be taught or experienced, but the holistic approach to sexuality which involves love, not of just your partner but also love of self. The 'safety' of condoms and sanitation does not protect a fragile society from the grotesque harm of a false idea of sexuality."
Gwen Landolt, national vice-president of REAL Women, a pro-family NGO dedicated to promoting the dignity of women, asks: "Why is the university allowing this? Universities are meant to educate and enlighten, not to provide centres for self-abuse, which is really what it is." She said such an event is "a degradation of the whole purpose of sex." Sex without commitment is "not harmless psychologically or physically, regardless of one's views on morality."
A spokesperson for the University of Toronto told LifeSiteNews they would not "censor" the event, citing their policy on the recognition of campus groups, and emphasized that it's not being organized by the university, noting that the 25 cent levy for the center is "fully refundable" if students choose to opt out.
As if what's important or at issue is the 25 cent levy!
And of course, Planned Parenthood jumped right in to applaud the sex orgy 'cause it has everything to do with "family planning" [Snark]:

Here's contact info for David Naylor, President of University of Toronto:
Office of the President
University of Toronto
27 King's College Circle, Room 206
Toronto ON Canada
M5S 1A1
Phone: 416-978-4163
Email: [email protected]
~Eowyn