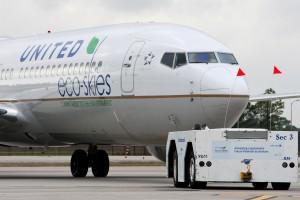 Earlier this week, United Airlines launched their first biofuel powered flight. Operated by its subsidiary Continental Airlines, the flight left Houston's Bush Intercontinental Airport Monday morning and arrived at Chicago's O'Hare International Airport. According to a press release from United Airlines, Flight 1403 became the first commercial U.S. flight powered by "a blend of sustainable, advanced biofuel and traditional petroleum-derived jet fuel."
The press release noted that the airline has signed a "letter of intent to negotiate the purchase of 20 million gallons of biofuel per year." The biofuel will be entirely algae based and could be delivered as early as 2014. Solazyme, a California producer of bio-fuels, "manufactured the algae oil used on [Monday]'s flight through its proprietary fermentation process. The end product was then refined outside Houston using renewable jet fuel processing technology from Honeywell's UOP."
A CNN story on the flight included accusations of greenwashing. "Airline industry analysts described the flight as a publicity stunt to portray the airline as eco-friendly, but it sets the stage for wider conversion to biofuels once they become cheaper." According to CNN, "United is the first airline in the U.S. to launch biofueled commercial flights, but not the first in the world. Dutch airline KLM started to run biofueled commercial flights in September." Two years ago KLM announced that one of its "aircraft engines will be running on a fuel mixture made up of 50% sustainable bio-fuel and 50% traditional kerosene." A few years back Virgin piloted the use of biofuels on a demonstration flight. While they specifically stated that the mix of fuels "isn't what will be used by the industry long-term, we wanted to make a visible demonstration of our commitment to find a sustainable alternative to traditional crude-oil based kerosene."
The flight was part of United's Eco-Skies initiative. Eco-Skies represents the airlines' commitment "to leading commercial aviation as an environmentally responsible company by taking actions today that shape an environmentally sustainable future, while continuing to comply with applicable laws and regulations." Monday's flight was not the first time that the plane itself was fueled with biofuel. "Continental in 2009 made history as the first North American carrier to perform a two-engine aircraft flight demonstration using sustainable biofuels derived from algae and jatropha."
The following represents United Airlines' list of accomplishments:
32% improvement in fuel efficiency through investing in a modern, fuel-efficient fleet and equipment.
Robust aircraft orders that will deliver a greater than 20% improvement in fuel efficiency comprised of 50 Boeing Dreamliner 787s and 25 Airbus A350s.
More than 300 aircraft in our mainline operations equipped with winglets that deliver up to a 5% reduction in emissions and noise.
More than 3,600 ground service equipment vehicles, or approximately 26%, are electric or alternatively fueled.
First U.S. biofuel and synthetic fuel demonstration flights and signed letters of intent to advance cost-efficient and environmentally responsible alternative jet fuels derived from biomass feedstock.
Recycling and waste minimization programs in-flight, at our airports and at our facilities. Over the last five years, we recycled more than 20 million pounds of cans and plastic items from waste generated in-flight and at our facilities.
[Image source]