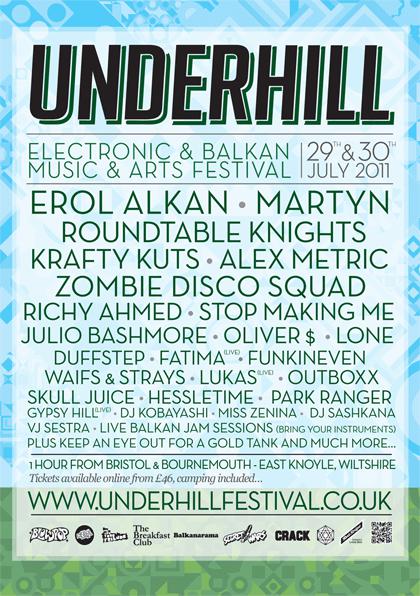 A new up-and-coming festival located slap-bang in between Bristol and Bournemouth is Underhill – two days and nights of the finest electronic and Balkan talent appearing from 29th July to 31st July, Ridgewood Park, East Knoyle, in Wiltshire.
Nestled in a natural amphitheater surrounded by dense woodland, Underhill offers an intimate crowd of 2500 people a diverse offering of music and art with local food and drink. Catch the brass bands, wobbly bellies and Rakia shots before burying yourself under one of their circus-style big-top blackout dance tents.
Underhill also happens to boast one of the best underground lineups of any of the more intimate festivals.
EROL ALKAN
The man who needs no introduction (and yet I'm going to give him one anyway…that's what we do here). To call the Turkish DJ a bit of deity amongst his followers is somewhat of an understatement. He ran the legendary London club Trash for years before its demise. His sets are renowned, informed by an impeccable and often obscure taste, they're nothing short of epic.
MARTYN
The high-brow purveyor of all things deep and bassy, Martyn will be playing a very special - never seen before - new live set. Since his seminal album (a 2009 standout), Martyn has been further blurring the boundaries between dubstep and techno, brazenly refusing pidgeon-holing – he's just as likely to be seen sharing a bill with Omar S or Marcel Dettmann as he is Skream or Kode9.
ROUND TABLE KNIGHTS
Having graced the Pelski decks, we're big fans of the RTK boys here at YCCMP. AS well as an array of colourful house productions under their belts, RTK are also famed for their lively DJ sets, championed by Jesse Rose as the 'best house DJs of the year'.
JULIO BASHMORE
Julio Bashmore's fame has been a steady ascent. It's a truism to say that producers as prolific as Julio Bashmore tend to sacrifice quantity for quality. Not the case with Julio. The man has banged out a huge array of original productions and remixes in the past two year – and they're all essential. Most recently Julio's been turning heads with the huge 'Batak Groove' and 'Everyone Needs A Theme Tune' releases. Light and airy house music with a bounce that's utterly distinctive..
ALEX METRIC
One of the few electro producers we still love here at Pelski, his productions are clean, neat and sublimely produced dancefloor weapons.
ZOMBIE DISCO SQUAD
ZDS' booty-shaking brand of house music, is big, stripped-back and heavy on the congas. If they don't get you dancing no one will.
OLIVER $
Oliver $ has been making cheeky house music for a while now. We all knew him first as producing jumpy fidget and in the last year or so has progressed onto fun, bumpy house. More recently he's won over a lot of head with the slow, nostalgic house groover 'Doin' Ya Thing'.
RICHY AHMED
The acclaimed producer who's recently joined the modish Hot Creations crew – notable for his contribution to Hot Waves Vol 1, 'Suck It'.
STOPMAKINGME
An inventive and daring producer, Durr resident Stopmakingme crafts intruging and inventive music. Just as likely to be seen playing disco and electro as he is house and techno.
Full line-up:
Erol Alkan
Martyn (live)
Round Table Knights
Krafty Kuts
Julio Bashmore,
Alex Metric
Zombie Disco Squad
Richy Ahmed
Stopmakingme
Oliver $
Lone
A-Skillz
Duffstep
Fatima (live)
Skull Juice
Thick As Thieves
Park Ranger
Darkly
Pelski
Rest of the lineup: Funkineven, Waifs & Strays, Lukas (live), Outboxx, Hessletime, Gypsy Hill (live), DJ Kobayashi & The Other Tribe (live).EFA, Shandy, Kelly Twins, Jambo, Spooks & Shaun P, Leisureware, Angie Walter, Gygo b2b Mush, Shanti Celeste, Alex Golesworthy, Seka, Real Nice, Stereo 8,Amo, Sway 2, Dub Boy, Ghettospheric, Feel the Real Soundsystem, Thick as Thieves, OhMan, Ste-V-Something, Maribou State, Broke DJs, Audio Sleaze, TK421, Tosh Ohta, Only Richard, Adam Oppenheimer, Cubiq, Jan Doe, Zoo Look, Lucas Lafone, Le Jockey, Deepgroove and Saxadelic (live).
Tickets
Early Bird weekend tickets are £46 and have sold out. A full weekend ticket is priced at £52 (inc. camping):
The festival offers easy access by rail. Buses are providing return buses from Bristol.