Top Trenz : Top Trenz, Inc is owned by 2 thirty something brothers, Corey and Jamie Glassberg. Our Long Island office/showroom is located in Bayshore, NY and have numerous showrooms in the United States including NYC,Arizona,Texas, Florida, Los Angeles, Atlanta, Canada, South America, Italy and now in France. We are on top of the latest trends and are the proud creators of the exciting UNDEE BANDZ tie dye line of all categories of bags, fashion accessories, hair accessories and clothing line! We can assure our customers that we will continue to keep on top of what is hot for the upcoming seasons!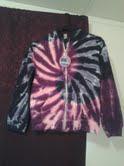 As I mentioned in my previous review for Undee Bandz, you can find it here - Undee Bandz Purse *Review* I was able to try out, and review a couple of products from Top Trenz one being the amazingly cute tie dye peace sign purse, and now this one the Zip up hoodie tie dye shirt with crystal applique  ($38.00). As previously mentioned, I will be surprising my 11 year old (6th grade) niece Ivy with the Tie Dye Handbag ($25.00). I love the colors of this hoodie, the tie dye colors are in the colors of pink, purple, black,blue, and a little bit of white. It will match the purse I got her (Review above) amazingly. The perfect colors for fall/winter. The colors will brighten any drab day up, and the cozyness of the hoodie will bring a smile to her face while she is snuggled up warm in class.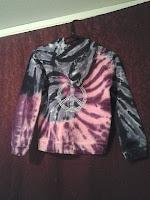 As you can see in the photo, the back of this hoodie has a silver studded peace sign planted on the middle of the back. I love how it shimmers in the light. All her friends will love and be jealous of her new hoodie. The size is in XL and what to me looks like a size M/L. The hoodie is 100% cotton, wash warm, tumble dry low. This zip up hoodie is so soft on the inside, that I (almost) wish it fit me. The warmth of this hoodie will be perfect on the chilly days when she has to go outside on break in between classes. My niece is now 11 years old and in 6th grade. Ugh! how time has flied. She loves all the clothing styles I used to love when I was her age, so I know she will be excited to see what I  got her. And thanks to Top Trenz  I will comforted to know that she will be warm, while I continue to be her favorite Aunt of all times. ♥  Thank you Corey!.
♥ You can find Undee Bandz on Facebook - Here. "LIKE" US and you will receive a 5% discount off your next order.
♥ You can find Undee Bandz on Twitter - Here.
♥ I receive no monetary compensation for this review.  I was provided a Hoodie to try and give my honest opinion.