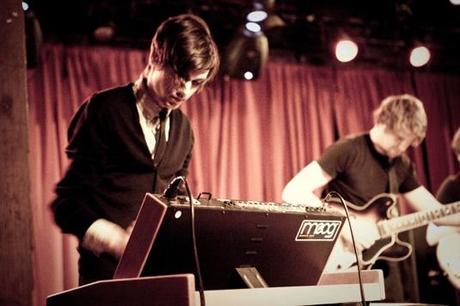 Photo by Weston Heflin
The first sounds heard from Uncle Skeleton on their album, Warm Under the Covers, are the blips, beeps and boops commonly associated with electronic pop music. The mostly instrumental first song (with treated background vocals and distorted samples) continues in this vein with additional glitchy drums. Despite this very electro feel, though, the addition of live bass, guitar and synth gives the music a lovely warmth.  The track ends with a minute of tranquil, ambient keyboard sounds segueing into the next short track.
After listening to the first two songs, I thought I had a handle on the band — a catchy, somewhat noisy, electronic pop group that isn't afraid to go beautiful and ambient.  When the third song began with live drums, a string section, orchestral pop-piano and stellar Beach Boys harmonies, my mind was completely changed. For a moment, I actually thought my iTunes had flipped to a High Llamas or ELO song. "Casey Pierce", also epitomizes this mixture of sounds with distorted electronic drums, Moog keyboards and bleeps combined with a strong bass-line, string section, and horns.
When Uncle Skeleton performs, the singer plays synth and is surrounded by a huge band: strings, guitar, the works – absolutely the sort of thing I would be interested to see. Though they only have one show currently mentioned at Soundland in Nashville, head to their bandcamp, order their album (the band claims the analog vinyl is "the best way to hear"), and wait patiently for them to come to your city.